Clubhouse Chronicles: X Games Inspires All Ages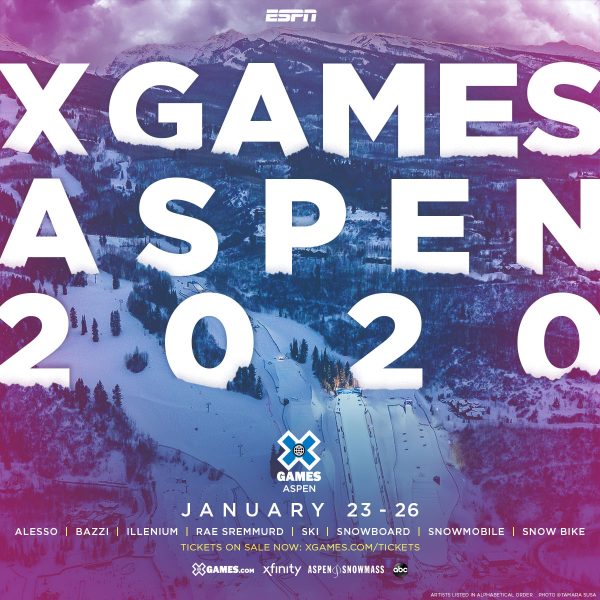 This article was originally published in the Aspen Times as part of AVSC's Clubhouse Chronicles column.
It's that time of year again where flocks of energy drink-drinking, adrenaline-seeking fans migrate to Buttermilk for ESPN's Winter X Games. Practice kicked off early in the week and the medals started getting handed out Thursday.
X Games has been in Aspen for almost 20 years and it has allowed us fans, young and old, the chance to be up close and personal with our biggest idols.
Quick read more or view full article
Personalities that usually only grace the screens of our smartphones, computers and television are now throwing down in front of our eyes and in our backyard.

For the athletes, X Games is one of the most coveted events to be invited to and one of the most treasured medals to acquire. Although the Olympics are usually the cream of the crop for most sports, being invited to X Games has always been the pinnacle for most slopestyle, halfpipe and big air skiers and snowboarders.

History is written year after year and the level of riding gets pushed higher and higher for all extreme sports lucky enough to catch ESPN's eye. The amount of incredible human feats recorded over the years across both summer and winter X Games have been unbelievable. Tony Hawk landed the first 900 on a skateboard in 1999 at X Games. Travis Pastrana landed the first double backflip on a dirt bike in 2006 at X Games. Peter Olenick did the first double flip in the halfpipe in competition in 2007 at X Games. The list goes on and on. Triple flips are now the norm when back in the day you were cool if you could do a 720.

I still remember my first X Games experience in 2002. I was almost 13 and on the AVSC freestyle team. I was as excited as ever to be roaming around X Games without parents, visiting all the swag tents searching for free bandanas and pizza rolls and hoping to catch a glimpse of my favorite professional skiers.

I wanted an autograph so badly from anyone that would give me the time of day. My weekend was capped off when I got the bib from Skogan Sprang, someone I watched growing up in most of my ski movies. He got last place that day, but I couldn't have cared less. Bib in hand plus a pocket full of free Chapstick and a noise maker and I was over the moon, already awaiting next year. Now when I see all the kids in AVSC jackets in the crowds asking for a high five or an autograph, I can't help but feel a little nostalgic.
We have been lucky enough to see plenty of local talent in both X Games ski slopestyle and halfpipe throughout the years. I grew up watching our local legends Steele Spence, Peter Olenick and Matt Walker. Torin Yater-Wallace showed up and won silver in his first ever X Games in 2011 and added multiple more. Alex Ferreira won gold last year.

Now young guns and AVSC alumni like Cassidy Jarrell are getting their first shot at skiing under the lights and showing current AVSC athlete Hunter Maytin the ropes as he gets the opportunity to forerun the halfpipe Sunday before the competition. Every athlete named above is an alumni or former coach to the Aspen Valley Ski Club. We are extremely privileged to have this event to not only inspire the next generation but also showcase that Aspen is passionate about winter and that we celebrate all the ways that one can have fun in the snow. Read Less
AVSC Athletes Forerun XGames
This article was originally published by Austin Colbert in the Aspen Times. Photo by Kelsey Brunner for the Aspen Times.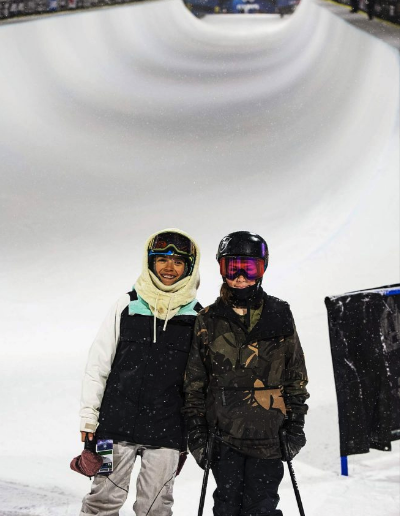 Tabatha Galicia is afraid to fall. It's probably something the 14-year-old snowboarder from New Castle isn't overly accustomed to, but considering the stage, it's a valid fear. After all, it is X Games.
"It's kind of stressful, because if you fall you know everyone is watching," Galicia said before training Tuesday at Buttermilk. "I saw some fall yesterday. I'm still stressed out a
Quick read more or view full article
little bit."

She's also incredibly excited for the opportunity. Galicia is one of the few forerunners at X Games Aspen this week, meaning she gets the opportunity to train with the women's halfpipe snowboarding competitors when they do.

The Aspen Valley Ski and Snowboard Club athlete also will be the first to drop into the pipe before Saturday's finals as part of her forerunning duties.

"She is helping get the crowd stoked. She makes sure the cameramen and camerawomen know what they are doing and gets all the competitors super amped on her awesome snowboarding," said Josh Ganz, Galicia's AVSC coach. "She absolutely loves the halfpipe — that's one of her favorite disciplines in snowboarding and she works really hard at it."

There are a handful of young skiers and snowboarders at X Games this week who get to slip the courses — an effort to remove any of the small bumps and ruts that may impede the competitors — but only a small few get to be forerunners. Along with Galicia, 11-year-old Aspen freeskier Hunter Maytin will get to be a forerunner for the men's halfpipe skiing competition, which includes local star and reigning X Games Aspen gold medalist Alex Ferreira.

"I'm a little nervous," Maytin said. "It was great hanging out with everybody, getting to meet a bunch of new people."
AVSC handpicked Maytin and Galicia for the honors this week as they demonstrated certain attributes, such as a passion for the sport, that it felt made them deserving of the role.

"With AVSC, we decide our forerunners based on age, ability and, even more importantly, if they demonstrate our core values: teamwork, integrity and commitment," Ganz said, saying Galicia showed just that. "She is always trying to help out her teammates and stoke them up and offer suggestions when she can."

Being a forerunner is a great opportunity for the young athletes. On top of it all, the extra practice sessions under the lights are a chance for them to experience all the glory of something like X Games.

"It's extra training time, hanging out with the big guys and seeing how they approach it," said Maytin's AVSC coach, Greg Ruppel. "He is here to psyche up the crowd. Sometimes at the World Cup they use forerunners to kind of set a baseline, but here it's just more to give a young kid an opportunity to come out and ski this venue and stoke up the crowd before the main guys get up there."

The women's snowboarding superpipe final with Galicia is scheduled for 8:45 p.m. Saturday, while the men's skiing superpipe final is schedule for 7 p.m. Sunday with Maytin. Read Less
Nordic Bonfire Dinner - February 1st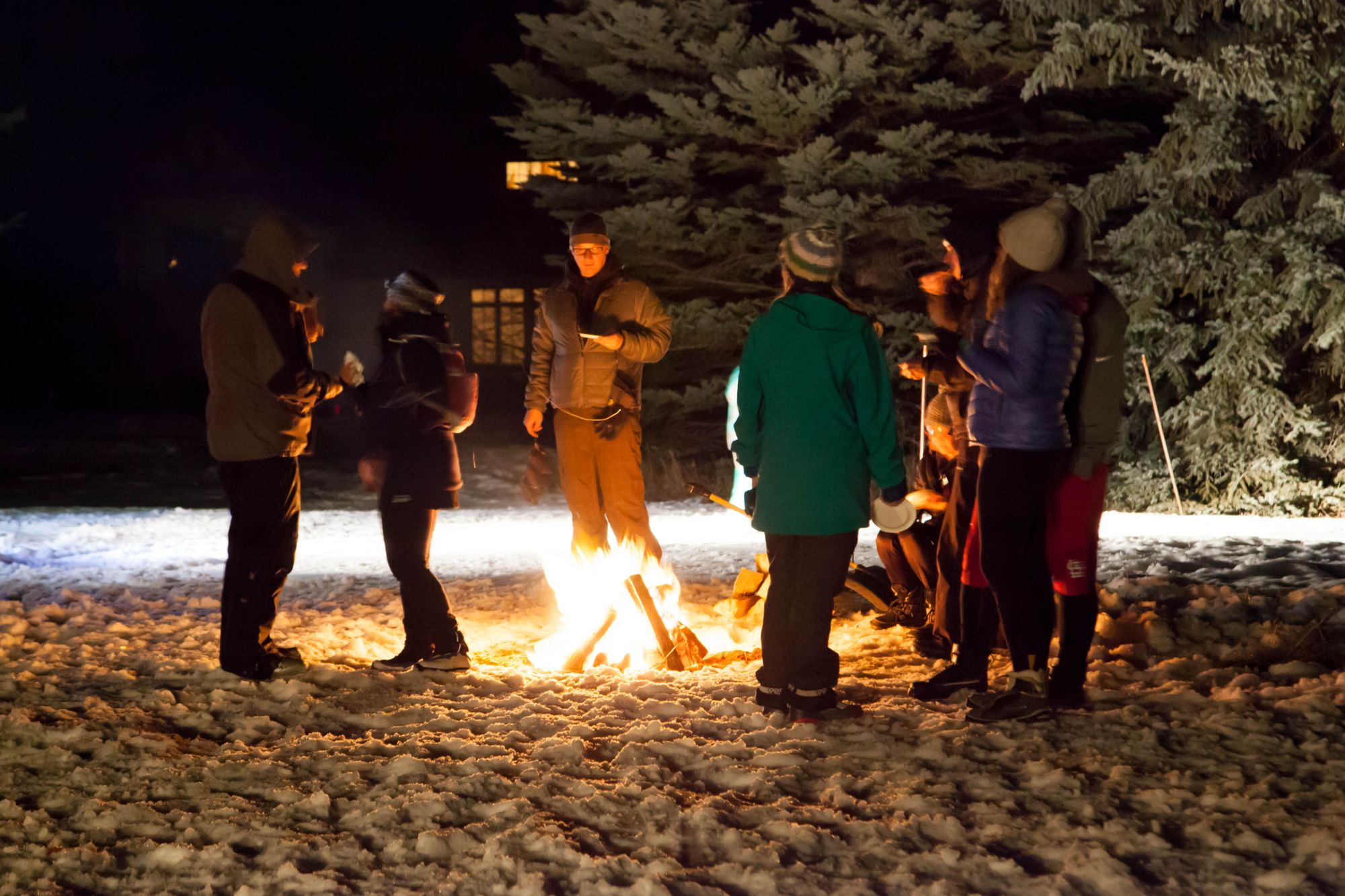 February 1st | 6-8pm | Aspen Nordic Center
Join us for a progressive dinner on skis! Bring your own Nordic ski equipment or rent at the venue. Slide from stop to stop, enjoying food and beverages along the way (all included in ticket price). The last stop will include live music from the Nordic Bonfire band. The course is approximately 1.5 km. Please join us for this memorable event which benefits the Aspen Valley Ski & Snowboard Club Nordic programs.
ONLINE TICKET SALES Quick read more or view full article
HAVE ENDED - LIMITED TICKETS WILL BE AVAILABLE AT THE DOOR STARTING AT 5:45PM!
Read Less
Wilder Dwight Ski Races Return to Highlands
This article was originally published by Austin Colbert in the Aspen Times.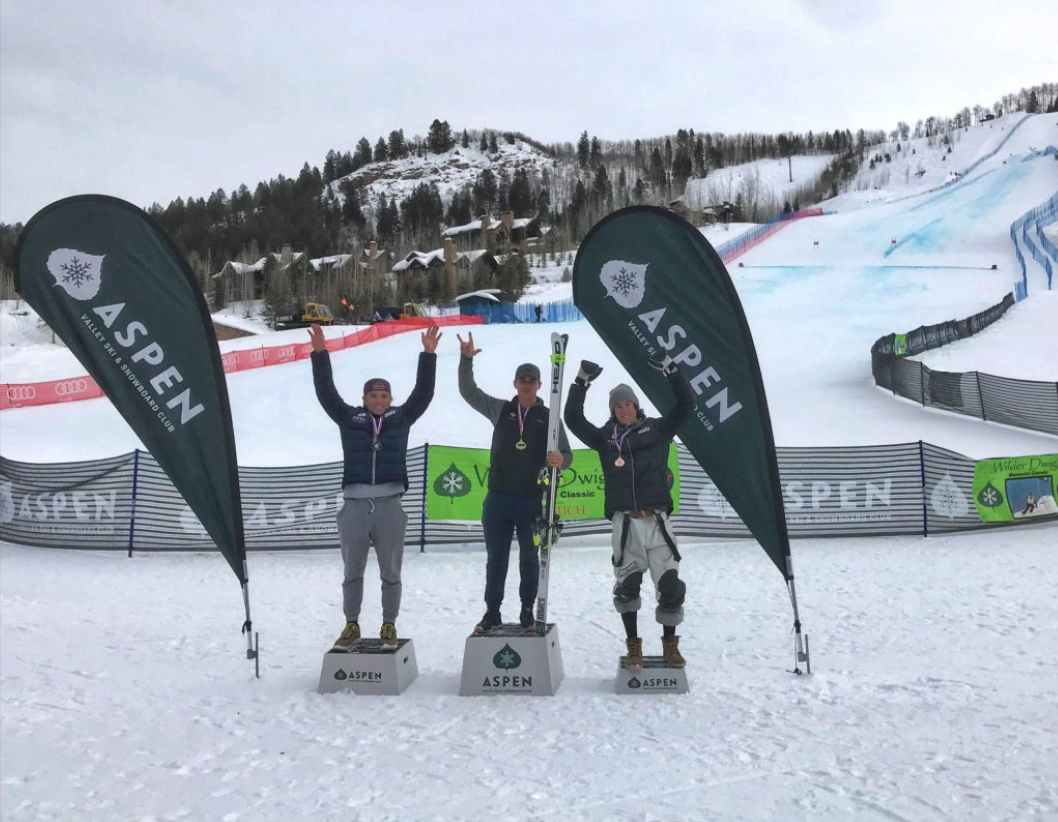 Johno McBride believes the Aspen Valley Ski and Snowboard Club has the potential to produce elite speed skiers at a higher rate than maybe any other club in the country. This isn't him bragging about having better coaches or better athletes, but simply better opportunities to train and race in downhill and super-G.
"If there aren't people who are passionate about speed and understand speed, it will disappear, and
Quick read more or view full article
that's what is happening in a lot of clubs," said McBride, who runs AVSC's alpine program. "We have the ability in this club to really train kids up to be good speed skiers. There is no reason in my mind we can't develop kids out of this program and put them on the national team to be speed skiers."

McBride would know. He spent years coaching with the U.S. ski team and helped guide American legend Bode Miller to a couple of overall World Cup titles. He was with the U.S. as its main speed coach the past few seasons, including through the 2018 Winter Olympics, before returning to his roots in Aspen.

What the club has that others don't is Aspen Highlands and the Stapleton Training Center, which is hosting the annual Wilder Dwight Memorial Speed Series this week. The races include both downhill and super-G for FIS and USSA athletes alike, one of the few opportunities athletes below the national team get to compete in speed.

"We are one of a few. Not that many do it anymore," McBride said. "Primarily nobody wants to take on the liability. And the other piece of the puzzle is the reality is it's a lot of work to put on a speed series. If you look up the hill and see the amount of protection — there are 250 nets up there that we all have to put in the snow."

The Stapleton Training Center at Highlands opened in 2014 and has been a game changer for the club. While the terrain is technically that of Aspen Skiing Co., the race venue is managed by AVSC and its staff. It's quickly become a highly sought after spot for training and has hosted the world's best in recent years, including Mikaela Shiffrin, Lindsey Vonn and the Norwegian national team.

This week, it's all about the younger athletes and allowing them a chance to experience the thrill of a downhill ski race.
"That's one of the greatest assets we have in this club right now, is we have a venue we can manage the way we want," McBride said. "We are really lucky that the ski company is giving us enough width to really set that however we see fit, which makes it not only safe — it keeps us away from the woods — but it keeps us from setting up wall-to-wall protection along the whole mountain."
The annual race series has been going on for three decades. It's named after Wilder Dwight, a promising young Aspen ski racer who died in a tragic skiing accident in 1986. It's become one of the most popular and well-attended alpine events AVSC hosts each year.

The first of two days of downhill races was held Thursday, with a trio of AVSC athletes sweeping the men's downhill podium in the FIS race. Tanner Perkins, Kristopher Westman and Wyatt Palmer finished 1-2-3, respectively, while Elle Murphy, another AVSC product, was third in the FIS women's downhill.

A second day of downhill racing is scheduled for Friday, weather permitting. With snow in the forecast, those races could be moved to Saturday, which otherwise is intended to be a training day for super-G. The super-G races are scheduled for Sunday and Monday.

"There should be a lot more speed opportunities … taking that out of the developmental piece because potentially it's dangerous is a bummer. It's like any sport that has danger — there is a progression and there is a way to learn," McBride said. "More importantly, there are a lot of kids out there having a really good time and learning and excited about it, and to me that's really what this event is about. It's keeping kids interested in speed and wanting to do it and learning, because it's pretty exhilarating. It's a lot different than skiing down a slalom course."

The venue will be front and center on the national stage later this spring when it hosts the U.S. Alpine Tech Championships in late March. Read Less
Beck, Faulhaber to Youth Olympic Games
This article was originally published by Austin Colbert in the Aspen Times. Photo by Kelsey Brunner, Aspen Times.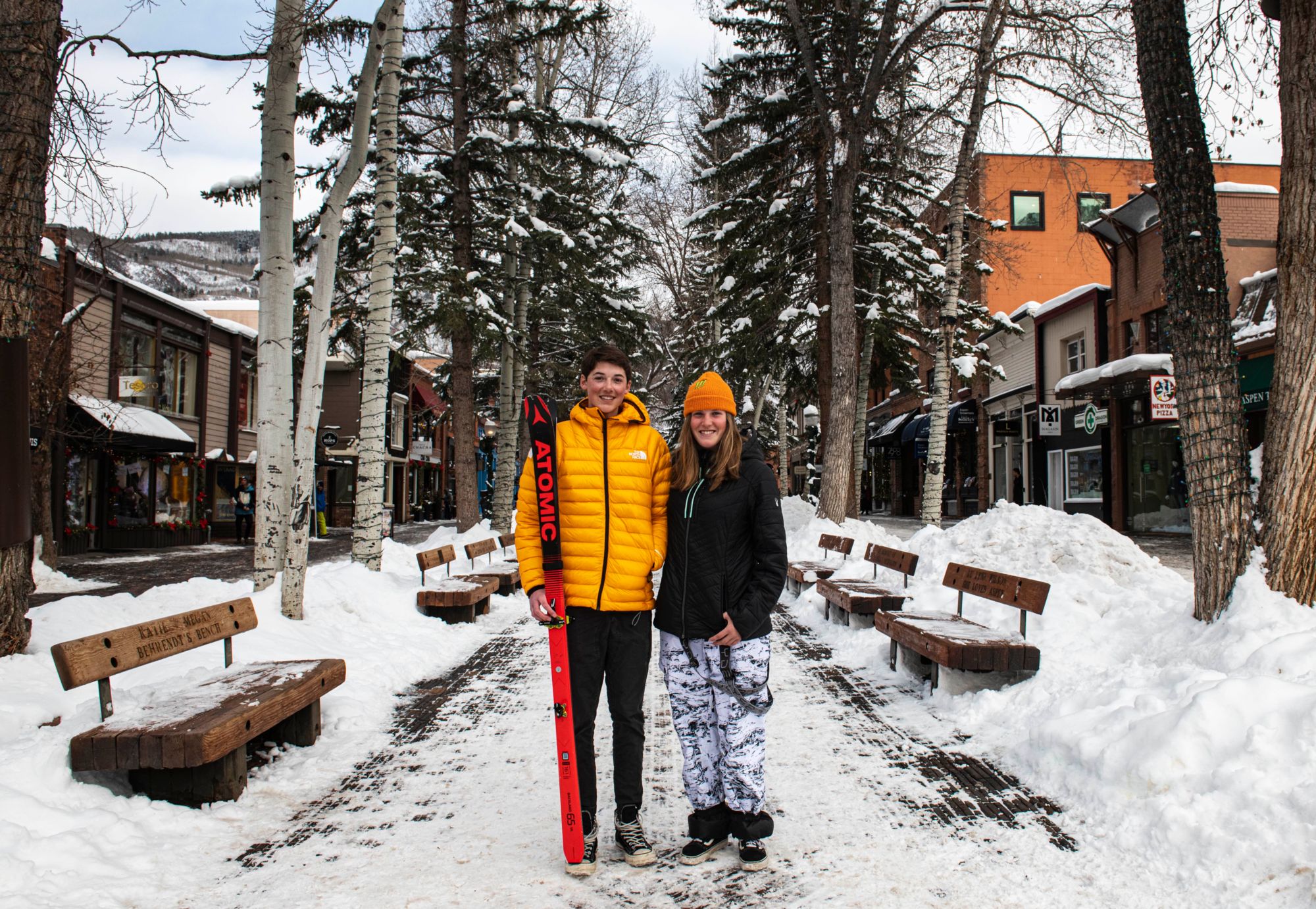 Both Aspen's George Beck and Basalt's Hanna Faulhaber can look to the future and realistically dream of one day competing in the Winter Olympics. For Faulhaber, a halfpipe skier, the 2022 Games in Beijing are reasonably within reach. Beck, who competes in ski mountaineering, might have to wait until the 2026 Games in Italy.
Either way, the local teenagers can see the path forward. And that next step will Quick read more or view full article take place this month when they represent the Roaring Fork Valley at the Winter Youth Olympic Games in Lausanne, Switzerland, which is home to the International Olympic Committee. This is only the third time the event has been held, dating back to the first Winter YOG in 2012. Held every four years, YOG athletes range from 14 to 18 years.
"It's very exciting," Beck said. "It makes the event a lot more meaningful when you have to qualify to get into something and it's only a very small group. Just getting there is a large accomplishment, compared to a race where you can just sign up."
Beck, a 17-year-old junior at Aspen High School, is one of only four Americans competing in skimo at the Youth Olympic Games, and one of only two boys. He and Jeremiah Vaille of Dillon will represent the Red, White and Blue, as will Utah's Samantha Paisley and Silverthorne's Grace Staberg. The athletes qualified for the YOG team in November at a competition at Eldora Mountain Resort.
Ski mountaineering is making its Youth Olympic Games debut in Switzerland. It's not yet an Olympic sport and won't be part of the 2022 Games, but there is hope it will make its way into the fold for 2026. Beck sees this month's event as a way to showcase one of the world's top up-and-coming winter sports.
"Hopefully it will go over well with the spectators because if it does then it will become an Olympic sport," Beck said. "In the U.S. it's just kind of starting. So I see the Youth Olympics and hopefully the real Olympics bringing it to the attention of more people in America and hopefully it will grow."
Halfpipe skiing made its Olympic debut in 2014, which included the valley's own Torin Yater-Wallace competing on the inaugural U.S. team. Faulhaber, a 15-year-old sophomore at Basalt High School, has had a meteoric rise over the past year, going from an unknown to a member of the U.S. rookie team this winter.
"The girls are amazing and they are all super supportive. So are the boys. It's just a really close and tight team to be a part of," Faulhaber said. "Going into the Rev Tour, I wasn't really expecting anything at all. Then I got invited to junior worlds and was able to go and come back and compete in more Rev Tours and then got invited to the team, which was crazy."
Faulhaber only started competing in FIS — International Ski Federation — events last winter, as athletes need to be at least 14. She mostly competed on the U.S. Revolution Tour, a stepping stone to bigger events such as the World Cup, and started winning right away. Her 2018-19 season was highlighted by winning the USASA national championship in April, paving the way for her selection to the U.S. team.
Faulhaber was one of only two girls named to the Youth Olympic Games team for the U.S. in halfpipe skiing, the other being Winter Park's Svea Irving. Irving, however, hurt her knee at a recent World Cup in China and won't make the trip. She's been replaced on the YOG roster by Riley Jacobs of Steamboat Springs.
Winter Park's Hunter Carey and Lakewood's Connor Ladd will represent the U.S. boys in halfpipe skiing.
The halfpipe contests will be held in Leysin, which also hosted the 2019 FIS Junior World Ski Championships last January, where Faulhaber finished sixth.
"Going into that Rev Tour I would have never thought I would be in the place I am right now. It's pretty amazing," Faulhaber said. "I feel like this will be a little different because it will just be younger athletes. It will be a really cool experience."
Beck was one of roughly three dozen Americans who were selected to compete in the 2019 World Ski Mountaineering Championships last March in Villars-sur-Ollon, Switzerland, which also is staging all the skimo events for the Youth Olympic Games this month. Also on that team last year was Aspen teenager Caden Klein, who partnered with Beck to win the Audi Power of Two skimo race here in Aspen the past two winters.
"That event was almost like testing out the venue for Youth Olympics. I'm very excited because this is the first time that skimo will be in the Youth Olympics," Beck said of returning to Villars-sur-Ollon. "The Youth Olympics this year is really important because it brings it back to the U.S. In Europe it's a very, very large sport."
This year's Youth Olympic Games officially get underway with the opening ceremony Thursday; it runs through Jan. 22. Beck and the skimo athletes will be among the first to compete, with the individual races scheduled for Friday. After two days off, they return with a sprint Monday before wrapping it up with a four-person co-ed relay Tuesday.
Faulhaber won't compete until Jan. 20. The men's and women's halfpipe skiing qualifications and finals are all held on the same day. Faulhaber, who has two World Cup starts to her name, hopes to get a couple more starts this winter after the Youth Olympic Games conclude. She's also holding out hope of being named an alternate for X Games Aspen later this month.
"Hopefully next year I do a little better in the World Cups and different bigger events like that and possibly get an invite, which has always been a dream of mine," Faulhaber said of X Games. "It kind of depends on if I continue to progress at the rate that I am, which hopefully I do."
Also competing at the Youth Olympic Games this month is Silverthorne-based snowboarder Jake Canter. The slopestyle and big air rider previously trained with the Aspen Valley Ski and Snowboard Club before joining the U.S. national team.
Read Less
Clubhouse Chronicles: NASCAR and XGames Take to the Race Course
This article was originally published by Mark Godomsky in the Aspen Times as part of AVSC's column, Clubhouse Chronicles.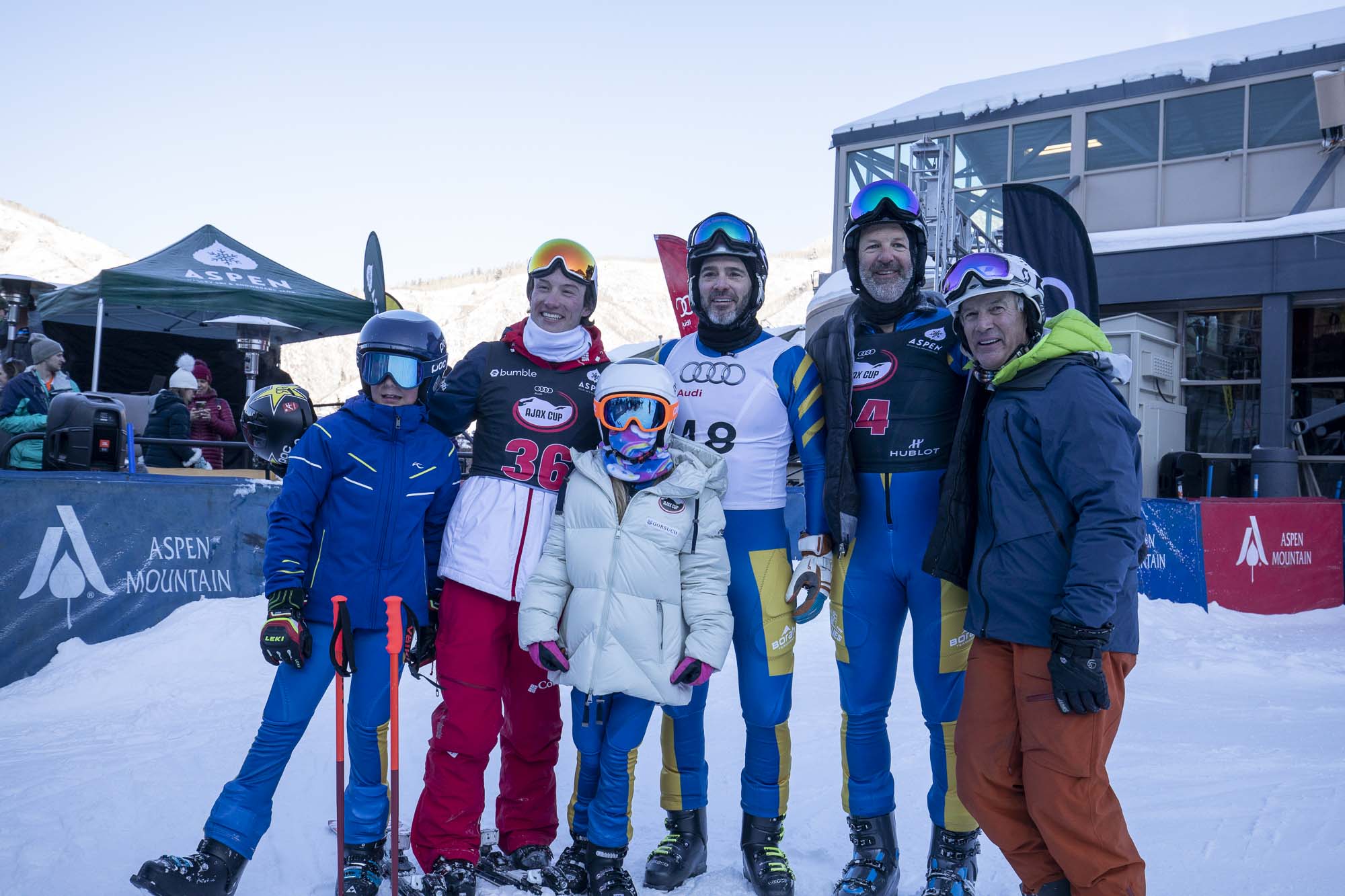 On Dec. 30, Aspen Valley Ski & Snowboard Club hosted our 10th annual Audi Ajax Cup on the face of Aspen Mountain. Sixteen teams battled it out in the morning to secure a spot in the finals and a shot at winning the coveted Gorsuch Cup and a silver belt buckle. Teams were led by team captains and professional skiers ranging from renowned speed skier and Quick read more or view full article Hahnenkamm winner Daron Rahlves to AVSC head U16 Alpine coach Casey Puckett to AVSC and U.S. Ski Team alumna Katie Ryan.
The race came down to team Alpine Bank and team West End Hillbillies — an even match until the final race between the team's pros: U.S. Alpine ski team alumnus Nolan Kasper and U.S. freestyle team member, X Games champion and Olympic silver medalist Alex Ferreira, also an AVSC alumnus and board member.
While this is my fourth Ajax Cup as AVSC's executive director, it was my first in the finish corral during the final round of racing. The excitement was palpable, the crowd falling quiet as they grew more and more focused on the impending result. When Alex crossed the finish line just a hair ahead of Nolan, spectators erupted with excitement as the West End Hillbillies' team captain Jimmie Johnson rushed toward Alex for a congratulatory and celebratory hug.
Watching this scene unfold epitomized both the magnitude and uniqueness of this event. Here we are at the base of Aspen Mountain — a place steeped in ski racing history from the start. We are surrounded by caring and compassionate community members, many of whom are Audi Ajax Cup team captains, assembling their own communities to rally behind ours. We are surrounded by businesses, families, community members, and others who, through both gestures large and small, show their commitment to local kids and their growth. We are surrounded by a culture of passion, competition, excellence, and overall, fun.
Across the world, the Roaring Fork Valley is known for many things. To us, it is a caring and compassionate community that we're incredibly lucky to call home. It is a playground in which to grow and learn respect for ourselves and for others. A place to experience failure and success. A place to develop our passions, challenge ourselves, and pursue excellence.
Maybe that's why the Audi Ajax Cup is such a fun event year after year: it emulates many of the lessons that our athletes are learning on a daily basis. Plus, where else in the world do you find yourself in the finish corral of a ski race with a seven-time NASCAR champion and an Olympic silver medalist, who after spending a day together are fast friends?
Thank you to our incredible Audi Ajax Cup team captains, race chairs, event chairs, business sponsors, staff, pros, racers, spectators, volunteers, and more. Without each and every one of you, we would not have raised nearly $900,000 to continue to provide local kids access to the mountains. A special thank you to Aspen Skiing Co., who generously allows us to run the race on Little Nell during the busiest week of the year!
Clubhouse Chronicles is a behind-the-scenes column written by the Aspen Valley Ski & Snowboard Club that runs periodically in the Outdoors section.
Read Less
Clubhouse Chronicles: Ajax Cup
This article was originally published by John Bucksbaum as part of AVSC's Aspen Times Column, Clubhouse Chronicles.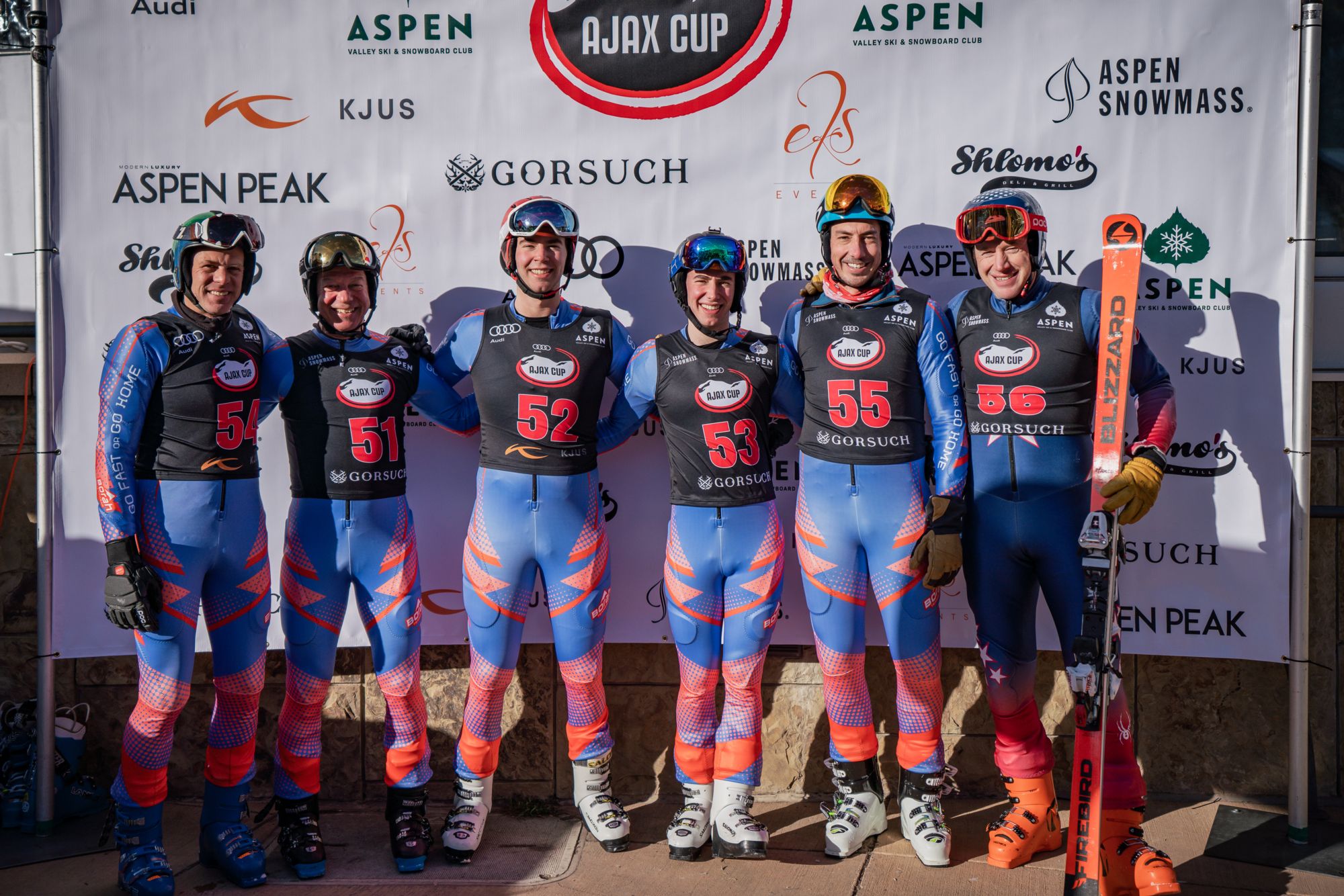 It is a name synonymous with ski racing. Aspen's rich racing history began in 1937 with a local's town race. In 1946, the Roch Cup debuted. In 1950, Aspen was selected to host the World Championships — the first time a race of this magnitude had been held in the United States. The World Cup was created in 1967 by Aspen resident Bob Beattie and in 1968 Aspen hosted
Quick read more or view full article
its first ever World Cup race starring Jean Claude Killy. Ingemar Stenmark, the winningest ski racer of all time, achieved his 86th and final victory of his career on Aspen Mountain. And finally, in 2017 Aspen hosted the World Cup Finals in one of the greatest ski racing weeks Aspen has ever experienced.

Along with all of these world class races there have been thousands of Aspen Valley Ski and Snowboard Club (AVSC) events, NASTAR races and celebrity "fun runs." But, the one race the entire ski racing world tunes into every year, the granddaddy of them all, is the one and only, Audi Ajax Cup!

The Ajax Cup celebrates its 10th anniversary on Monday. The race has hosted countless Olympians, U.S. Ski Team members and other world-renowned skiers, including big mountain riders, past, present and future Warren Miller movie stars and aspiring posers from around the globe. I am one such poser.

My Ajax Cup ski racing career began at the tender age of 53. I envisioned leading our team to victory and inscribing our names on the beautiful silver trophy that graces the Gorsuch store window throughout the year. We would proudly wear our Jim Hayes inspired handcrafted sterling silver belt buckles given annually to the Ajax Cup winners. Sadly, our team name is still missing from the trophy and our pants are cinched by something other than the victors' belt buckle. While victory has eluded us, our team has had more fun participating in the Ajax Cup over the past nine years than anyone should be allowed to have both on and off the mountain.

Not only have we had a ton of fun, but we have been part of something much bigger than just a ski race and the best après ski party in Aspen. We are a part of helping to make a difference in the lives of thousands of kids throughout the Roaring Fork Valley. AVSC has always produced great ski racers and now AVSC also produces great kids — thousands of them. With the monies raised from the Ajax Cup over the past 10 years, AVSC has been able to provide scholarship assistance to thousands of kids who have come through the club.

Can you imagine living in the Roaring Fork Valley but not being able to access the beautiful ski hills and bike trails because it is unaffordable? AVSC and the Ajax Cup participants are working to ensure all kids in the valley have the same opportunity to enjoy these mountains as you and me.

Aspen was founded because of its silver, but when the silver ran out so did most of the people who called it home. Soldiers who served in the 10th Mountain Division during World War II then found their way to Aspen. Thereafter, the world came to know Aspen.
Since those early days, Aspen has been recognized as "Best in Class." We have also established the best ski club in the world — AVSC — thanks in part from all the contributors to the Ajax Cup over the past 10 years.

I hope you will join me on Monday at the base of Aspen Mountain and watch many of the world's best skiers compete head-to-head on Little Nell. You will also be able to watch a 63-year-old poser still seeking glory and who is still having more fun than he could ever have imagined while making a difference for kids up and down the valley. Please come out and support AVSC.

Ski you there!
John Bucksbaum Read Less