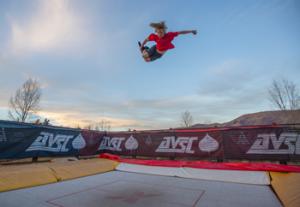 Increase your air awareness, learn new tricks, build your confidence and continue your progression by enrolling in tramp camp with the AVSC coaches! At AVSC Tramp Camps athletes will use our Supertramp, Flybed Trampoline and Mini Tramp facilities to maximize progressions and fun. Whether you're already an accomplished bouncer or just getting started, we have coaches and ability groups to take you to the next level. Athletes must be at least 7 years old.
Take your new tricks to snow and register for Buttermilk Glacier Camp for a 8:30-3:00pm action packed day, bring a lunch and we'll transport athletes from Buttermilk Glacier to AVSC for Tramp Camp (parents will pick up athletes at 3:00pm at AVSC). Register for both Buttermilk Glacier and June Tramp Camp for $550 per session (week) - save $50 on each camp ($100 total savings)! Photo credit Jordan Curet.
AVSC's Tramp Facility:
Supertramp
Flybed Trampoline
Mini Tramps
June Tramp Camps
One session per day; 1:30-3:00pm
Session 1: June 4-8
Session 2: June 11-15
Session 3: June 18-22
Session 4: June 25-29

$250 per session
5 session punch pass $300
1 session $65
CLICK HERE TO REGISTER!