Appreciation for Community Support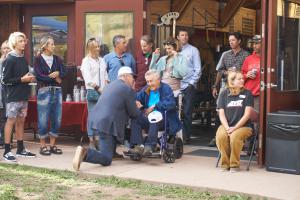 This was originally published as a Letter to the Editor in the Aspen Times.
Dear Aspen community,
Thank you to all who came out Thursday night to celebrate Aspen Valley Ski and Snowboard Club's 80th anniversary and the grand opening of our new Hildebrand Training Center! Nights like Thurdsay night remind me what an incredibly special community this is.
It won't be long now before the season gets rolling: Aspen Highlands opens in just 75 days, teams will duke it out on Little Nell in the Audi Ajax Cup in 95 days, and Aspen will welcome the world's most elite alpine racers for Quick read more or view full article the World Cup Finals in just 170 days. Aspen Valley Ski and Snowboard Club athletes are busy with dryland activities, working hard to prepare for and make the most of their upcoming seasons.
While the club is abuzz with excitement for what's to come, we're also enjoying reflecting on our history. The past 80 years would not have been possible without the club's passionate, enthusiastic and committed supporters. As we prepare for another season, we are so grateful to all of those who continue to make it possible for us to get so many kids on snow each year.
Cheers to the next 80!
Mark Godomsky
Read Less
AVSC Unveils New Training Center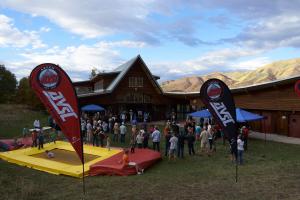 This was originally published by Austin Colbert in the Aspen Times.

It only made sense that Aspen Valley Ski and Snowboard Club's Eric Knight, the longtime program director for the freestyle and freeride programs, was front and center when it came to cutting the ribbon.
The idea of the new training center began 11 years ago, and after years of heartache, it finally became real Thursday during AVSC's open house — the kickoff to its 80th year in Aspen — with the unveiling of the new Hildebrand Training Center.
"It meant 11 years of dreaming and continuous setbacks and letdowns Quick read more or view full article all coming full circle to seeing that dream a reality of today," Knight said. "We put together a series of facilities that complement each other and are to be used together. We basically have the two trampolines where the kids will kind of learn the maneuvers and the progressions."
While the main AVSC headquarters also underwent somewhat of a remodel, the open house was centered on the new training center, which includes an airbag ramp alongside the main AVSC building to be used to perfect aerial maneuvers year-round.
It took years of concepts, fundraising and permit acquisition to make it a reality.
"Within a couple of weeks, the athletes and the coaches are going to be saying, 'How did we ever train without these things?' So that's pretty satisfying," said former AVSC Executive Director Mark Cole, who stepped down in March after 15 years of leading the club. "When we had to pull the plug on this last August and not start last fall, I was convinced we would get it done. And Eric lost faith. As he expressed, he had serious moments of doubt."
Cole, who oversaw much of the project from start to finish, helped Knight cut the ribbon Thursday, with new AVSC Executive Director Mark Godomsky not far behind.
"I got the last third of the project when decisions had been made," Godomsky said with a small chuckle. "It was just a matter of overseeing the financial side to make sure we got to the end in time for the open house."
Godomsky — a native of Maine — knowingly steps into the role in what is expected to be an exciting ski season in Aspen, with the AVSC celebrating a milestone year and the FIS World Cup ski finals coming to town.
But it's also a role he feels will mostly be about maintaining and not improving.
"The community is unbelievably into this," Godomsky said of AVSC. "There is nothing broke here. This is a great club and the program directors do a wonderful job. The theme this year is going back to basics and making sure we are taking care of kids."
The highlight of the AVSC winter season will be the annual Audi Ajax Cup on Aspen Mountain, scheduled for Dec. 30.
Read Less
AVSC Hires New Nordic Program Director
(Aspen, CO - September 16, 2016) Aspen Valley Ski & Snowboard Club is excited to announce that August Teague will be joining their program as Nordic Program Director. August's qualifications were unmatched for the program's needs; he has an impressive 14-year coaching history, helping athletes of all levels achieve their goals while developing a passion for Nordic skiing. August led the Nordic programs at both Whitman College and University of Nevada, Reno, before becoming the Director of Skiing at the University of Nevada, Reno. He then spent
Quick read more or view full article
4 years with the Australian Ski Team, leading them through two World Championships and one Olympic cycle. Most recently, August has run his own junior club in Truckee, CA.
August is no stranger to Aspen or AVSC: his passion for Nordic skiing was cultivated at the club. From AVSC, he went on to ski for Colorado Rocky Mountain School and eventually the University of Denver. He's thrilled to return to the Roaring Fork Valley and share his expertise with a club that was so integral to his own growth as an athlete, and later, a coach. AVSC's Executive Director, Mark Godomsky, is excited to welcome August to the team, sharing his confidence that 'August will be an outstanding leader and foster a supportive, competitive, and fun environment for our Nordic athletes.' Read Less