TEAM Registration Now Open!
TEAM Registration for the 2017-2018 winter is now open!
Register here.
Please click here to register for a program. Not sure which program to choose? Check out the
program guide
to see what we are offering this season. Contact a Program Director and they can help you choose the correct program for you or your athlete (view staff contact list
here
). Please note that we have a new registration system this year that accomodates payment plans. All registration is now online!
Once you've completed online registration, the system will prompt you to fill out a few
Quick read more or view full article
additional forms online. You will not recieve your ASC pass voucher until all forms are complete.

We're looking forward to a great season with all of you! Read Less
We're Hiring! Assistant Nordic Coach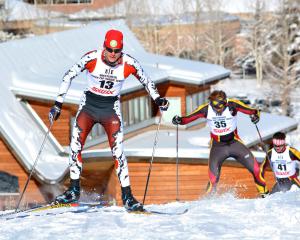 Aspen Valley Ski & Snowboard Club is seeking a assistant Nordic coach for the 2017-18 season. This is a full-time position running from June-March. AVSC offers programs for student-athletes throughout the Roaring Fork Valley, in grades 1-12 as well as a Post-Graduate program.

AVSC was founded in 1937 by a group of passionate skiers who wanted to spread the sport to the local community. Eighty years later, as the valley's oldest and largest youth non-profit, AVSC has taught generations of local children the very sports that revitalized the Aspen/Snowmass area. Through AVSC, children and teens experience the Quick read more or view full article mountains in winter, build character, challenge themselves and make new friends.

AVSC Nordic has a rich tradition of success. Recent alumni include U.S. National Team athletes, two Sochi Olympic team members, and hundreds of exceptional alumni. Our team programs are designed to develop, challenge, and engage athletes of all ability levels. All team programs are offered in Aspen at the Aspen High School Trails and in Carbondale at the Spring Gulch Trails.

The ideal candidate has a Bachelor's Degree or equivalent, college/elite racing experience, and some coaching experience. They will be willing to work with the entire AVSC staff to develop athletes and programming.

Job duties will include, but not be limited to, the following:
Assist in the day-to-day running of the AVSC Nordic Ski Team including practice planning, budgeting, team communication, etc.
Assist in weekly/yearly training plan writing and development.
Along with Nordic staff, assist in support of long-term athlete development model for the AVSC programs.
Assist Head Coach in developing camp and race schedule.
Assist in recruiting and retention of AVSC Nordic Athletes.
Attend regional, national, and international race and camp opportunities as necessary.
Other duties, as they arise, given ample notice.

Salary/Compensation: Salary DOE, Aspen Ski Co Season Pass.

If interested, please send resume, cover letter, and three references to August Teague, Nordic Program Director, ateague@teamavsc.org. The position will remain until filled.
Read Less