Nine AVSC Alumni Headed to PyeongChang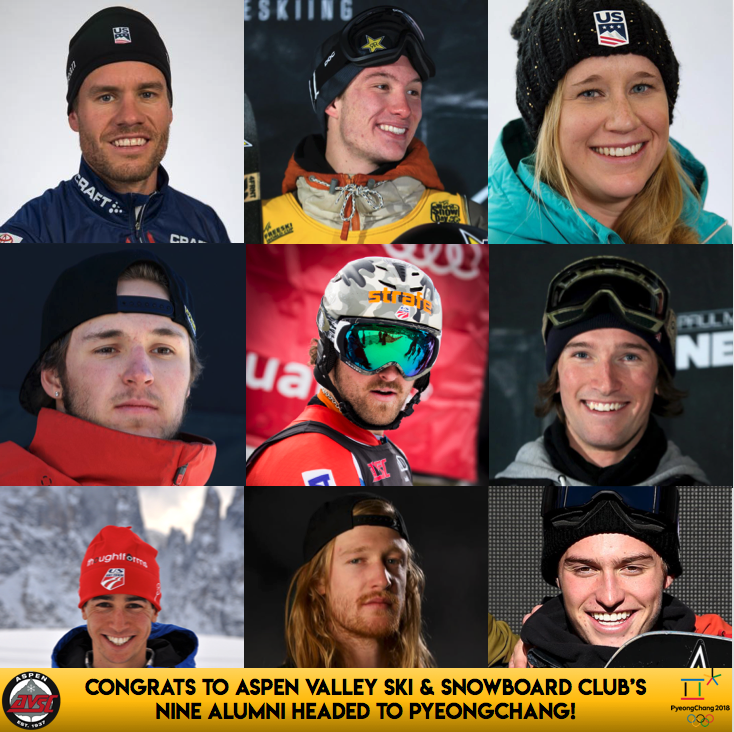 It's been an exciting week for us at Aspen Valley Ski & Snowboard Club. With the US Ski & Snowboard Olympic Team nominations cemented, we are thrilled for nine AVSC alums who will be making the trip to PyeongChang to represent the US!
Please join us in congratulating and cheering on:
Chris Corning
, Snowboard

Alex Ferreira
, Freestyle Skiing
Simi Hamilton
, Nordic Skiing
Noah Hoffman
, Nordic Skiing
Hagen Kearney
, Snowboard
Wiley Maple
, Alpine Skiing
Alice Mckennis
, Alpine Skiing
Jake Pates
, Snowboarding
Torin Yater-Wallace
, Freestyle Skiing
Thank you to our
Quick read more or view full article
community for supporting our athletes; you never know which Powder Panda could end up on this list someday!

Photos: US Ski Team / Matt Power. Read Less
AVSC Alums Ferreira and Yater Wallace Aim for Olympics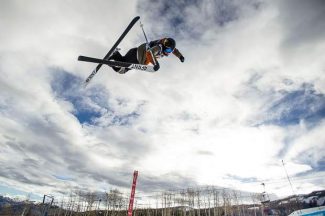 AVSC Freestyle alums Torin Yater Wallace and Alex Ferreira are in Aspen this week competing in the Toyota Grand Prix in Snowmass. The Grand Prix is the fourth of five Olympic Qualifiers; Yater Wallace currently sits in first and Ferreira is in fourth.
Read more about Alex Ferreira's path to Pyeong Chang
here
, and Torin Yater Wallace's
here
.
Good luck to Torin & Alex this week! Watch them, along with AVSC athlete
Cassidy Jarrell
, in the qualifiers on Wednesday.
A full schedule
Quick read more or view full article
for the week's events can be found here.

Photo: Alex training in Snowmass (Anna Stonehouse / Aspen Times) Read Less
Cassidy Jarrell Competes in Snowmass Grand Prix
This article was originally published in the Aspen Times by Austin Colbert. Photo by Austin Colbert / Aspen Times.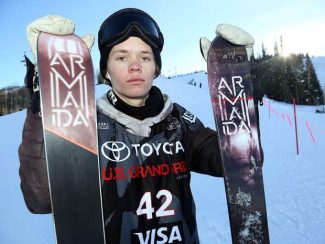 Cassidy Jarrell is in line to be the next great halfpipe skier from Aspen, but the high school senior first needed a lesson in pressure and to learn from his local mentors and former babysitter.
Torin Yater-Wallace went to the 2014 Olympics. He's medaled at the X Games. In short, the Aspen skier is one of the biggest stars in the sport.
For the 22-year-old Yater-Wallace, dropping into the Copper Mountain Grand Quick read more or view full article Prix halfpipe last month was no big deal, even if it was an Olympic qualifier. Right behind him waiting for his turn was Jarrell, who at 18 was experiencing the big stage for the first time.
"Him dropping two after Torin, he was super nervous. But it's a pretty normal thing when you make that step up in competitions," said Greg Ruppel, Jarrell's Aspen Valley Ski and Snowboard Club coach. "He's not quite looking to catch them yet, but for the guys at his age and his level, he's right in there."
Between Yater-Wallace and Alex Ferreira, who won Dew Tour last month and is on the cusp of making the 2018 Winter Olympics, Aspen has had a strong representation in the ski halfpipe.
Jarrell, whose babysitter happened to be Yater-Wallace back in the day, is trying to follow in their footsteps. He will take another step Wednesday when he competes alongside his Aspen mentors at the Toyota U.S. Grand Prix at Snowmass.
Jarrell is coming off a strong breakthrough season last winter. His results led to his first Grand Prix invite at Copper, an invite onto the lower-level Revolution Tour, and a spot in last month's Dew Tour, one of the most prestigious annual competitions in winter sports.
Not surprisingly, nerves came into play for the Aspen High School senior during those competitions.
"I was really getting super worked up about it and not remembering that it's just skiing. I took it a little bit too serious," Jarrell said. "I'm really glad I got Copper out of the way and figured out how it is to be on a high level and how to handle it. I think my skiing is there, I just need to figure out how to control and handle the competitions right now."
The Copper Grand Prix, which was the second of five Olympic qualifiers, didn't go so well for Jarrell. He failed to land either of his Dec. 6 qualifying runs and finish 39th, which was second to last. He said the nerves got in the way of performing. Yater-Wallace took second in qualifying that day and finished fifth in the finals.
About a week later came Dew Tour in Breckenridge, also an Olympic qualifier. Jarrell didn't touch the finals, but he did land a run and carried that momentum into the same weekend's Rev Tour, back at Copper, where he had two podiums, including one win.
"He did one of the nicest runs he's ever done," Ruppel said of Jarrell at the Rev Tour stop. "It's a really nice opportunity for him to take his riding and competing to that next level. He doesn't have a lot of a shot to qualify for the Olympics, but it's a good step to get used to riding with those pro riders and get used to that pressure."
The next Olympic qualifier is this week's Grand Prix at Snowmass. While Jarrell would likely have to win the Snowmass event and then win the final qualifier, next week's Grand Prix in Mammoth, California, to qualify for the Olympics, that's not the end goal this season. In fact, he said landing an invite to X Games Aspen at the end of the month — also a long shot — would be a bigger deal than making the Olympics, at least now.
"I'm kind of pushing it to the side, but it's there. I don't think it's realistic, but I think it's worth a shot. It's worth trying," Jarrell said of the Olympic talk. "I really want to make finals really, really badly. That's what I'm shooting for. It's a little bit stressful having to deal with all the training. I think when the comp comes around it will be just another day skiing."
Jarrell believes competing in his backyard this week at Snowmass, in front of his friends and family, will help him. He lacked that support at Copper, part of the reason he struggled. He'll be an alternate next week at Mammoth and is planning to compete in a handful of other events this winter, including two more Rev Tour stops.
Snowmass qualifying gets underway Wednesday with ski halfpipe and snowboard slopestyle. The ski halfpipe finals are scheduled for 1 to 2:45 p.m. Friday. Yater-Wallace and Ferreira could lock up an Olympic bid with a win.
The Aspen elders have been watching the younger Jarrell, encouraging him to find his way.
"Some people, like Torin, he came onto the scene and he just started winning," Ferreira said. "Some people, like me, it took me a lot longer to break through. I just had my first major win and I've been doing this for six or seven years. … Everyone's path is different. You just have to follow your path."
Regardless of how this week goes in Snowmass for Jarrell, his career ambitions haven't changed. He wants to be a skiing star like his friends Yater-Wallace and Ferreira and already is eyeing the 2022 Olympics in China.
"The next (Olympics) lines up much better. It's just good to be getting this out now and putting himself in a solid place to be competing for a U.S. Rookie Team spot," Ruppel said. "We checked one big dream with Dew Tour. That was a big one. In the next couple of years it would be nice to add an X. A lot of it is going to depend on how it all shakes out after the Olympics."
Read Less
Base Camp Update - Snowmass
Due to snow pack & conditions at Snowmass, Snowmass AVSC lessons will not meet on January 6 or January 13. Opening day at Snowmass will be January 20.

All Snowmass programs will only meet 6 Saturdays. January 20, 27 February 3, 10, 24 March 3.

This affects SnoWarriors, SnoCru and Aspenauts at Snowmass.

Highlands and Buttermilk lessons have NOT been altered from their original schedule.

We are not able to offer make-up lessons. We will be refunding families for the cancelled days. More information will be emailed to Snowmass families directly. Thanks for your patience & understanding.
Vonn takes training to AVSC's Stapleton Training Center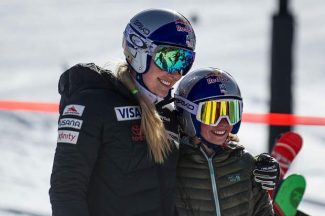 This article was originally published by Austin Colbert in the Aspen Times. Photo by Anna Stonehouse / Aspen Times.
For the most part, Lindsey Vonn's holiday break was much like anyone else's. She went home to Vail and was inundated by family, children and dogs — she alone has three — and after Sunday's training session at Aspen Highlands seemed happy to be back on snow.
Vonn, who has more World Cup wins than any woman in ski racing's history, returned to work this weekend by making the short Quick read more or view full article drive to Aspen to train on the Aspen Valley Ski and Snowboard Club's Stapleton Training Center at Highlands. She's here training with Brandon Dyksterhouse, a Vail-based coach who has worked with the U.S. Ski Team in the past.
"I've never actually trained over here at Highlands, so it was a good opportunity," Vonn told The Aspen Times on Sunday. "This is an awesome venue here in Aspen. I'm happy they invited me to come and set things up for me and I really appreciate that."
Outside of a few World Cup races and March's World Cup Finals, Vonn doesn't get to spend much time in Aspen. Along with getting to use the AVSC's first-class training venue, Vonn partnered with the club to offer up an auction item — in this case, a chance to ski with Vonn — as part of the AVSC's Audi Ajax Cup on Saturday, the organization's largest annual fundraiser. The money raised was split between the AVSC and the Lindsey Vonn Foundation.
"I really appreciated the opportunity to be a part of the fundraiser. Obviously it's good for the club, but also really good for my foundation," Vonn said. "We want to help as many girls as possible, so the more attention we can bring to the foundation and the more support we can get, the better. It really turned out to be a great opportunity for us."
REGAINING HER CONFIDENCE
More than anything, Vonn is using this rare in-season training session to regain her confidence. Her World Cup season got off to a rocky start when she crashed in the season-opening women's downhill at Lake Louise — she's won 18 World Cup races at the Canadian resort, which is often called "Lake Lindsey".
Vonn only has one podium this season, but it came in her last race. She won the women's super-G in Val d'Isere, France, her 78th career World Cup victory. While the World Cup season is somewhat of an afterthought for Vonn with this being an Olympic season, the four-time overall World Cup champion currently sits 24th in the overall standings with 129 points.
"It's hard in the season to actually get the training you need, so this is an important break for me but also a good training opportunity," Vonn said.

"It was a difficult way to start the season with the crash in Lake Louise, but at the same time I most likely would have won that race and I have to keep things in perspective. I don't doubt my ability, it's just a matter of putting things together on race day and really making sure I have that confidence that I had coming into the season. I finally feel I've built myself back up. I'm more confident than I was after Lake Louise and getting that win in Val d'Isere was really important for me."
THE OLYMPIC DREAM
Like so many athletes this season, Vonn's focus is entirely on the fast approaching Winter Olympics in South Korea. She is a three-time Olympian, having won a gold medal in the downhill in 2010.
However, she missed the 2014 Games in Sochi because of injury and is determined to make up for it in February.
"A lot of times the accomplishments we achieve on the World Cup and the World Championships go widely unnoticed in the United States, so the Olympics are really the only time we have to showcase our skills and show how hard we've been working," Vonn said. "I'm lucky I already have a gold medal, so I don't have a lot of pressure. But at the same time I would love to finish off my career with another gold, or more."
Vonn competed in the Olympic test events in Jeongseon back in March, taking second in both the downhill and super-G races. She likes the course, and considering her Minnesota roots isn't worried about the area's notoriously cold weather.
"It looks really good," Vonn said of the Olympic venue. "They brought in a lot of people from Canada and New Zealand to prepare the course, to prepare the hill, so it was in great shape when we raced there in (March). Just kind of depends on weather. It's not necessarily a stable place for weather, but we'll see."
VONN'S FAREWELL TOUR?
At 33, Vonn is willing to admit her days as a competitive ski racer are numbered. While it's highly unlikely this will be her final World Cup season, envisioning a scenario where Vonn competes in the 2022 Winter Olympics is murky.
"I don't know if I can make it another four. I don't want to say that it's not possible, because people are competing much longer in their careers," Vonn said. "Anything is possible, but I feel this most likely would be my last Olympics and I'm approaching it as that and trying to make sure I'm as prepared as possible and leaving no stone unturned."
Most already consider Vonn to be the greatest female ski racer of all time. About the only thing for her to still accomplish, outside of possibly adding a few more Olympic medals, would be to chase down Ingemar Stenmark. The Swedish legend holds the all-time record with 86 career World Cup victories, all coming in either slalom or giant slalom.
Vonn, already second all-time on the list, believes she can get to Stenmark's record — she needs eight more wins to tie him — but doesn't want to make it a primary focus as her career comes to a close.
"Obviously that's a huge goal and it's something I've been striving for. It's been a challenge to stay healthy, so that's made it more difficult to be able to get to that record," Vonn said. "I know I can still continue to win races; I just have to go out there and get it. I feel like when I broke the women's record for World Cup wins, the less I focused on it the easier it was. So I'm not going to focus on it. Focus on the Olympics, focus on just trying to win and everything will take care of itself."
The next women's World Cup speed events are scheduled for Jan. 13-14 in Bad Kleinkirchheim, Austria. The 2018 Winter Olympics start Feb. 9.
Read Less
NASCAR's Johnson and Earnhardt Jr. Hit Slopes with AVSC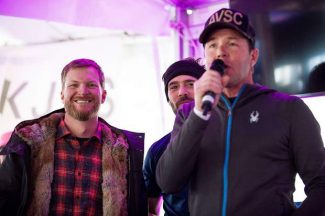 This article was originally published in the Aspen Times by Austin Colbert. Photos by Anna Stonehouse / Aspen Times.
Dale Earnhardt Jr.'s Southern accent might stick out a bit in Aspen, but otherwise he should fit right in. The recently retired stock car driver already has a liking for the J-Bar in Hotel Jerome and felt right at home inside Zane's Tavern, a hot spot for locals.
As for the skiing, the North Carolina-native will be straight-lining the Highland Bowl in no time.
"We got him on skis a Quick read more or view full article couple of days ago," said fellow NASCAR driver Jimmie Johnson. "In two hours of just playing around, we went to the top (of Aspen Mountain) and he came down. So he's on a fast pace. He's a natural."
Johnson, a part-time Aspen resident, played tour guide of sorts for Earnhardt Jr. this weekend, including bringing him along to Saturday's eighth annual Audi Ajax Cup, a fundraiser for the Aspen Valley Ski and Snowboard Club. The duo even came together to auction off a NASCAR day with the two of them, with the proceeds benefiting the AVSC.
While Johnson knows his way around skis quite well, this was a first for Earnhardt Jr.
"He's always getting me into stuff like that. He talked me into going skiing and it was a blast," Earnhardt Jr. said. "We spent about three hours and we finally made one run from the top down. It was so much fun. There are some similarities in racing. I'd water skied before as a kid. There are some similarities with water skiing and how you transfer your weight."
Earnhardt Jr. is in Aspen with his wife, Amy, in celebration of their one-year anniversary. He said the first real trip the couple took together was 10 years ago to Aspen and with Johnson's help decided to make a nostalgic trip back to the Roaring Fork Valley.
With Earnhardt Jr. sticking to the sidelines, Johnson competed in Saturday's Ajax Cup, which was a 16-team parallel slalom competition at the base of Aspen Mountain, featuring numerous ski professionals like two-time overall World Cup champion Bode Miller and Aspen's own Wiley Maple.
While Johnson's team, M.A.G.S. — Middle Aged Guys on Skis — took second to Team Super-G!, the real highlight for him was watching his 7-year-old daughter, Evie, compete for the first time. Evie isn't quite the aggressor as her younger sister, 4-year-old Lydia, which is why her willingness to take the course surprised him.
"I had such massive dad pride today. She made it to the semifinals and just kicked butt. So great," Johnson said. "My oldest that competed is more conservative, so to see her push herself for the last couple of days and then enter the race was pretty awesome. I did not anticipate this out of her."
Johnson, who spent most of last winter in Aspen, won't be around quite as much this season as he wants "to keep my eye on the prize at work for a few more years." The seven-time NASCAR champion — a record he shares with only Richard Petty and Dale Earnhardt Sr. — is coming off a "frustrating" season after winning a championship in 2016. He's optimistic he'll get to No. 8 and pass "The King" and Junior's dad on the all-time list.
This doesn't mean his Aspen days are over, just maybe more limited until he can catch up to history.
"We won't have a chance to stay as long as we did last year, but we'll figure out how to be here more, somehow," Johnson said. "I'm excited. There have been a lot of changes this offseason that are taking place. We have a new car that we are going to have under the Chevrolet banner. I have a lot of optimism for 2018."
Earnhardt Jr., on the other hand, is still trying to figure things out. The winner of NASCAR's "Most Popular Driver Award" the past 15 years, he'll spend most of 2018 in the broadcast booth after officially retiring following the 2017 season. His wife is pregnant with their first child, a girl, and the extra free time he now has could mean more trips to Aspen to further his burgeoning ski career.
If not skiing, he said Johnson, an avid cyclist, also has gotten him hooked on Aspen's favorite summer pastime.
"I need to get a whole year under my belt before I get a sense of what retirement feels like," Earnhardt Jr. said. "Just being out of the car is going to be weird."
Read Less