Aspen Bred Olympics Bound Athletes to Watch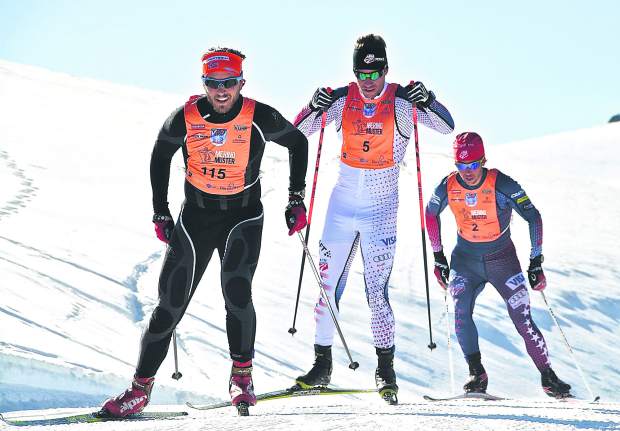 This article was originally published in Aspen Sojourner by Tess Weaver Strokes.
As many as seven local athletes could travel to PyeongChang to compete in the Winter Olympics, and all share a common alma mater: Aspen Valley Ski and Snowboard Club (AVSC). Here's whom we anticipate keeping an eye on during the Games, which will take place February 9–25.
1. Simi Hamilton
As long as the 30-year-old Nordic skier stays healthy and maintains his world ranking, he'll qualify for his third Olympics. An Aspen native (and master of all mountain sports), Hamilton's local roots go deep: his grandfather was president of the Aspen Skiing Company, and his grandmother, Ruthie, has a namesake run on Aspen Mountain. Hamilton has his sights set on the individual classic sprint and the freestyle (skate) team sprint at the Olympics, as well as a repeat World Cup sprint victory. (His win at Switzerland's Tour de Ski in 2013 was the first by an American cross-country skier since 1983.)
Fantasy Olympic Alt Discipline: Mountain biking
Instagram Handle: @simihamilton
2. Alice McKennis
The ski racer and New Castle native had a good shot of qualifying for Sochi in 2014—which would have been her second Olympics—until she shattered her right tibial plateau into some 40 pieces the previous March. This season, McKennis will race in downhill and super-G, battling seven other speed skiers for four Olympic slots in each discipline. When the 28-year-old isn't training during the summer at the Center of Excellence in Park City, Utah, she loves exploring the outdoors on bike, foot, or raft. She credits her childhood at Glenwood Springs's Sunlight Mountain Resort for giving her a lifelong sense of freedom and adventure.
Fantasy Olympic Alt Discipline: Equestrian three-day eventing. "As a kid, I rode horses and competed in [this event]. I really loved it."
Instagram Handle: @thealigator
3. Alex Ferreira
After starting out as a moguls skier, Ferreira found his true love, the halfpipe, and has racked up a slew of podium appearances since, including two X Games bronzes in Aspen and a silver at X Games Oslo last year. Now he's started this year's World Cup season the same way he ended last year's: atop the podium. The 23-year-old won the men's event in Cardrona, New Zealand, in September and last year's season finale in Tignes, France. The wins have boosted Ferreira's confidence heading into a season in which he needs to win two of the remaining four qualifying events (including January's Snowmass comp) to make it to his first Olympics.
Fantasy Olympic Alt Discipline: Table tennis
Instagram Handle: @alex_ferreira3
4. Galena Wardle*
These Olympics might be a long shot for this 19-year-old US Ski Team newbie, but with recent results like the 2016 national title for combined and an FIS giant slalom win in Italy, don't count her out. Born to full-time ski instructors, Wardle spent her childhood between Aspen and Las Leñas, Argentina, skiing and learning French, Spanish, and Portuguese. After competing in her third Junior World Championships last spring, she tore her right ACL and couldn't train on snow this summer, but Wardle welcomes the challenge of qualifying for the Winter Games—a dream she's had since joining AVSC's Alpine program when she was 8.
Fantasy Olympic Alt Discipline: Beach volleyball
Instagram Handle: @skigalena
*Updated November 24, 2017 via the Aspen Times: Aspen ski racer Galena Wardle, a "C" team member with the U.S. Ski Team, announced on Instagram that she recently re-tore her ACL in a training crash and will likely miss the remainder of the season.
5. Torin Yater-Wallace
The Aspen halfpipe skier won his first X Games gold at age 15 and has earned six more medals since. At Sochi in 2014, on the mend from two lung collapses and a pair of broken ribs, he fell on his qualifying run and missed the finals of his sport's Olympic debut. More recently, on the heels of a life-threatening case of strep that required medical paralysis for 10 days and included two months of complications, Yater-Wallace won gold at X Games Oslo in 2016. The 22-year-old won the first Olympic qualifier in Mammoth last December and February's Olympic test event in South Korea, which bodes well for the next four qualifying events, including the Toyota US Grand Prix at Snowmass (Jan 10–14).
Fantasy Olympic Alt Discipline: "Not many other sports I'm into fit the formal mold of the Olympics."
Instagram Handle: @torinyw
6. Noah Hoffman
Considered the country's top distance Nordic skier, this 28-year-old Aspen High graduate placed 26th in the 50k cross-country race at the 2014 Olympics and eighth in a World Cup event in South Korea last February. He likens the Olympic venue's wide-open, rolling courses to the Aspen High School trails he trained on (after skiing a Highland Bowl lap during first and second periods, then biking home), which he calls one of the best Nordic systems in the country. After moving to Aspen at age 7, Hoffman joined AVSC, which he credits with giving him the support necessary to make it to the Olympic level. To qualify for these Games, he needs to place in the top 30 at most of the World Cup races prior to Christmas.
Fantasy Olympic Alt Discipline: Tennis
Instagram Handle: @hoffnoah
7. Wiley Maple
Though he has a top-20 World Cup finish under his belt, this ski racer's career high has been his second consecutive national downhill title in Aspen in 2016. He's also endured the lows—breaking his hands eight times, breaking his back, and tearing his ACL. Skiing is in his DNA, as Maple's Canadian grandfather was one of North America's first certified ski instructors and a manager at several resorts. The 27-year-old knows he has the speed and skills to qualify for PyeongChang (though he'll likely need a couple of top-10 World Cup results to seal the deal), which would validate his unwavering dedication to a sport he still loves.
Fantasy Olympic Alt Discipline: 100-meter dash
Instagram Handle: @wcmaple