Coming Up: 7th Annual Audi Ajax Cup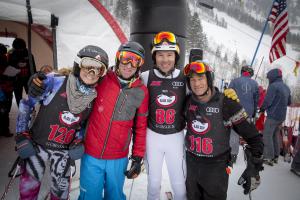 This article was originally published by Austin Colbert in the Aspen Times.

How does the Aspen Valley Ski and Snowboard Club find the funds to help keep 2,300 area kids on skis and snowboards all season?
With a few celebrities, more than a few winter sport diehards and a good bit of ski racing.
"They started this event as being creative and thinking up a new way other than just doing a gala dinner," five-time Olympian and Aspen local Casey Puckett said. "It's a really successful model and it's just a lot of fun for everyone involved."
Puckett was referring to Friday's seventh annual Audi Ajax Cup, which he co-chairs with Aspen's Chris Davenport, an accomplished big mountain skier. The single-day Alpine competition is the largest fundraiser of the year for AVSC and always brings in big names that are willing to help support the local club.
The competition takes place on the Little Nell trail near the base of Aspen Mountain and is free for spectators. There are 16 teams competing this year for the Gorsuch Cup, each of which has a captain (the team's financial sponsor) and a pro skier, along with four other racers of the captain's choosing.
"There is a lot of camaraderie, a lot of history, with a lot of the people who show up," Puckett said. "Each year that passes, the team captains become more and more interested in getting a name on that trophy."
Among the biggest names competing is seven-time NASCAR champion Jimmie Johnson, a part-time Aspen resident whose own children are enrolled in the AVSC. The field of pros includes former AVSC athletes Katie Ryan, Jake Zamansky and Alice McKennis. McKennis is one of two current World Cup skiers competing in Aspen Friday, the other being Wyoming native and Steamboat Springs Winter Sports Club athlete Anna Marno.
Other pros include Daron Rahlves, A.J. Kitt, Kyle Rasmussen, Marco Sullivan, Kristina Koznick, Wendy Fisher, Patrik Jaerbyn, Sarah Schleper, Erik Schlopy and Thomas Vonn. Puckett and Davenport also expect to compete.
"A lot of people show up each year hoping to better their performance from last year. They love showing up and beating some of the guys they skied with growing up," Puckett said. "This is our biggest fundraiser and most important fundraiser of the year. It supports all those athletes that want to come out and ski and wouldn't normally be able to without the help of the scholarship money."
The format of Friday's Ajax Cup is a modified dual giant slalom, where racers will compete head-to-head with handicaps (first set Thursday and changed through the course of Friday's competition) to keep the playing field even. The 16-team field ultimately will be whittled down to four final teams by Friday afternoon.
Racing begins around 9 a.m. Friday and should be wrapped up by 3 p.m. An awards ceremony is planned to take place between 4 and 4:30 p.m.
"It's fun for the team captains who are generous enough to buy the teams. It's a lot of fun for all the people that come," Puckett said. "Aspen is a ski town and people recognize that and come out to support it."
While watching is free, there are a limited number of VIP tickets available for the deck viewing party, hosted by Shlomo's Deli and Grill. Tickets cost $250 and can be purchased through http://www.teamavsc.org.
The AVSC is celebrating its 80th year of existence this winter.