MTB Program Continues Growth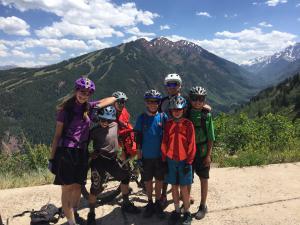 This article was originally published in The Aspen Times by Austin Colbert.

If nothing else, Miah Wheeler wants the Aspen Valley Ski and Snowboard Club's mountain biking program to inspire children to find their passion for the sport.

"If it's a catalyst for any of the kids, I think it's very successful," Wheeler said. "Because of that and word of mouth, I think we'll absolutely crush it in years to come."

In its eighth year, the AVSC's Quick read more or view full article summer program has come out of its shell this season. It has long been one of Wheeler's main projects along with his former role as the AVSC's snowboard director. He's recently become the club's development director, with Jason Cook stepping into his shoes as the snowboard program director.

For Cook, this means extra involvement in the mountain bike program of which Wheeler plans to continue helping with.

"I'll always be involved, just because I think it's a great program. With AVSC being able to have year-round exposure and programing for kids is important," Wheeler said. "This is our eighth year doing it and this is the first year we've really promoted it. It's amazing what marketing will do for you."

The AVSC offers three levels of instruction during the summer, beginning with its free intro to biking sessions, held in Carbondale, Basalt and Snowmass Village. From there it's onto the beginner/intermediate level and then finally to the advanced program. Class sizes are limited to about 10 participants and two coaches, with each session occurring over a three-day period.

"Our goal is to go out, have fun and enjoy the trails this valley has to offer," said Cook, who has worked with the AVSC in some capacity since 2007. "It's a beautiful valley and it's just another way to adventure."

Most of the clinic participants, who range from age 8 to 15, generally, also are winter athletes through the club. Nearly all disciplines are represented. Cook isn't against developing a more competitive mountain bike scene through the AVSC, although he believes keeping it laid back is equally as important as the athletes come off a rigorous winter season.

His main focus going forward is on the beginner clinics catered toward young, first-time riders.

"I want to work a little more on that intro to bike program and figure out a way to make it more of a pipeline into the rest of our bike offerings," Cook said.

The beginner/intermediate and advanced clinics are $135 per three-day session. While most end this week, the AVSC will continue to offer advanced sessions into mid-August when school returns and preparing for the winter sports once again comes to the forefront.

This doesn't mean the AVSC athletes are done with two wheels, however.

"Cycling is a part of AVSC's dryland training that we do in the fall to get ready for the winter regardless," Wheeler said. "The bike program in one form or the other is going to be rolling until snow hits pretty much."

For more information on the mountain biking program, visit http://www.teamavsc.org/mountain-biking.
Read Less