AVSC Hosts Community Pedaleando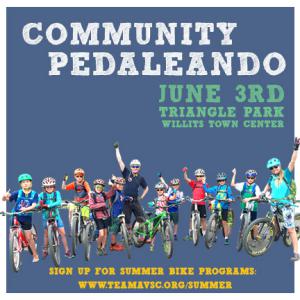 This article was originally published by Austin Colbert in The Aspen Times.
Miah Wheeler wants the Aspen Valley Ski and Snowboard Club to continue to be a community staple in the Roaring Fork Valley, even after the snow has melted. And the next best thing to winter is summer and the valley's plethora of biking options.
Wheeler, AVSC's snowboard director, also runs the club's summer bike program and helped create Saturday's inaugural Community Pedaleando.
"We just wanted to have a community event mid-valley that we could bring in all the different cultures," Wheeler said. "For us,
Quick read more or view full article
as the oldest non-profit in the valley, we are trying to engage outside of our traditional winter time. This is the eighth year we've had bicycling programs, and we really haven't done much of a marketing campaign."

The Pedaleando is being labeled as "a free bike ride to celebrate bike season." The festivities start Saturday at 8 a.m. at Triangle Park in Willits Town Center, with the ride starting at 9 a.m. The route takes riders to Rock Bottom Ranch and back via the Rio Grande Trail, roughly six miles round trip.

"Just something fun for young kids. So it's not a big ride at all," Wheeler said. "It's just to get kids outdoors. That's really the big piece. We want to get kids outdoors enjoying where we live. We are kind of living in a bike Mecca right now."

Pre-ride activities include a raffle and bike decorating. Multiple aid stations will be set up on the course and there will be factoids sprinkled throughout to engage the riders. The hope is not to only get children outside, but to raise awareness of the AVSC's summer bike program, which this season includes free intro to biking courses.

"We are doing free biking classes in Carbondale, Basalt and Snowmass Village, and we are doing four in each location," Wheeler said. "We are just trying to engage more people in that and keep our visibility going year round."

Saturday's bike ride is completely free and for all ages. Participants will be asked to sign a release form when they pick up their raffle ticket; pre-registration is not required. Free breakfast and snacks will be available.

AVSC has teamed with around 25 local businesses and nonprofits to help make this happen.

Go to http://www.teamavsc.org for more information on the club's summer bike programs, which start early this month.

Read Less
Elsie Weiss' Mountaineering Mentorship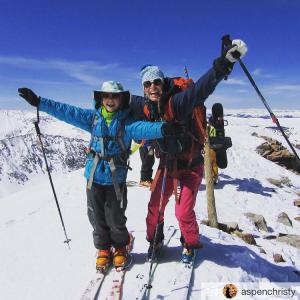 This article was originally published by Austin Colbert in the Aspen Times Weekly.
Photo: Christy Mahon

The temperature at the trailhead was colder than 11-year-old Elsie Weiss thought it would be. According to her journal, it was about 20 degrees at 7:20 a.m. on that late April morning as she and her three companions set off in search of the 14,265-foot summit of Quandary Peak, near Breckenridge.

The group hiked in for about a mile before beginning to skin up the highest peak in the Tenmile Range. About 200 feet later, they were above the tree line, Quick read more or view full article and later, after a final, grueling 1,000-foot climb, the sixth grader at Aspen Middle School accomplished what few her age have — she summited one of Colorado's infamous 14ers on skis.

"It seemed like the mountain kept growing and growing and we'd never get to the top, but we finally did," Elsie wrote in her journal. "Before we left, I wasn't sure I was up for skiing a 14,000-foot peak. But I did anyway, and succeeded. I realized that you just have to do things, and then you know you can."

FINDING A MENTOR

While the ascent of Quandary took Elsie about three and a half hours, the real journey to the top began almost a year prior. Like any Aspen sixth grader, Elsie was to take part in the school's mentorship program, which pairs a student with an adult mentor in a field of the mentee's choosing.

Elsie, a quiet but adventurous girl, wanted to learn about ski mountaineering. And who better to turn to than Aspen's own Christy Mahon.

"The mountains are kind of that common element that bring people together with so much joy and awe and respect. I think that's gotten into Elsie's blood a little bit," said Elsie's mother, Rebecca Weiss. "It was almost more about Christy than it was about ski mountaineering."

Mahon needs little introduction. She and her husband, Ted Mahon, are two of the valley's most accomplished ski mountaineers. Among Christy Mahon's accomplishments is being credited as the first woman to ski each of Colorado's 14,000-foot peaks, which she achieved in 2010.

Since 2011, Mahon has been the development director for the Aspen Center for Environmental Studies. It was through ACES she knew Rebecca, who has long been a naturalist for the organization. Her children, Elsie and Anders, grew up crawling around Hallam Lake's fertile soils.

Anders, 13, had been through the mentorship program two years before Elsie, meaning Rebecca knew how the program worked and was able to give Elsie a jump start. Ski mountaineering is no small project, and not anyone can successfully navigate an 11-year-old up a 14,000-foot mountain.

But Christy Mahon isn't anyone.

"We got up the nerve to approach Christy knowing she is like the busiest person in the valley and accomplishes enough for 10 people all rolled into one on a daily basis," Rebecca said. "We are so, so grateful to Christy for agreeing to work with Elsie for an entire year. Most kids work with their mentors for five or six months."

GETTING A HEAD START

Many students don't find a mentor until the fall of their sixth-grade year. Elsie approached Mahon in May 2016, and by June 3 the two had successfully climbed and skied one of Colorado's 13,000-foot peaks as practice, even bumping into ski-mountaineering legend Lou Dawson at the top, one of Mahon's idols.

Being in the mountains wasn't new to Elsie. She had hiked a handful of 14ers during the summer, and had done plenty of hut trips during the winter with her family. Her father, Austin Weiss, is the head Nordic development team coach at the Aspen Valley Ski and Snowboard Club. Both Elsie and Anders are part of the devo team and already are experienced backcountry skiers.

Mahon and Elsie continued to train during the summer and fall, where in September they summited Mount Harvard and Mount Columbia — both 14ers in the Sawatch Range just northwest of Buena Vista — in one go.

As Rebecca put it, "When you do something with Christy, you don't just go and do it. You really do it."

"We wanted to pick something that was one step beyond and that would be good training up at altitude for a long day, knowing that's what ski mountaineering is," Mahon said. "Elsie did great. A lot of what we've been practicing is doing something that really pushes you and then figuring out that you can do anything you want to put your mind to. You just have to be prepared and put in the time, which Elsie definitely does."

THE OVERACHIEVERS

The mentorship program requires students to put in 30 hours toward the project, 15 of which must be spent with their mentor. When Elsie submitted her final log earlier this month, she had recorded 96.25 hours over the nearly 12 months.

Few can keep up with Mahon's own overachieving mentality, which has helped mold her into one of the country's most decorated female mountaineers, but she might have met her match with Elsie.

Training for Quandary, which was the final exam, so to speak, of their project, went beyond fitness. Elsie spent time with Mahon at ACES, learning about her day job. They met with Greg Shaffran, a member of Mountain Rescue Aspen, and learned about avalanche safety. They'd go early to Buttermilk and practice using crampons and ice axes. Elsie became familiar with the Colorado Avalanche Information Center and would read the daily snow reports. She read "Mountaineering: Freedom of the Hills," assigned to her by Mahon, a book considered to be the go-to source for learning the ins and outs of ski mountaineering.

Elsie said she learned two major concepts from Mahon: To always "be prepared" and to "always go." Both were important to successfully reach the top of Quandary.

ONE LAST TEST

On March 27, Elsie skinned the 3,200 vertical feet of Aspen Mountain for the first time. The only thing that remained was Quandary itself.

On April 22, Austin Weiss, Elsie and Mahon traveled to Breckenridge, where they stayed with an acquaintance of Rebecca's, veteran avalanche forecaster Scott Toepfer, one of the most well-known names in the field. Toepfer's son will be a sixth-grader next year at Aspen Middle School.

The following morning, Toepfer decided to become the fourth member of the crew as they set out to get Elsie up Quandary.

One of the first 14ers Mahon skied was Quandary, which she did in 2000 with Ted Mahon, then just her boyfriend. She said it "opened up her world," and it was an experience she wanted Elsie to have, as well.

"For me to bring Elsie and share that with her and being able to give that back after someone gave that to me 17 years prior, it just was one of the most rewarding experiences of my life," Mahon said.

"You get to the top and it's like all of your hard work pays off and all of a sudden the pain and some of the things you've gone through dissipates and then you are rewarded for your work. It's almost like these little cycles of life. Being able to show Elsie that the benefits come from sometimes really pushing yourself."

Elsie was more than prepared to conquer her first 14er on skis. The foursome got up and then skied down Quandary in less than five hours, although Elsie admitted it wasn't easy.

"There was one big climb, then a bench, and then the final climb of 1,000 feet. The slope was steep and we had to make switchbacks. The wind was cranking on the ridge," Elsie wrote in her journal. "I remember Christy telling me that when she isn't sure she feels like doing an adventure, she tells herself, 'Always go!' And she never regrets that she went. I felt like that with Quandary, too. My key to success is 'the motivation of the other side.' You cannot see what is on the other side of the peak, so if you keep wondering what is on the other side, it keeps you going."

JUST THE BEGINNING

The program officially wrapped up Tuesday with the mentorship fair, where the students tried to summarize their experience on a large piece of trifold cardboard. This was almost more difficult for Elsie than skiing Quandary, as the program gave her more than she could have ever wanted.

But more than making a major impression on Elsie's young life, it's something Mahon won't easily forget, either.

"This mentorship was really fun for me to almost put on a different hat where I was able to share what I've been able to learn and what the mountains and my mentors have been teaching me," Mahon said. "You see this mentorship snowballing and touching everybody. What starts as a small school assignment turns life changing for everyone involved."

The two plan to ski at least one 14er together a year until Elsie graduates from high school, but it's a friendship that is likely to last a lifetime.

"I just really like Christy," Elsie said. "She is always smiling and laughing and is really fun to be around. Plus, I like to skin up and ski down mountains. I like the challenge."
Read Less
AVSC Alums Named to US Freeski Team
This article was originally published in the Aspen Daily News.
Two Aspen Valley Ski & Snowboard Club athletes have been nominated to the 2017/18 U.S. Freeski Team, according to an announcement Wednesday from the USSA News Bureau.
Torin Yater-Wallace, 21, of Basalt, and 22-year-old Alex Ferreira of Aspen were named to an eight-man halfpipe Pro Team.
Except for Reno's David Wise, the entire men's halfpipe team, which also includes Aaron Blunck of Crested Butte, Boulder's Lyman Currier, Birk Irving of Winter Park, Telluride's Gus Kenworthy and Taylor Seaton of Avon, hail from Colorado.
Aspen's Ferreira
Quick read more or view full article
won the final event of the 2016/17 season, the FIS World Ski event in Tignes, France. While Ferreira qualified for the 2017 X Games at Buttermilk, he pulled out due to injury.

In February, Yater-Wallace won the 2018 Olympic halfpipe test event in Bokwang Phoenix Park, South Korea ahead of Crested Butte's Blunck. Yater-Wallace was also a member of the 2014 Olympic Team.

Nominations to the national team offer "world class program support, along with access to the U.S. Ski & Snowboard Center of Excellence, as well as athletic benefits including an elite coaching, sport science, sports medicine and high performance staff, and education opportunities," according to the release. The official team announcement will be made in the fall.

The women's Freeski halfpipe team includes: Maddie Bowman, Annelisa Drew, Devin Logan, Brita Sigourney and Carly Margulies.

The North Face Rookie Team includes: Jacob Beebe, Cameron Brodrick Hunter Hess, Jaxin Hoerter, Jake Mageau and Sammy Schuiling, Anna Gorham, Abigale Hansen and Svea Irving.

Colorful slopestyle skier Bobby Brown of Denver leads the men's Pro team that also features: Joss Christensen, Nick Goepper, Alex Hall, Gus Kenworthy and McRae Williams. The women's side is represented by Julia Krass, Devin Logan, Darian Stevens and Maggie Voisin.

Named to the North Face Rookie Team for slopestyle were: Willie Borm, Eddie Gildea, Cody LaPlante, Colby Stevenson, Caroline Claire, Grace Henderson and Rell Harwood. Read Less