Lee Brothers Eye National Team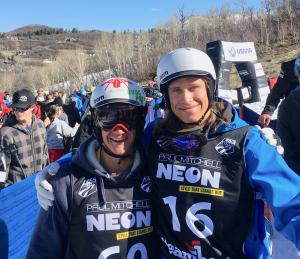 This article was originally published by Austin Colbert in The Aspen Times.

The U.S. Freestyle Championships last month in Steamboat Springs was nearly a complete disaster for moguls skier Colby Lee. The 22-year-old Aspen Valley Ski and Snowboard Club athlete accidently ripped the toe piece from his binding the day before the competition, missed a lot of important training runs and had to compete with mismatched skis.

So for him to finish a personal best 10th in moguls at nationals was something of a miracle, although not completely surprising.

"It was exciting, too, as a spectator and as Quick read more or view full article his brother watching him," said Aaron Lee, Colby's younger brother and fellow moguls skier.

"He hasn't had the big competition success like he could. It was good to see him break through and get there."

The U.S. nationals, held March 31 and April 1 at the Steamboat Ski Area, was the last hoorah for the mogul skiers this season. The competition featured many current members of the U.S. Ski Team as well as skiers like Colby and Aaron Lee who are looking to take that next step. For Colby, who was the third best skier not currently on the U.S. Ski Team, it showed he's right on the doorstep of being able to represent his country on the World Cup level.

"It puts him in a pretty high class," said Colby's father Donnie Lee. "He was hoping this was a year he could take another step. Colby has never had kind of that breakout year. He's just been steady. Every year he moves 10 or 15 spots in the rankings. Ever year he keeps moving."

Donnie and his wife, Mari, came from different sides of the country but met in Aspen, where they raised their three children, including daughter Mariah, the eldest at 25. Colby took to moguls from an early age while Aaron, now 18, followed right behind.

"When I was skiing around with my family, I just knew I liked skiing rogue moguls around the mountain," Colby said. "It was once I joined AVSC they kind of introduced me to the competitive side and I just loved it enough to go back every year. I haven't ever questioned doing anything else in the winter."

The brothers — Mariah shied away from competitive skiing — have competed at the FIS level for numerous seasons, including multiple appearances at both nationals and junior nationals over the years. Colby finished 33rd in moguls and 22nd in dual moguls at nationals in 2016, then his best finish, and has spent much of the past two seasons competing at the Nor-Am level, the stage just below reaching the World Cup.

Colby's 10th-place finish this season — a sore back led to him pulling out of the dual competition the next day — could be the sort of performance that finally puts him in the crosshairs of the U.S. Ski Team. All national qualifiers also get to compete at selections in December, which is the main road to Nor-Ams and hopefully the U.S. team.

"That's not out of the picture for him if he can put together some good runs and improve his airs a little bit this summer," said Eric Knight, the AVSC freestyle/freeride program director. "I'd say he is poised to make some big moves. Definitely, I feel that was a breakthrough competition for him."

Nationals also were a best for Aaron, who took 43rd in singles and tied for 33rd in dual moguls. He is hoping a strong performance at selections next winter can get him onto the Nor-Am circuit alongside his brother.

Colby and Aaron spend much of the summer working, saving up money to support their skiing lifestyle in the winter. Only the upper echelon of the U.S. Ski Team receive significant financial support, so being able to live their dream requires a lot of effort in the summer months.

"It's a lot of hard work. Even when you are training and having fun, it's an energy draw," Colby said. "It's been a slow climb up the ladder and every year is just a little bit better. As long as I'm going up it's been hard to quit. You just want to see where you can get."
Read Less
Mason USSA Development Coach of the Year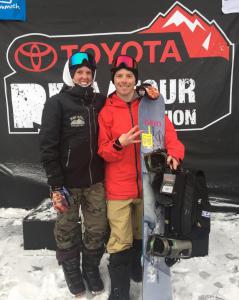 Check out the story on Nichole in The Aspen Times.
Nichole Mason, Aspen Valley Ski & Snowboard Club's elite level snowboard coach, will receive two awards at the USSA Congress 2017 in Park City, Utah on May 11
th
. Mason has been named the 2017 USSA Snowboarding Domestic Coach of the Year as well as the 2017 USSA Development Coach of the Year. At AVSC, Mason coaches top-tier snowboard athletes who compete at regional, national, and World Cup levels. This year, she was selected to coach multiple international projects including FIS World Juniors in Laax, Switzerland.
USSA's Snowboarding
Quick read more or view full article
Sport Committee praised Mason's dedication to the sport, explaining, "Nichole is one of the few female coaches working at a high level within snowboarding. She has an exceptional talent of cultivating athletes and helping them meet their goals. Nichole was one of the first coaches to complete the Snowboard Level 300 certification. She coached the FIS Junior Worlds [Halfpipe] team to three medals this season. She has also put multiple athletes on the US Team, including Chris Corning."

Nichole was considered alongside six other domestic sport award recipients for the Development Coach of the Year Award, one of USSA's prestigious Gold Awards. In a letter to Mason, USSA's CEO Tiger Shaw explained, "The USSA's Gold Awards represent the single highest honors in the organization. Among the USSA Gold Awards, the USSA honors a deserving representative from each sector of its structure: an athlete, a volunteer, an international and a domestic coach and a club. These recipients represent the vision, mission and values of the USSA to be best in the world."

Aspen Valley Ski & Snowboard Club Executive Director Mark Godomsky congratulated Mason, saying, "Nichole is a huge asset to our Snowboard Program. She is an incredible ambassador for AVSC and for US Snowboarding. Her passion for snowboarding and her ability to help young snowboarders build their talents and work towards reaching the highest level of the sport is impressive, and a direct result of her dedication to her sport, job, and athletes."

Mason's being named Development Coach of the Year grants her nominee status for the USOC's Development Coach of the Year Award. Read Less
Stapleton, Davenport bound for HOF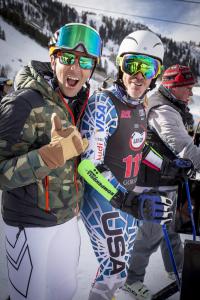 This article was originally published in the Aspen Daily News.

Two prominent Aspenites, and one former excellence director of Aspen Valley Ski & Snowboard Club, are part of the Colorado Snowsports Hall of Fame's class of 2017 inductees who were announced Friday. The formal ceremony will be held in mid-October in Vail.

"Heading the list of new Hall of Fame members is Aspen backcountry and ski mountaineering legend Chris Davenport," according to a press release from the Quick read more or view full article Vail-based Colorado Snowsport Hall of Fame.

Davenport will be joined by Dave Stapleton, longtime Aspen ski racing official and administrator, who is this year's "Pioneer" selection; former U.S. Ski & Snowboard Association National Competition Director Walt Evans (recently retired from Aspen Valley Ski & Snowboard Club); SKEA Ltd. owner, president and designer Diane Boyer of Vail and former Steamboat Ski Resort president and author Chris Diamond.

"We are extremely excited about our incoming Hall of Fame Class," stated Susie Tjossem, Executive Director of the Colorado Ski & Snowboard Museum and Hall of Fame. "We have all aspects of snowsports represented, with athletes, sport builders and a true pioneer."

According to the release, the Colorado Ski & Snowboard Hall of Fame Class of 2017 will be officially enshrined in mid-October during the organization's annual Induction Gala. It went on to state: "Hall of Fame candidates are nominated under the established criteria of Athlete, Sport Builder, Inspirational or Pioneer categories, with the Hall of Fame Nomination Committee evaluating and confirming the nominees to move on to the final ballot."

A total of 140 members comprise the Hall of Fame voting panel and are drawn from "key ski industry representatives" and the HOF's board of directors.

— Chris Davenport in 2007 became the first person to ski all 54 of Colorado's 14,000-foot peaks in a single year, adding another 46 13,000-foot peaks to the record in 2015.

"As a result, Chris was named National Geographic's 'Adventurer of the Year' for his vision and success on the Colorado-based project. He is also the author of two coffee table books that celebrate Colorado's mountains, "Ski the 14ers" and "Fifty Classic Ski Descents of North America."

Most recently, he was named one of ESPN's 10 Greatest American Freeskiers of all time; Davenport was inducted into the 2015 class of the U.S. Ski and Snowboard Hall of Fame. "His accomplishments have brought tremendous visibility to the sport that makes Colorado the desired destination for skiers from all over the world," according to the release, which also noted his contribution to the "rise and popularity of the current AT backcountry movement."

— Dave Stapleton, a fifth generation Coloradan who grew up in Aspen, "had a passion for ski sport that evolved from his time as an athlete, coach and official, punctuating these efforts by focusing on producing premier international competitions at Colorado ski resorts," according to the hall of fame. One of his many legacies dealt with skier safety and the standardization of alpine race courses.

"Along with three other leaders, Dave developed and launched a landmark initiative with the U.S. Ski & Snowboard Association to the International Ski Federation that mandated specific standards for alpine course design. Dave's work in the area of racer safety helped to form many of the practices that are in place today in the ski industry regarding risk management," the release continued. "Both on and off the hill, Dave could drive his high standards with coaches, officials and athletes because of the level of respect he commanded."

— Walt Evans, who retired from AVSC last June, was involved in Colorado and U.S. ski racing for 46 years. From 1978-1983, Evans worked as the first executive director for the Steamboat Springs Winter Sports Club. He held that position until going to work with the U.S. Ski Association as its alpine program director for the Rocky Mountain Division. In 1997, Evans was promoted to USSA National Competition Director, where he oversaw the rebuilding of the organization's domestic competition programs.

Evans' other accomplishments included engineering the National Development System, a program that worked with top clubs to provide elite training for rising alpine races. In 2013, Evans was honored with the John J. Clair Jr. Award, recognizing his long service to the USSA.

— Diane Boyer, who is based in Vail, was cited for her promotion of skiing for women and families through the company SKEA Ltd., as well as her work with SnowSports Industries America and the Colorado Snowsports Museum. She served on the SIA board of directors from 1998-2009, including a tenure as its first female chair.

"From 2005 to 2009, as board member and chair of the organization, Diane's efforts to convince the SIA board of directors and Denver and Colorado constituencies to move the annual January trade show from Las Vegas to Denver were fundamentally important to the decision to make this significant move in 2009," according to the release. SKEA was founded by the Boyer family in 1972, with Boyer as its president since 1992 and the company's designer and owner for more than 25 years.

— Chris Diamond. Since retiring, in 2015, from his role as President and COO of the Steamboat Ski Resort, "Chris Diamond transitioned from running a major Colorado ski area to writing about it," according to the release. His new book is called "Ski Inc."

Diamond started his ski industry career in 1972 at Killington, Vt., as assistant to the president. He rose through the ranks and moved to Steamboat in 1999 to become president and COO, "parlaying one of the strongest brands in the destination industry into a new generation of year-round resorts," the release continued. A past chairman of the National Ski Areas Association who served a similar role with Colorado Ski Country USA, Diamond was awarded NSAA's Lifetime Achievement Award in 2013.

The class of 2017's five Hall of Fame inductees were elected from a field of 15 nominees who also included: Johnny Buxman (Vail), Bruce Cranmer (Winter Park), Bob Dart (Winter Park), Jeff Gorsuch (Aspen), Jake Hoeschler (Winter Park), Bob Kunkel (Durango), John Lovett (Vail), Johno McBride (Aspen), Moe Mosley (Golden) and Lonny Vanatta (Steamboat Springs), according to the release.
Read Less
Awards Banquet: Award Winners + Video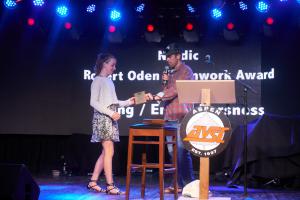 Last week, we celebrated the end of our 2016-2017 competitive season with our TEAM programs at Belly Up. We are incredibly proud of our athletes for their commitment this season. Check out the list of award winners below as well as the
end of season video
. Big thanks to athletes Reed
Beidleman
, Cooper Campisi, Jack Sweeney and coaches Chad Otterstrom and Josh Ganz for their help with the
video
!
Community Partner: Ute Mountaineer

Bob Beattie Award: Ned Ryerson

Tage Pedersen Commitment Award: Eva McDonough & Jordan Quick read more or view full article Miner (nordic), Nick Trouskie & Bella Borenstein (snowboard), Wyatt Eaton & Tristan Feinberg (freestyle), Christian Kelly & Arie Van Vuuren (alpine)

Robert Oden Teamwork Award: Emma Barsness & Wes Engstrom (nordic), Levi Grogan & Preston Jessick (snowboard), Cooper Kendrick & Aaron Lee (freestyle), Eleanor Hicks & Isabella Wright (alpine), Kevin Mather (adaptive)

Dick Butera Integrity Award: Elsie Weiss & Chelsea Moore (nordic), Jake Thomson & Robert Pettit (snowboard), Nate Thomas & Spencer Ellsperman (freestyle), Kailey Murphy & Ben Throm (alpine)

Alpine Most-Improved Award: Alexandra Engelmann & Shiau-Tau Ciecierska

Gale Spence Excellence in Coaching: Emily VanGorp (nordic), Jason Cook (snowboard), Forrest Aley (freestyle), Willie Volckhausen (alpine), Brian Follett (adaptive)

Ruth Whyte Outstanding Volunteer: Brian Olson (nordic), Jesse Dempsey (snowboard), Dave Sims (freestyle), Kenan Forman (alpine), Dave Sturt (adaptive)

Stirling Cooper Award: Corbin Carpenter (nordic), Shane Serrano & Brenon Reed (snowboard), Oliver Smith (freestyle), Sam McDermott (alpine)

Willoughby Award: Ethan Burkley (freestyle)

Pursuit of Excellence: Kate Oldham (nordic), Kirsten Webster (snowboard), Cassidy Jarrell (freestyle), Cooper Cornelius (alpine)

Andy Mill Award: Cassidy Jarrell (freestyle)

Graduating Seniors: Anna Patterson, Cameron Cain, Cooper Cornelius, Devon Garber, Devon Toribio, Jessica McMurty, Pascale Augspurger, Reese Irwin-Pack, Aaron Lee, Chase Ellsperman, Ethan Burkley, Nicholas Goralka, Adair Pattillo, Hazel Wille, Jack Sweeney, Katelyn Krehbiel, Wes Engstrom, Hunter Hill, Jack Chase
Read Less
Aspen Times' Awards Banquet Recap

This article was originally published by Austin Colbert in The Aspen Times.

Cassidy Jarrell Among Big Winners at AVSC's Annual Awards Banquet

Once upon a time, Cassidy Jarrell may have lacked confidence. Although, it's difficult to remember when that was, as the winter season he just had certainly sent Aspen's young freestyle skier to another level.

"His confidence has grown immensely," said Greg Ruppel, Jarrell's freeride coach at the Aspen Valley Ski and Snowboard Club. "At the start of the season the goals were to podium those two national events. By mid-season the skiing was starting Quick read more or view full article to come around."

Jarrell, 17, was arguably the most accomplished athlete for the AVSC this winter. He won both the USSA junior national championship and the USASA national championship in the halfpipe, and was a member of the U.S. freeskiing World Championships team, where he took fifth in the halfpipe.

Thursday at Belly Up Aspen, Jarrell's season culminated with him receiving the Andy Mill award at the AVSC's annual awards banquet. Considered the most prestigious individual award the organization hands out, it goes to an athlete who has achieved outstanding national or international results.

"My coaches helped get me so far and I just think it's been the best season and I can't complain," Jarrell said. "In freestyle skiing it takes you awhile to actually be comfortable, to know you actually have the skill to do the tricks. And this year I was really comfortable with that and was trying really hard every day and it worked out."

Hoping for only the podium, Jarrell's first national title came March 19 in Sun Valley, Idaho, at the USSA Freestyle and Freeskiing Jr. Nationals. As he was driving to that competition, before his national title, he received the email that named him one of only four men's halfpipe athletes the U.S. was sending to Crans-Montana, Switzerland, March 25-26 to compete at junior worlds.

Then, last weekend, Jarrell capped off his season with another national title at the USASA national event at Copper Mountain.

"He's been putting in solid work on his fundamentals. It's all starting to come together," Ruppel said. "It was more just really nice to get the invite (to worlds). It was kind of a stepping stone for him to be looked at a little bit more for the U.S. team and U.S. rookie team sort of stuff. Nice chance for him to start representing his country rather than just the local ski team."

The invite to worlds proved the U.S. national team certainly has its eyes on Jarrell, a high school junior. He's long idolized Aspen's two local ski halfpipe superstars — Torin Yater-Wallace and Alex Ferreira — saying Yater-Wallace even used to babysit him back in the day.

Jarrell is hoping his big season can boost him into an even stronger one next winter, where he hopes to compete on the Grand Prix level and possibly be part of the U.S. rookie team.

Catching up to Yater-Wallace and Ferreira on the international level comes after that.

"They are huge influences," Jarrell said. "I really want to make it on the U.S. rookie team, so I'm going to keep working as hard as I can."

'THE WINTER ABSOLUTELY BLEW BY FAST'

The AVSC handed out roughly 40 awards Thursday night at Belly Up, the event serving as a way to celebrate another successful season for the organization, which celebrated its 80th anniversary this winter.

"You grind at it all year and then all of a sudden spring hits and it's over," said AVSC Executive Director Mark Godomsky, who is finishing his first winter in the role after moving to Aspen from Maine last summer. "It's a great opportunity for the club, especially in its 80th year, but every year to wrap up the season and celebrate all the accomplishments, all the neat things kids do."

Awards were handed out for a myriad of accomplishments, from commitment, teamwork and integrity, to academics and excellence in competition, to recognizing the organization's standout coaches and volunteers.

The club also recognized its 19 graduating seniors.

With the 80th year in the past, Godomsky now looks toward the 81st — his second — and continuing the AVSC's long tradition.

"We still want to become the best in the country on the competitive side in all those sports," Godomsky said. "This club has got 80 years behind it. We are not redirecting it. We are just trying to improve on what we are doing and be more impactful for the local community."
Read Less