Mark's Reflections on World Cup Finals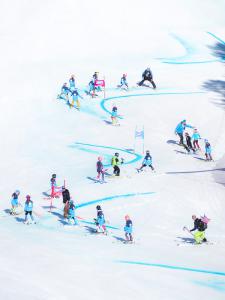 Mark's letter was originally published in The Aspen Times.
After taking some time to reflect on last week, there are a few people that I'd like to thank.

First and foremost, thank you to Aspen Skiing Co. for making the Audi FIS World Cup Finals such a spectacular event. Between the well-executed races, the lively viewing area and VIP tent and the always-happening World Cup Village in Wagner Park, you did a phenomenal job creating an experience that racers, spectators and volunteers alike will not soon forget. It was particularly fun to watch the event through the eyes Quick read more or view full article of our athletes — as a young racer, there's nothing like seeing Mikaela Shiffrin, Marcel Hirscher, and company train on our training venue at Aspen Highlands and then perform in front of our hometown crowd on Ajax! I know that you have been deep in the throes of planning this event ever since you were notified that you won the bid years ago. All your planning was well worth it — congratulations on continuing Aspen's strong legacy of ski racing!

I also want to thank the volunteers that worked day in and day out to make this event happen. One of the things that sets Aspen Valley Ski and Snowboard Club apart from other ski clubs for me is the depth of the community here. Events like the World Cup Finals make the strength and enthusiasm of this community impossible to ignore! Thank you to everyone who opened their homes to course workers, who took time off work to welcome visitors to our town, who woke before the sun and stayed up late making this experience incredible for all involved. When AVSC started 80 years ago, it was entirely volunteer run. Weeks like last week make it incredibly evident that the volunteer spirit around ski racing is alive and well in Aspen.

Finally, I want to thank the AVSC staff. Since fall, many of the alpine coaches have spent time on Ruthies and Aztec getting the safety nets ready for these races. Pat Callahan, chief of course, has been working for months to prepare for an event of this magnitude. Many of our coaches spent the entirety of last week waking up early, helping set the courses, making sure the snow conditions were the best they could be, adjusting gates, leading slip crews and more. Alpine program director Johno McBride single-handedly threw 2,000 pounds of salt on the men's slalom course to keep the track as firm as possible for the racers. I am proud to work alongside some of the best of the business in ski racing — thank you for all that you continue to put into your work, not just for our athletes, but for every athlete you encounter.

Cheers to a successful week, and thanks again to Aspen Skiing Company for making it all happen.

Best,
Mark Godomsky
Read Less
Jarrell Headed to Freeskiing World Juniors
This article was originally published by the Aspen Daily News.
Cassidy Jarrell of Aspen will ski in the men's halfpipe event in Crans Montana, Switzerland, when the FIS Freeskiing Junior World Championships open Saturday.
Jarrell, 17, a member of the Aspen Valley Ski and Snowboard Club, on Thursday was named as a member of the U.S. Junior World Championships Team.
The entire men's halfpipe team is from Colorado and includes: Dylan Ladd of Lakewood, Sammy Schulling from Steamboat and 16-year-old Jaxin Hoerter from Breckenridge, according to a release from USSA.
The halfpipe finals are Sunday.
Quick read more
or
view full article
/>
The women's halfpipe team includes Svea Irving of Winter Park, Brynn Wedlake of Avon, Hanna Blackwell from Hailey, Idaho, and Nikita Rubocki from Boise.

The World Junior Slopestyle and Skicross finals will be held April 6 in Valmalenco, Italy.

"U.S. Freeskiing will send a strong team of athletes to compete at the 2017 FIS Junior World Championships," according to a statement from the team on Thursday.

Jarrell is a junior at Aspen High School.

Read Less
Kurka Wins Two Globes in South Korea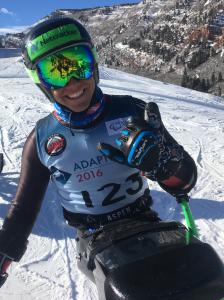 This article was originally published by Austin Colbert in The Aspen Times.

Having grown up in rural Alaska, Andrew Kurka has always been an adrenaline junkie. It's kind of his trademark — one that also has caused him plenty of headaches.
"It's always been a piece of me," Kurka said. "I suppose it was the way I was raised. I've always seen the world a bit differently than most Quick read more or view full article people."
The gung-ho nature he embodies has led to him becoming one of the best adaptive skiers in the world. Earlier this winter he won a downhill world championship, and this weekend in South Korea he won his first two World Cup globes, winning the season-long titles in downhill and super-G.
It's taken him a long time to reach this point, considering he's broken more body parts than most people can imagine.
"He kind of learned the hard way with a couple big crashes," Kevin Jardine said. "He's always been a fast skier. The last couple of years he's kind of learned tactics on control, to be able to ski fast with a proper line. So that definitely makes him a threat. He's never really been afraid of going fast."
Kurka, 25, broke his back when he was 13 in a four-wheeling accident. He's paralyzed from the waist down.
When he was 16, it was his physical therapist who introduced him to adaptive skiing, with Challenge Alaska getting him started. He wasn't keen on skiing, an activity he had no background in prior to his injury. As it turned out, it changed his life.
"I showed up, I loved it. I found out that I could do what I always wanted to do," Kurka said. "I started doing a lot of other things. It helped me realize that anything is possible with a disability and with what has happened to me."
Through Challenge Alaska he came into contact with Challenge Aspen and Jardine. Jardine is a long time adaptive ski coach who started the adaptive racing program at Challenge Aspen. The Carbondale resident is currently the director of the U.S. national adaptive team.
Kurka began training with the Aspen Valley Ski and Snowboard Club about six years ago as well and Aspen has become a second home of sorts ever since.
"It's great because a lot of the locals are willing to help out and show they care and make a difference for a lot of us adaptive athletes," Kurka said. "It's definitely a job. When I'm here, I'm training. I'm competing. When I'm home in Alaska, I'm relaxing and I'm taking my time to go fishing."
Kurka has been on the World Cup circuit for five years, although injuries have always stopped him from thriving. His list includes three broken backs, a broken femur, a dislocated shoulder and two broken ankles. He admitted there isn't much on his body he hasn't broken at some point.
But this hasn't stopped him from pursuing his dreams of one day competing in the Paralympics. This World Cup season he's managed to stay mostly in one piece and has logged a few World Cup victories, leading to his first two globes. The World Cup Finals took place this week in South Korea, where the 2018 Winter Olympics, including the Paralympics, will be held.
Kurka was part of the 2014 Sochi Olympic team, although he broke his back after the first training run and never competed.
"Ski racing is a dangerous sport. When you have no fear like me, you have to manage it tactfully," Kurka said. "After getting the globe, I want to learn Pyeongchang (South Korea). I want to learn the mountain and see what's possible and I want to keep my consistency going into next year so I can show Team USA what I'm made of and can earn a few medals for my country."
Kurka's immediate future is completely focused on the Paralympics. But he's already planning for his future after skiing. He wants to give back, and has dreams of starting a boating business in Alaska that caters to taking disabled persons, sick children and veterans on fishing trips.
"I want to give them a chance to catch a fish bigger than themselves. That's what my big goal is and that's what I'm raising a lot of funds for right now," Kurka said. "Everything I do in life I really want to give back with. I feel like I might as well give back in a way I enjoy; it's authentic when I help people. That's what I'm going for here in life."
You can help Kurka get to Korea by checking out his GoFundMe page at http://www.gofundme.com/andrew-kurka.
Read Less
Alpine Skiers Face a Busy Month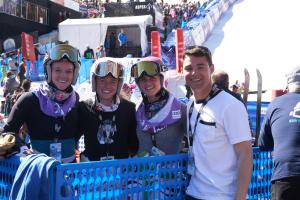 This article was originally published by Austin Colbert in The Aspen Times. A few more athletes have qualified for big races in the time since: Dylan Fiore will be joining her teammates in Sugarloaf for US Nationals, and Sam McDermott and Stella Johansson made it to U14 Can-Am's.
With March comes the madness, and we're not talking basketball. The rest of this month will be highlighted by many end-of-season feature Quick read more or view full article events for Aspen Valley Ski and Snowboard Club alpine skiers, starting this weekend with the U16 and under kids.
"For all of these age groups, these are the events they aspire to make at the end of the season," AVSC Executive Director Mark Godomsky said. "When you look at the kids and think about the time and energy they put forth in training, these are the goals they aspire for so it's the pinnacle of their season."
Beginning Saturday in Vail, seven AVSC skiers will compete in the U16 Rocky/Central regional championships. Qualified athletes include Allyson Cornelius, Margo McHugh, Levyn Thomas, Elle Murphy, Ethan De Moraes and Max Godomsky.
The U14 Rocky/Central regional championships take place March 15-20 in Steamboat Springs. Qualified athletes for the girls are Riley Puckett, Eleanor Hicks, Samantha Edelman, Alexandra Engelmann and Taylor Laing. Qualified AVSC boys are Tyler Thomas, Samuel McDermott, Topher Davenport, James Kelly, Garrett Dollahan, David Colon, Benjamin Godomsky and Christian Kelly.
The U10 and U12 skiers will compete March 11-12 in Telluride and March 18-19 at Powderhorn, respectively. Racers don't need to qualify for their regional championship races at this level.
Benjamin and Max are the eldest sons of Mark Godomsky. He also has a third, 11-year-old Nick, who competes in the U12 division but has opted to skip the competition so he can stay home and watch the World Cup Finals in Aspen.
"The two kids from Maine snuck in there in the back of the pack, so they are pretty fired up," Mark Godomsky said of his two oldest sons, who grew up in Maine and only moved to Aspen with their father in the summer. "This was their goal, and when they get there, now it's their opportunity to go see how they are against the best in their regions."
The larger events will take place later this month. The signature event is the U.S. National Championships, held March 25-28 in Sugarloaf, Maine. Numerous members of the U.S. Ski Team often compete at this event.
Qualified for the U.S. nationals out of the AVSC are Isabella Wright, Hanna Mass, Sky Kelsey, Cooper Cornelius, Bronson Wright, Devon Toribio, Dexter Edelman, Cameron Cain and Ben Throm.
These same nine skiers, with the addition of A.J. Chabot, also are qualified for the U.S. Junior National Championships, held March 29-30, also in Sugarloaf. Those competing in the regional events this week could possibly qualify for junior nationals.
"It's a great accomplishment for the older kids. They have to go all the way back to Maine. I was going to jump on the trip with them and go visit my family, but I won't," Mark Godomsky said. "It's huge for kids in this program to have the opportunity to ski against the best in the country, from the U.S. Ski Team to all the kids from the east and the far west. It's certainly the best of the best in the U.S."
Also of note, two AVSC skiers will compete in the Whistler Cup in Whistler, Canada, from April 10-16. Elle Murphy will represent Ireland, while Calder Bain will represent New Zealand.
Read Less
Four Headed to Nordic Junior Nationals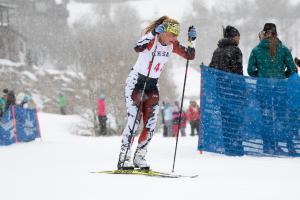 This article was originally published by Austin Colbert in The Aspen Times.

The state skiing championships in Steamboat Springs two weeks ago were difficult for most of the Aspen High School Nordic skiers.
Junior Chelsea Moore competed, taking third and fourth in her two races, but an ongoing illness made it challenging. Sophomore Colt Whitley, who was expected to be one of the top two Aspen boys, didn't even Quick read more or view full article compete because he was so sick.
"At states I did not have my best races because I was still pretty sick," Moore said. "But I'm feeling good now and I'm really excited to go give this nationals my best."
With both feeling better, they'll join two other current Aspen Valley Ski and Snowboard Club athletes at the 2017 USSA Cross Country Junior Championships, held Monday through Saturday at Lake Placid, New York. Lake Placid hosted both the 1932 and 1980 Winter Olympics.
"For most of the athletes, it's the pinnacle of their season," said AVSC Nordic program director and coach August Teague. "Hopefully they are in their best shape, and it's their one chance to compete against their peers from across the country."
Joining Moore and Whitley are Carbondale's Kate Oldham and Grand Mesa's Jordan Miner. Both are AVSC skiers who each competed for Colorado Rocky Mountain School at the state high school championships. Oldham took second in the girls skate race at state.
This will be the first time going to junior nationals for Oldham and Miner, both high school freshmen, while Whitley is going for the second time and Moore the third.
"I was bummed about (missing state), but it was more important to get healthy," Whitley said. "I feel like I'm in better shape this year, if I feel well, and I've been feeling well. So I hope to do better this year."
Whitley also missed the final Rocky Mountain Nordic qualifier of the season because of his illness, but thankfully for him had already qualified for junior nationals previously. He'll be a second year U16 skier at Lake Placid; his best finish last season at junior nationals in Cable, Wisconsin — home of the fabled American Birkebeiner Nordic race — was 33rd.
Moore's best finish came two years ago at Lake Tahoe, California, when she took 18th in a sprint. She will be a first-year U18 skier at Lake Placid.
Oldham and Miner both will compete in the U16 age group.
"I'm just really excited to be on the Rocky Mountain team with all my friends that I only get to see at the races, usually," Moore said. "I'm not nervous because all my team has stepped up with me. I'm more excited to get in with the older girls and more competition."
Races begin Monday with the interval start freestyle. Wednesday is the classic sprint, followed by Friday's mass start classic and Saturday's 3×3-kilometer freestyle relay. Tuesday and Thursday are training days.
"They've got their personal goals and are hoping to have their best races," Teague said. "For the younger ones, it's still a learning process, so later on when we are at bigger races, they've got more experience."
Read Less