AVSC Turns 80, Inducts New HOF Members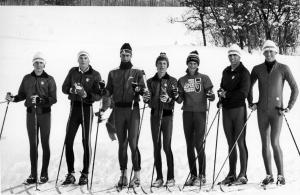 This article was originally published in the Aspen Times.

Saturday, the Aspen Valley Ski & Snowboard Club is celebrating its 80th birthday. Eighty years is a long time for any organization — but especially for an organization in the ski industry in the United States. Our story starts in 1937, when Andre Roch, Frank Willoughby and a couple others formed the Roaring Fork Winter Sports Club. Roch designed and cut the first run on Aspen Mountain — aptly named the 'Roch Run.' Later Quick read more or view full article that year, the club was renamed the Aspen Ski Club and the group set out to cut new trails and raise money for lifts.
It wasn't long before the club started to host races, drawing talent from all over to compete. Over the next decades, the club expanded from primarily Alpine racing to include Nordic skiing, freestyle skiing and snowboarding. In the early '90s, Bob Beattie, Charif Souki, and Brooke Peterson started Aspen Supports Kids (now Base Camp) to increase opportunity in winter sports for kids all over the Roaring Fork Valley. Most recently, we've added an adaptive program that has won USSA's Club of the Year award numerous times.
For 80 years, AVSC has grown from a small group with a big vision to a club that gives access to winter sports to 2,300 local youth each season, from kids who are the first in their families to step into a pair of skis or a snowboard to kids who are on the cusp of qualification for their respective national teams. There's no doubt this club would not have grown the way it did without the support of countless community members that dedicate time, energy, money, and everything else you could think of to ensure our kids have a great experience. That's why I am looking forward to the other part of Saturday's programming: recognizing our 2017 Hall of Fame Inductees.
This year, we're honoring:
Jackie and John Bucksbaum – Patron Award
Aspen Valley Ski & Snowboard Club would not be the place that it is today without the generosity of Jackie & John Bucksbaum. Their passion for the mountains that we call home and drive to share them with all who live in this valley is inspiring. Seven years ago, when we started the Audi Ajax Cup, the Bucksbaums were the first to buy a team, and have done so every year since. They now Chair the event, an annual tradition that has grown and thrived through their vision and energy. They have contributed to the club in countless other ways, and we are incredibly grateful for their steadfast dedication, contagious passion, and impactful gifts.
Chris Lacy – Dedicated Volunteer
Although Chris' youngest child "graduated" from the AVSC in 2009, he's remained a dedicated volunteer. Over the years, Chris has treated the athletes like family, cooking countless training camp dinners, and treated the clubhouse like his home: building, repairing and organizing whenever needed. We are thankful to Chris for his many years of service, even long after his kids have moved on.
Beth Madsen – Athletic Excellence
Beth Madsen grew up ski racing with AVSC where she had an impressive junior career. She skied for the University of Colorado Buffaloes, where she was an All-American. As a member of the U.S. Ski Team, she raced in World Cups and competed in the 1988 Winter Olympics in Calgary, Alberta. She was AVSC's second female Olympian, following Barbara Ferries Henderson who skied in the 1964 Olympic Games.
Casey Puckett – Unsung Hero
Casey is a huge proponent of AVSC. His defined role at the club is as a FIS coach, but he is always willing to help in other areas, such as development. Casey never shies away from an opportunity to help the kids, whether that's recruiting friends to ski in the Audi Ajax Cup each December, hopping into the dunk tank at the Fourth of July barbeque, or sharing AVSC's story on camera or in print. As a five-time Olympian, he knows what it takes to be a successful ski racer, and we're fortunate to have him as a part of our team.
Cecelia Sanchez – Outreach Volunteer
Cecilia moved to Aspen 20 years ago from El Salvador. Once her children, Luis and Alexander, reached elementary school age they enrolled in AVSC's Base Camp program. In the past five years, Cecilia has been instrumental in AVSC's community outreach, especially with the Latino population, by helping countless families apply for scholarships, secure ski and snowboard equipment, and enroll their children in Base Camp. Her commitment to creating opportunities for all children and her connections within the Latino community is helping shape the future of AVSC.
Doug Throm – Lifetime Achievement
Doug has been involved with the club for decades, first as an athlete, then as a coach, then as president of the board of directors and now as both a parent (to alpine racer, Ben) and volunteer. Given the diversity of his roles and the length of his involvement, it's no surprise that Doug is an integral part of AVSC's community. In particular, Doug's involvement was vital to the development of the Base Camp program and the construction of the current clubhouse.
These seven individuals are a great cross-section of our community: athletes, board members, coaches, event chairs, community mobilizers, volunteers, and more. While we are looking forward to honoring our 2017 Hall of Fame Inductees on Saturday, we are immensely grateful to the whole community for making it possible for AVSC to get so many kids on snow over the course of the past 80 years. Together, we've taught valuable lessons in character, grown an appreciation for our surroundings, and had a great deal of success in winter sports on a local, national, and global scale. If you'd like to join us on Saturday night at T-Lazy-7, purchase tickets at http://www.teamavsc.org/events.
Read Less
Swirbul Makes History at Junior Worlds
AVSC Nordic Alumni Hailey Swirbul, alongside her teammates, made history Sunday in the 4x3.3 relay of the 2017 USANA FIS Nordic Junior Worlds by winning a bronze medal - the first relay team medal for the US at World Juniors.
The races were held in Soldier Hollow, UT - making the record even sweeter as it happened on home soil.
Hailey is a 2016 graduate of Basalt High School and a current freshman at the University of Alaska-Anchorage, where she skis for their collegiate team.
See the full story from Aspen Daily News
here
, and check
Quick read more or view full article
out a Junior Worlds recap (with some awesome pictures) here. Way to go Hailey - we are proud of you! Read Less