Jimmie Johnson Races in Audi Ajax Cup
What do skiing and stock car racing have in common? According to seven-time NASCAR champion Jimmie Johnson, quite a bit. He explained to the
Aspen Times
: "The biggest carry-over is just the eyes and what you are looking for... Your eyes and where your eyes go, line selection — there is a way to create the fastest turn in a car and you got to be committed to it, and it's the same thing on skis."
Johnson just wrapped up his second Audi Ajax Cup, and he and his wife Chandra are now proud AVSC parents! Read more
Quick read more or view full article
about the Johnson family's transition to Aspen here. Read Less
Team 'Kick Some Wax' Wins Audi Ajax Cup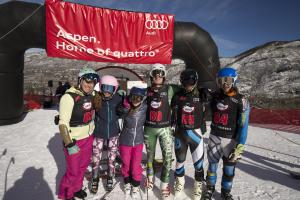 This article was originally published by Austin Colbert in the Aspen Times.
The seventh annual Audi Ajax Cup, held Friday at the base of Aspen Mountain, was nothing like a World Cup ski race. In some ways, it's way better.
"It's thrilling, and I think I enjoy this race almost as much as any other World Cup race I've ever done," said former U.S. Ski Team member Katie Ryan. "I've told many people today, the Ajax Cup is the highlight of my winter break. I absolutely love it. I plan on doing it year after year, as many years as they'll Quick read more or view full article have me."
The Ajax Cup is the largest fundraiser of the year for the Aspen Valley Ski and Snowboard Club. The modified dual giant slalom featured 16 teams, each led by a professional, in a daylong affair to try and conquer the course built down the Little Nell trail.
Ryan, an Aspen native who turns 24 in a few days, was one of the professionals. She was the 2013 and 2014 NorAm downhill champion, a knee injury leading to an early and unwanted retirement from the upper echelon of ski racing.
With that part of her life behind her, Ryan is working toward a finance degree from Westminster College in Utah. She fills in her free time — something she never had as a World Cup skier —working as a mountain bike and hiking guide, and of course continuing to give back to the sport she grew to love after moving to Aspen from Dallas when she was 5.
"I'm 100 percent a product of this AVSC environment," said Ryan, whose parents still live and work in the valley. "It's so cool to come back and see and be a part of this community."
Ryan said the highlight of Friday's action came when she beat Olympian and retired ski racer Daron Rahlves in their head-to-head matchup. Unfortunately, neither could stop team Hildebrand — or team "Kick Some Wax," as it liked to be called — from taking this year's Audi Ajax Cup title.
"Winning never gets old," team Hildebrand pro Kristina Koznick said with a laugh. "It's so fun. It helps when your team is excited, too. It's not just you."
Koznick, who lives in Wolcott, is a three-time Olympian and longtime World Cup skier who last competed full time on the World Cup circuit in 2006. A veteran of the Ajax Cup, Koznick had to defeat fellow Olympian Sarah Schleper of team Coldwell Banker in a winner-take-all final dual to bring home her first Ajax Cup title.
Her "Kick Some Wax" teammates included Cooper Cornelius, Macy Hopkinson, Edie Sherlock, Ben Throm and Oliver Hopkinson.
"Skiing itself is such a great sport. Not just us, but the other pros, I think we want to spread that joy," Koznick said, referring to a chat she had while on the chairlift with Schleper. "If we can share that joy and that fun and that excitement that we still feel at 40, as a retired athlete, and we can share that with a bunch of little kids and raise money for them to just taste it, just experience it, then I think it is worth it for all of us."
Read Less
Coming Up: 7th Annual Audi Ajax Cup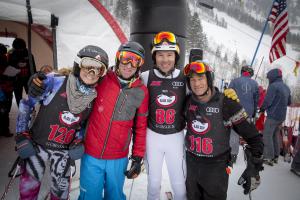 This article was originally published by Austin Colbert in the Aspen Times.

How does the Aspen Valley Ski and Snowboard Club find the funds to help keep 2,300 area kids on skis and snowboards all season?
With a few celebrities, more than a few winter sport diehards and a good bit of ski racing.
"They started this event as being creative and thinking up a new way other than just doing a gala dinner," five-time Olympian and Aspen local Casey Puckett said. "It's a really successful model and it's just a lot of fun for everyone involved."
Puckett was referring to Quick read more or view full article Friday's seventh annual Audi Ajax Cup, which he co-chairs with Aspen's Chris Davenport, an accomplished big mountain skier. The single-day Alpine competition is the largest fundraiser of the year for AVSC and always brings in big names that are willing to help support the local club.
The competition takes place on the Little Nell trail near the base of Aspen Mountain and is free for spectators. There are 16 teams competing this year for the Gorsuch Cup, each of which has a captain (the team's financial sponsor) and a pro skier, along with four other racers of the captain's choosing.
"There is a lot of camaraderie, a lot of history, with a lot of the people who show up," Puckett said. "Each year that passes, the team captains become more and more interested in getting a name on that trophy."
Among the biggest names competing is seven-time NASCAR champion Jimmie Johnson, a part-time Aspen resident whose own children are enrolled in the AVSC. The field of pros includes former AVSC athletes Katie Ryan, Jake Zamansky and Alice McKennis. McKennis is one of two current World Cup skiers competing in Aspen Friday, the other being Wyoming native and Steamboat Springs Winter Sports Club athlete Anna Marno.
Other pros include Daron Rahlves, A.J. Kitt, Kyle Rasmussen, Marco Sullivan, Kristina Koznick, Wendy Fisher, Patrik Jaerbyn, Sarah Schleper, Erik Schlopy and Thomas Vonn. Puckett and Davenport also expect to compete.
"A lot of people show up each year hoping to better their performance from last year. They love showing up and beating some of the guys they skied with growing up," Puckett said. "This is our biggest fundraiser and most important fundraiser of the year. It supports all those athletes that want to come out and ski and wouldn't normally be able to without the help of the scholarship money."
The format of Friday's Ajax Cup is a modified dual giant slalom, where racers will compete head-to-head with handicaps (first set Thursday and changed through the course of Friday's competition) to keep the playing field even. The 16-team field ultimately will be whittled down to four final teams by Friday afternoon.
Racing begins around 9 a.m. Friday and should be wrapped up by 3 p.m. An awards ceremony is planned to take place between 4 and 4:30 p.m.
"It's fun for the team captains who are generous enough to buy the teams. It's a lot of fun for all the people that come," Puckett said. "Aspen is a ski town and people recognize that and come out to support it."
While watching is free, there are a limited number of VIP tickets available for the deck viewing party, hosted by Shlomo's Deli and Grill. Tickets cost $250 and can be purchased through http://www.teamavsc.org.
The AVSC is celebrating its 80th year of existence this winter.
Read Less
Godomsky: From Maine to Aspen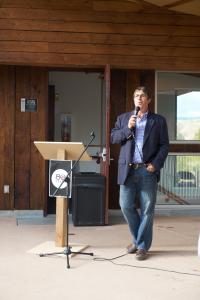 This article was originally published in the Aspen Times.

In Maine, there's a phrase to describe those who didn't grow up in the Pine Tree state: "from away." It's more than just a description of someone migrating north (likely from Massachusetts) — it's a flag to indicate one's lack of knowledge, and therefore need to learn, about the traditions, values, and culture of Mainers. After growing up in Maine, attending Bates College, and then pursuing a career in the nonprofit sector of the ski industry at Sugarloaf and Sunday River, Maine's largest mountains, I've never experienced the feeling Quick read more or view full article of being "from away."
Until June.
In June, I joined the Aspen Valley Ski & Snowboard Club as the new executive director. It was a no-brainer to leave Maine and move across the country to pursue this opportunity — there are few clubs as unique as AVSC and I am fortunate that the hiring committee entrusted me with the opportunity to lead this great organization. It is a wonderful fit and exciting transition for not only me, but also for my wife Heidi and our sons Max, Ben and Nick.
In a lot of ways, Maine and Aspen are similar. I realize that more than one or two of you likely choked on your coffee after that statement; hear me out on this one. Both have extremely tight-knit communities of people who often have deep roots stretching back for generations. Both thrive on outdoor activities (although one's weather is a lot more conducive to this than the other's…). Both value tradition and history, and skiing is a critically interwoven piece of that history.
That said, there are some stark contrasts. AVSC offers the most unique set up I've ever seen for a junior winter sport athlete — the ability to attend public schools and, for some athletes, walking across the parking lot straight onto a ski lift is one great example of the resources at our athletes' fingertips. Aspen has a long, decorated history across the board in competitive winter programs — AVSC's alumni are an incredible mix of Olympians, X Games champions, World Cup winners, and more. And that legacy is present in everyday life: it's common to brush shoulders with these people on a daily basis. Aspen's community is second to none in terms of the passion and dedication around winter sports — whether it's those working to impact climate change, volunteering on race crew, working seven days a week due to picking up a weekend coaching gig, or donating resources — financially or otherwise — to get more kids on snow each season.
One thing is for certain — my being "from away" has made me keenly aware of how special a community this is and how unique a club AVSC is. Over time, I'll surely grow accustomed to the way of life here — I won't need directions, faces will grow more familiar, and I'll develop a deeper knowledge of the history and legacy of this valley. What I know I'll retain is my appreciation for what makes this place different, my eagerness to continue to meet and learn from all of you, and above all, my dedication to ensuring we're providing the best programs for our youth to learn and excel in skiing and snowboarding.
I look forward to sharing my thoughts with you in this column, but hope that our discourse isn't limited to the two times a month I'm featured here; I'd love to hear from you anytime. The best way to reach me is by email (mgodomsky@teamavsc.org), but you can also catch me in the office at our clubhouse at the base of Aspen Highlands, and as the temps continue to drop, on the hill.
Read Less
300 Take Part in Equipment Night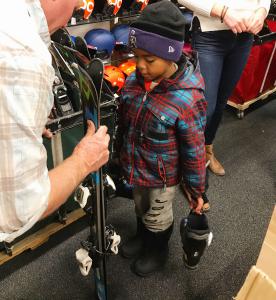 This article was originally published by Austin Colbert in the Aspen Times.

Like it has for the better part of 15 years, Christmas came early Thursday for more than 300 kids fortunate enough to receive a Base Camp scholarship through the Aspen Valley Ski and Snowboard Club.
With a line stretching well outside the Gorsuch Ltd. ski shop at the base of Aspen Mountain, families came from all over the valley to receive a free pair of skis and ski boots to use this winter.
"It's just the right thing to do. It feels good," Jeffrey Gorsuch said. "It's the Quick read more or view full article most special night when the community comes together for something completely for the kids. It's very special. It's maybe my favorite night of the whole year."
The tall and amiable Gorsuch was among those volunteering their time Thursday to make sure each kid received the right fit for their equipment. Gorsuch, whose parents — both Olympic skiers — started the company known for its high-end clothing, was among the first to step up to the plate in making the AVSC's equipment night what it is today.
Each kid receiving equipment is part of the AVSC's Base Camp program, which is the recreational side of the club. These kids don't compete and only meet about once a week, where through a partnership with Aspen Skiing Co. receive lessons from its pros. There are more than 1,400 kids in the Base Camp program this winter, some coming from as far away as Rifle and Paonia, with nearly 400 of them receiving program scholarships.
Of those, around 330 also receive a needs-based equipment scholarship, which is what Thursday was all about.
"Even if kids got a scholarship to take lessons, they still didn't have the right skis or snowboards," said Base Camp director Trish Shepard about the need for equipment night. "It's a big production."
While Gorsuch only deals with skis, D&E and Four Mountain Sports got involved a few years back to help put kids on snowboards. Most of the gear given to the Base Camp kids was donated or are gently used demos from the season before. They cost nothing to the scholarship recipients and aren't asked to be returned.
The idea behind equipment night and the Base Camp program is to get as many kids involved in the mountain lifestyle as possible, regardless of income.
"That makes a huge difference in letting families come in and have great access to the best programming in skiing in the world," Gorsuch said. "We get them out the door with a smile on their face and ready to emerge as tomorrow's champions."
Read Less