AVSC Adaptive in Aspen Sojourner
Why is Aspen a hotbed for paralympic skiers? Check out Aspen Sojourner's article on AVSC's adaptive team and learn about the team's genesis, successes, and future.
Check out the article.
Spotlight on AVSC Dryland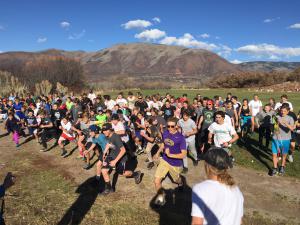 This article was originally published by Austin Colbert in the Aspen Times.
There is no such thing as sitting idly by for the Aspen Valley Ski and Snowboard Club. Sure, the training hill behind the AVSC headquarters remains a barren wasteland of dead grass and unfulfilled promises of winter, but that doesn't mean the athletes aren't hard at work preparing for the upcoming competition season.
"Our conditioning starts in June, so we've been at it for quite some time," said Johno McBride, the AVSC Alpine director who coordinates much of the program's dryland training. "To be a top-level athlete, you need Quick read more or view full article to be training year round. And that doesn't mean you need to be on snow every single day, but you need to be training. You need to be working on your body."
The AVSC just revamped its weight room this year, including the addition of a few machines that train the body with ski-specific movements. Athletes flock to the AVSC each day, taking advantage of the uncharacteristically warm weather by focusing on dryland training out of doors.
"Each of us is trained in this stuff, so we are writing programs for these kids and they know exactly what they got to be doing," said Mike Tache, a U14 Alpine coach. "You can always be stronger. There is always something to work on. There is always an agility you can be focusing on to get better."
The AVSC athletes have been able to find some time on snow, making trips to Arapahoe Basin, Copper Mountain and Loveland on the weekends. In the meantime, it's about getting as strong and conditioned as possible through dryland training. Sometimes, that means running sprints up the hill. Other times, it may mean going ice skating, where edge control on skates can carry over to skis.
"Expecting snow and not getting it here at this point in time has been a little bit disappointing," said skier A.J. Chabot. Chabot, 19, recently moved from the East Coast to train with the AVSC. "Everyone is kind of in the same boat, so I guess it's beneficial for everyone, which also means it's not beneficial for anyone. But in terms of our fitness and preventing injury, I guess it's beneficial for everyone. Dryland is most important in skiing when we get in the toughest of situations."
As Chabot said, anyone can go down a hill. What separates the elite skiers and snowboarders from amateurs is often their fitness level. Being able to handle the speeds reached by World Cup-level athletes starts during the summer with dryland training, a fact the AVSC coaches try to instill on their athletes at an early age.
And snow or no snow, the AVSC athletes have long been hard at work, doing whatever they can to gain that extra edge when winter finally arrives.
The AVSC Alpine skiers are scheduled to host their first races Nov. 26 and 27, although the current weather cycle has placed some doubt on this happening. McBride said he would need about five straight days of teen temperatures to get the course ready with snowmaking.
"We all do this because we love it and we love the snow, we love the winter and we love the mountains," McBride said. "I would say nobody is panicking by any means, but everyone is anxious. Everyone is ready to go. Everyone wants to go skiing, even if it's just to go take a run at powder skiing."
Read Less