Margo McHugh awarded T2 Foundation Grant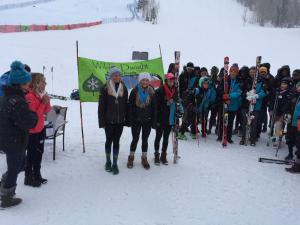 This article was originally published by Austin Colbert in The Aspen Times.

When Margo McHugh submitted her application for the T2 Foundation grant, she had to write a letter on why she deserved it. She kept it simple, writing about her general love for skiing.
"What I talk about the most is how hard I've worked, how passionate I am," McHugh said. "Passion is the key because that is a big reason why I got the grant. I talk about what skiing meant to me and how my life revolves around it. That's what I want to do. It's Quick read more or view full article what makes me happiest."
The T2 Foundation is a nonprofit organization based out of Park City, Utah, that supports skiers from all disciplines and from across multiple levels. In 2015, the foundation launched a junior team grant program aimed at skiers ages 14 to 19, with grants awarded anywhere from $1,500 to $10,000, depending on need and age.
Among the grand recipients this year is McHugh, 16, a junior at Aspen High School and Aspen Valley Ski and Snowboard Club athlete.
"It's great. That will subsidize four to five races for the season, which is huge for us," said AVSC coach Austin Nevins, who leads the women's FIS program for the club. "I've watched Margo come up through the ranks and she's always been vocal and you can see that she cares and she wants to get better."
McHugh, a Chicago native, has skied most of her life. She began ski racing around age 9, shortly after moving to Aspen. In that time, she's developed into one of the nation's top downhill skiers for her birth year and has high hopes for the upcoming season.
"I want to really put myself into one thing and see how well I really can do. And I love skiing," McHugh said. "This grant allows me to take some of the weight off my back and have me focus on what's really important."
This winter she will go from the more localized U16 level to U19, and begin competing in FIS (International Ski Federation) races.
"This is when racing really starts for me. My points count," McHugh said. "This year I have a lot of opportunities to take advantage of. My ultimate goal is to ski in college, but really I'm going to work as hard as I can and see where it takes me. If I can go further than that, then I will."
And the T2 Foundation grant will certainly help. Ski racing is well-known for being financially burdensome, and the better a skier gets, the more important grants and donations are to fund the extensive travel and training required to compete at the highest levels.
"You have to market yourself; you have to sell yourself. You have to go above and beyond. I fundraised for my whole ski career," said Nevins, who grew up ski racing on the East Coast. "She is dedicated. You can see it. That work is paying off and we are excited to get into the season and see what we can do. The first year in FIS, it's tough. You are now racing the world. Age doesn't matter anymore."
On top of the higher-level competitions, McHugh said she wants to put more focus on technical racing this year. A gifted downhill skier, she knows fine-tuning her slalom and giant slalom skills will be important for getting onto a college team, where they only race in technical events.
McHugh's desire to extend ski racing beyond high school has gotten to the point where her other childhood sport, soccer, has taken a backseat.
McHugh was part of an AVSC group that spent time at Mammoth Mountain in California for a June camp and recently returned from Saas-Fee, Switzerland, for another. The FIS competition season will get underway next month with races held across North America and Europe.
Copper Mountain will host the first FIS alpine races of the season on U.S. soil from Nov. 14-17, with Aspen Highlands scheduled to host FIS races Jan. 20-25 and again in late March/early April.
Among McHugh's goals is to qualify for the U19 national championships at the end of the season.
"She's showed a lot of mental toughness at the camps and through the years and it shows how much she wants it. To us, as a coach, there is nothing more you want than that," Nevins said. "I think that's why the grants and those kind of things are coming her way."
The T2 Foundation has helped fund numerous high-level skiers over the years, including former AVSC athlete and current U.S. Ski Team member Alice McKennis.
If interested, McHugh has set up a GoFundMe page.
Read Less
Benefit for Nordic Alums Hamilton and Hoffman
As Simi Hamilton and Noah Hoffman prepare for their upcoming World Cup and Olympic season, they need the community's help! They are hosting a benefit on Friday, October 27th at Belly Up Aspen from 5:30-7:30pm. Admission is free, drinks and appetizers will be served, and there will be opportunties to bid on items and experiences in both a live and silent auction.
Learn more about their upcoming season and the benefit on Friday in
this article
from the Aspen Daily News.
Eight AVSC Skiers Among RMD All-Stars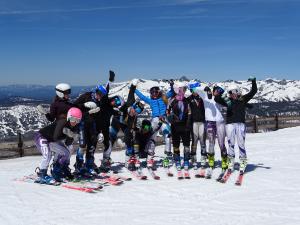 This article was originally published by Austin Colbert in The Aspen Times.
Eight Aspen Valley Ski and Snowboard Club athletes were named among the 50 recognized by the U.S. Ski and Snowboard Association on Sunday in Silverthorne.
The collection of Colorado alpine and freestyle skiers make up this year's USSA Rocky Mountain Division Colorado All-Stars, and receive a CSCUSA Colorado-All-Star Pass that provides them unlimited access to 22 Colorado Ski Country USA resorts for training.
"Congratulations to the new members of the All-Star team," said Colorado Ski Country USA President and CEO Melanie Mills in a news release. "We're thrilled to Quick read more or view full article support the next generation of alpine and freestyle skiers as they train and compete across Colorado during this Olympic year."
The AVSC athletes recognized are Allyson Cornelius (alpine), Cooper Cornelius (alpine), Dexter Edelman (alpine), Sky Kelsey (alpine), Tristan Lane (alpine), Joey Lang (freestyle), Wiley Maple (alpine) and Oliver Smith (freestyle).
Read Less
Colorado Snowsports Hall of Fame
This was originally published as a Letter to the Editor in the Aspen Daily News.
I want to congratulate three members of the Aspen Valley Ski and Snowboard family on their induction into the Colorado Snowsports Hall of Fame. Chris Davenport, Walt Evans and Dave Stapleton Sr. are all being recognized at the Colorado Snowsports Hall of Fame induction gala this weekend in Vail.
Davenport is known around the world for his backcountry skiing and ski mountaineering; he was the first to ski all 54 of Colorado's 14ers and has fueled the backcountry skiing movement. Chris is
Quick read more or view full article
an AVSC board member, an Audi Ajax Cup race chair, and an enthusiastic AVSC parent. We're grateful for his contributions in the sport of skiing all over the globe, but especially for the impact that he's had on children right here in the Roaring Fork Valley.

Evans had a long and successful career in competitive winter sports, including many years in Colorado working with youth — initially as the Steamboat Springs Winter Sports Club's first executive director and finally as Aspen Valley Ski and Snowboard Club's director of excellence. In between, he had a long and successful career with the U.S. Ski Association in various leadership positions, including helping build the National Development System. An incredible number of young athletes have benefited from Walt's dedication to winter sports.

As World Cup Finals illustrated last spring, Aspen is an incredible location for high-level ski races. Stapleton was influential in developing standards for risk management, course design and racer safety in the sport of ski racing. Stapleton was also the first World Cup race official from Aspen; he helped run races here for many years in various leadership roles. Dave served on AVSC's board for over 20 years, including three as the board president.

Please join me in congratulating Chris, Walt and Dave on this amazing accomplishment. We are grateful for all that you've done to advance winter sports by inspiring, motivating and protecting our athletes!

Best,
Mark Godomsky

AVSC Executive Director Read Less
Five Trees Run October 14th
Join us for the annual Five Trees Run!

This beloved tradition is an AVSC rite of passage! Race from the AVSC Clubhouse to the top of the Five Trees lift and see how you stack up against AVSC athletes.

Stick around for a free post-race BBQ at the AVSC Clubhouse!
Open to all AVSC athletes, families, alumni, supporters, and neighbors.
Thank you to the Five Trees Metropolitan District and the Romero Group for their support with this event.

We need some help putting on a great event! Check out opportunities to work off your parent work deposit: http://signup.com/go/KyQPtuO
Rock N' Swap - Sunday, October 8th!
Join us in Willits Town Center on October 8th from 11am-3pm to score great deals on new and used winter sports equipment!
Vendors include
: Basalt Bike & Ski, Casual Culture, Fischer Nordic, Hamilton Sports, Incline Ski Shop, Ivivva @ Katebaby, Miller Sports, Performance Ski, Radio Board Shop, Sidewinder Sports, Snowmass Sports, Sunlight Ski & Bike, Swix.
In addition to great deals, we'll have live music, a bounce castle, door prizes, free chair massages by Fahrenheit Body Spas, and more!
Have winter jackets you no longer need?
Please bring them and donate them to the River Center Coat
Quick read more or view full article
Drive!

Have gear to sell? Contact Susan at AVSC: smuenchen@teamavsc.org / 970.205.5107.

Thank you to our sponsors: Whole Foods Roaring Fork, Town of Basalt, Fahrenheit Body Spas, Crystal River Meats, and Holy Cross Energy.




Read Less