Thanks to Our Volunteers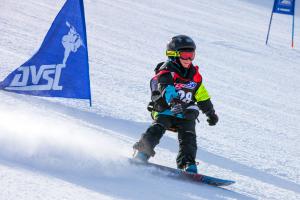 This article was originally published in the Aspen Times.
Aspen plays host to many sporting events each winter, ranging from small community events for those just starting out with competition all the way to global-reaching events like last weekend's X Games. Aspen Valley Ski & Snowboard Club hosts many events throughout the winter; all five disciplines have hosted at least one event this season. While our administrative and coaching staff works hard on the set up of these events, from registration to hill prep and more, it takes a robust volunteer staff to successfully pull off these events and guarantee Quick read more or view full article a great experience for all involved: athletes, parents, coaches and spectators alike.
January was a busy month. Most notably, AVSC hosted our 30th annual Wilder Dwight Memorial speed series. Wilder was a promising young AVSC ski racer in the 80s. He passed away in a ski accident in 1986, and ever since the club has remembered and celebrated his legacy with this incredible race series. This is a full week of speed at the Stapleton Training Center on Highlands: two days of downhill training, two days of downhill races and two days of super-G races.
Speed races take a great deal of effort to put on due to the hill control required by the racers' high speeds. The snow is constantly getting touched up with rakes and shovels, cross-cuts are tightly restricted, and any movement on the hill is closely monitored.
Due to safety concerns and strapped resources, very few mountains in the nation are either able or willing to take on a speed series for developing racers. We are fortunate that we're able to continue this tradition and share it with other clubs. It's crucial for kids to be able to learn speed techniques in a controlled and safe environment, and I'm proud of AVSC and Aspen Skiing Company for continuing to step up and provide that necessary educational arena.
At the same time as the Wilder Dwight Memorial series, our Nordic program hosted both sprint and distance Rocky Mountain Division races. We had over 300 racers at the AVSC Clubhouse with their families and coaches. The parking lot was full of wax trailers, the clubhouse was brimming with racers, and the trails around the clubhouse were packed. Sprint races are particularly maintenance intensive; there's an immense amount of organization and coordination — requiring over 80 volunteers — that goes into keeping the race moving with so many age classes and heats constantly cycling in and out of the course.
While AVSC and Aspen Skiing Company provide the backbone of these events, we wouldn't be able to pull them off without the incredible roster of volunteers for each. To all the parents and community members who stood at the start, slipped the course, monitored traffic and parking, sold coffee, collected bibs, manned the scoreboard, announced the races, and lent a helping hand in a plethora of other ways, thank you so much for your work. We truly couldn't pull it off without you, and we are so appreciative of our community's willingness to roll up their sleeves and provide fun, safe and memorable experiences to both our kids and their peers from visiting towns.
Every day, AVSC is a hub of winter activities after school. It's not uncommon to see Nordic racers skating up the hill next to freestyle athletes practicing tricks on the airbag, and in the distance behind them catch a glimpse of Alpine racers and mogul skiers hammering out training runs on Goldenhorn. Although this isn't a rarity for us, it's something else to be able to open our training grounds to share with other clubs, and we thank you for making that a possibility.
We're currently preparing to host another longstanding tradition: the Nordic Bonfire Dinner. This Saturday from 6 to 8 p.m, the Aspen Nordic Center's trails will feature stops with food from restaurants up and down the Roaring Fork Valley. A progressive dinner on skis takes a lot of coordination and work to put on. While our Special Events Director, Susan, is at the helm, this event has been a success for over 30 years now thanks to the dedicated volunteers that do everything from solicit local restaurants to serve the delicious food to participants. This event, which benefits AVSC's Nordic program, is open to the community; we'd love to see you there. Check out http://www.teamavsc.org/events for more information.
Read Less
Base Camp is All About Access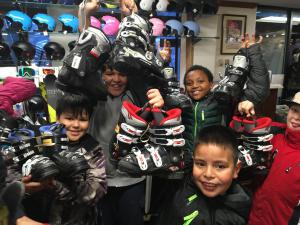 This article was originally published in the Aspen Times.

Last Saturday was a big day for Aspen Valley Ski and Snowboard Club: it was the first official day of our Base Camp program. You may have noticed an influx in small children at Aspen Highlands and Snowmass, or seen Aspen Ski Co. pros leading small troops of athletes down all sorts of terrain. Base Camp is the recreational counterpart to our competitive alpine ski racing, snowboarding, nordic skiing, freestyle skiing and adaptive Quick read more or view full article programs.
Base Camp is an incredibly unique program — most competitive ski clubs do not have a recreational portion, and even fewer have a robust scholarship program that allows them to spread winter sports to children whose families may have never participated in them before.
Base Camp started in 1989 by an altruistic group of community members who desired to increase access to on-snow programs for the youth of the Roaring Fork Valley from Aspen to Glenwood Springs and beyond. Bob Beattie, Charif Souki and Brooke Peterson established the program, initially named Aspen Supports Kids. While the name has changed, the mission remains the same: get the youth of the Roaring Fork Valley engaged in sports that have invigorated and defined this valley over the years.
Today, Base Camp programming starts at age 31/2 and continues through high school. One out of every five children in the Roaring Fork Schools participate in Base Camp, and 16 percent of our participants are from Latino households. Programs range from catering to "never-ever" skiers and snowboarders to those looking to hone their skills and conquer steep terrain and challenging features.
We know that skiing and snowboarding can be incredibly limiting financially, and therefore we aim to remove barriers to participation in an effort to get as many kids involved as possible. We don't do this alone; we have an incredible network of community partners that share our vision and help us accomplish our goals. AVSC partners with local organizations such as the Buddy Program, Ascendigo and Challenge Aspen to involve as many children as we can. Aspen Skiing Co. provides reduced rate ski passes and an incredible team of pros, many of whom return season after season to spend their Saturdays with local youth. AVSC has an incredible group of donors who make it possible for us to award scholarships and subsidies to 99 percent of participants. Approximately 300 young skiers are outfitted in equipment donated and fit by Gorsuch, and 100 snowboarders spend the season enjoying equipment given to them by D&E.
For many young athletes, last Saturday was the first day on snow for the 2016-2017 season; for others, it was the first day on snow ever! We hope that this program is a building block to a lifelong love of skiing and snowboarding, or at the very least, exposure to something fun, confidence-building, and healthy. We hope that we're able to continue to reduce the number of children who grow up in the Roaring Fork Valley and are never given the opportunity to experience the incredible mountains that we call home. This fall, our Base Camp director, Trish Shepard, shared a scholarship letter with the staff. The young skier wrote, "Being up on the hill makes me feel free … it takes you away from the real world." Thank you all of those who make it possible for AVSC to continue to provide the feeling of freedom to thousands of kids each year!
Read Less
Enormous Thanks to Aspen Skiing Co.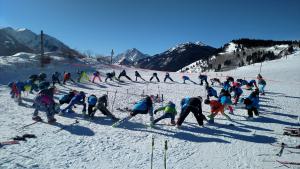 This article was originally published in the Aspen Times.
For many ski clubs around the country, January marks the official start of the on-snow season. Mother Nature rules the roost in late November and early December, delivering early snow and cold temperatures in some years and making teams wait in others. Vacation crowds dictate training space through the holiday season — as the volume of people on the hill increases, space is a precious resource that's not given to a ski club. This means that some clubs are forced to travel across the country, even internationally, to get necessary training Quick read more or view full article days before competition season is in full swing. This can be a huge, often last-minute burden financially, academically and logistically for athletes and their families.
In Aspen, that's not the case. Aspen Skiing Co. is dedicated to providing outstanding early season training to our athletes right here at home. This removes barriers to participation — if athletes don't have to pay to travel in early season or take time off school to do so, more can position themselves for a great season. Many of you likely are aware that Aspen Valley Ski and Snowboard Club maintains a training venue at Aspen Highlands — the Stapleton Training Center. This fall, we were faced with some tough decisions regarding opening the training center due to the lack of natural snow, the high temperatures in November and the resources that it would require for us to get things up and running. Aspen Skiing Co. wouldn't hear of us delaying our start, and worked around the clock to get the venue not just open, but in incredible shape. Without having to leave home, our athletes have been training for well over a month on some of the best snow in the country, and it wouldn't have happened without the commitment and support of Aspen Skiing Co.
Switching gears, this past weekend AVSC hosted the Audi Ajax Cup, our biggest fundraiser, on Little Nell. The event is a dual GS team race, with 16 teams competing for the Gorsuch Cup. Each team is paired with a pro racer — this year, in addition to event co-chairs Casey Puckett and Chris Davenport, we had an incredible roster including Daron Rahlves, AJ Kitt, AVSC alumni Katie Ryan, Alice McKennis, Jake Zamansky and more. The finish came right down into Gondola Plaza, where our supporters and racers enjoyed food from Shlomo's and The Little Nell. On one of the busiest days of the year, the stairway up to the gondola donned the Audi Ajax Cup logo and our 80th anniversary balloons flew proudly. AVSC U10 athlete Jasper McBride raced against seven-time NASCAR champion Jimmie Johnson. Erik Schlopy and Casey Puckett duked it out in a grudge match (maybe next time, Casey!). Kristina Koznick edged out Sarah Schleper's Coldwell Banker Mason Morse team to bring home the win for the Hildebrand's team,"Kick Some Wax," composed entirely of young athletes.
The Audi Ajax Cup is paramount to our ability to provide $1 million of scholarships and subsidies to young athletes in the Roaring Fork Valley each year. The fact that we're able to host this event on Aspen Mountain on one of the busiest days of the year is a blessing. The energy on Little Nell was electric — the pros were fired up about providing access to youth sports programs, something that has brought so much to their lives, and for many of them, their children's lives. AJ Kitt took his kids up to Ruthie's to show them where he won America's Downhill, and later at Shlomo's showed them the famed Roch Cup. All were excited to spend time together, reflect on the community that ski racing has provided, and pay it forward to the next generation.
Aspen Skiing Co.'s dedication to giving AVSC opportunities to bring more kids into the winter sports world, and improve the experience of those already in it, is inspiring. We're incredibly fortunate to have a partner that is as committed as Skico. As we turn the calendar to a new year, Aspen Valley Ski and Snowboard Club is excited to continue this partnership. We're thrilled to celebrate Aspen's legacy in ski racing during World Cup Final in March, where our athletes, coaches and community will work with Skico to make it an extraordinary event. Hopefully a few of our alumni will have a chance to compete in front of their hometown crowd. We hope to see you all there, and in the meantime, enjoy a healthy and happy start to the new year.
Read Less