AVSC Strongest Together - Fundraising Opportunity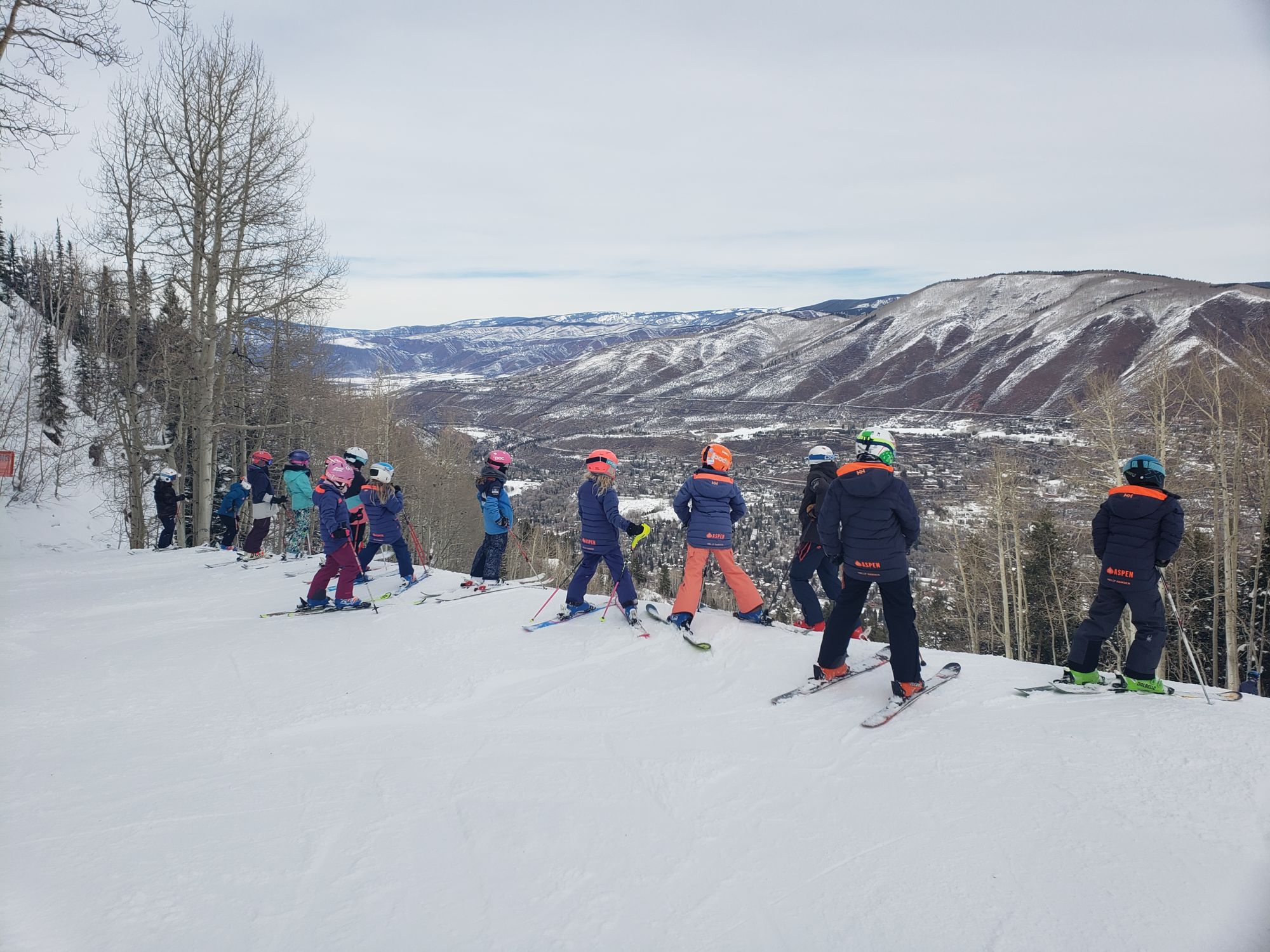 Help us get (and keep) local kids on the mountain!
Aspen Valley Ski & Snowboard Club's mission is to provide all youth in the greater Roaring Fork Valley the opportunity to excel as athletes and as people through winter sports. Last year, we awarded $1.8M in scholarships and subsidies to give local children access to the mountains, and with that, access to challenge, fun, meaningful relationships, and more.
This year, we have created a new fundraising opportunity for AVSC Quick read more or view full article

community members
. In the past, athletes have had the opportunity to fundraise for AVSC and their own athletic expenses through community programs such as the Ducky Derby. We are excited to provide a new avenue for them to do so, as well as expand the opportunity to any friends of AVSC that would like to participate.
So, how does it work? Athletes who want to participate will create personalized fundraising pages. Fifty percent of the funds they raise will go directly to their program fee (up to the cost of the program fee), the remaining 50% will go to the AVSC Scholarship Fund. Friends of AVSC can also create personalized fundraising pages in which 100% of proceeds will go to the AVSC Scholarship Fund! Athletes and Friends of AVSC will be able to fundraise until November 1st. If you'd like to donate, you can donate either to an individual athlete page or to the general scholarship fund.
As always, our goal is to ensure that no child is unable to participate in AVSC programs due to financial constraints. Help us make it happen by
starting a fundraising page or donating to one
!
Set up a Fundraising Page
Click 'Start your Fundraising Page Here' on the AVSC Strongest Together
website
. Once you complete registration, you will be automatically logged in to your dashboard, where you can start your 'Welcome Quest' and set up your fundraising page! Make sure to add a photo, share a bit about your personal experience with AVSC and your sport, and share your fundraising page early, often, and widely! You can choose from email templates, share to social media, and more! If you have any questions, reach out to
Elese Denis
or check out the fine print
here
!
Donate to a Fundraising Page
Thank you for considering a gift to
AVSC Strongest Together
! You will have the option to donate to an individual athlete's page or the general AVSC Scholarship Fund. Our data shows that if we lose an athlete for a season, we lose them for life. We want every child that wants to participate to have the chance to start or continue their athletic career with AVSC. The positive impacts of sports regarding kids' mental, socio-emotional, and physical health is well documented. Your gift will have a lasting impact on both their lives and our community!
If you have any questions, please reach out to Elese Denis (
edenis@teamavsc.org
). Good luck and thank you for supporting AVSC!
Read Less
Clubhouse Chronicles: Wrapping Up a Successful Summer at AVSC
This article was originally published in the Aspen Times as part of our column, Clubhouse Chronicles.

There's nothing quite like the start of the school year that causes one to pause and reflect on summer's end.
When I think back on the past couple of months, this summer was a bit of everything. Active but sedentary. Challenging but fun. Exhausting but restful. Innovative but simple. Everything we'd planned, and nothing like we'd planned it.
At Aspen Valley Ski & Snowboard Club, we went into the summer with an open mind and a hopeful spirit. We formed an internal COVID-19 Quick read more or view full article committee to keep our organization up to speed and help implement safe programming within local and state guidelines. Eventually, we kicked off programs in early June. We understood that things could change at any moment, but we did our best to focus on working hard and having fun while keeping each other safe in the meantime!
Looking back, we couldn't have asked for much more. We started strength and conditioning over Zoom, and eventually moved to in-person workouts at the clubhouse once we had proper protocols in place.
Some of our first days back together in person were on skis, and the energy was incredible. Athletes racked up 39 days of skiing and snowboarding between camps at Buttermilk Glacier, Copper Mountain and Mount Hood. Our athletes ran slalom and giant slalom courses, hit jumps, slid rails and simply got to enjoy the pleasure of sliding on snow. First here in our backyard thanks to Aspen Skiing Co. and, eventually, on the road once we were able to safely design a camp that included a higher level of logistics.
Once we were able to safely open the trampolines, perhaps our most complicated form of shared equipment, our freestyle coaches conducted 190 20-minute trampoline sessions. Normally, a coach would have a small group of athletes taking turns on the trampoline as they work on their skills. This summer we shifted to focused one-on-one sessions in order to ensure athlete safety, allow for sanitization and minimize contact.
We had a record number of freestyle athletes travel to Utah for a water ramp camp at the Utah Olympic Park where they continued their progression from the trampoline, launching themselves off the ramps and into a pool, practicing tricks that they'll eventually bring to snow. This year, athletes traveled with their families, many of whom might not get to see this special stage in the progression otherwise.
Finally, we did a whole lot of exploring on our local roads and trails! You likely saw our groups out trail running, roller skiing, biking and more. Our mountain bikers enjoyed everything from the Snowmass Bike Park to Crown Mountain Park to Prince Creek. We were excited to see that 48 of our mountain bikers were new to AVSC programs; we hope to continue to welcome many new faces this winter!
We are incredibly grateful to everyone — our staff, athletes and families, community partners, local leaders and more — who worked together to create safe and fun opportunities for our athletes this summer. The fact that we were able to accomplish all that we did this summer while keeping things safe and fun is something we should all be proud of!
Onward to winter! Registration is open for all TEAM (competitive) programs at Aspen Valley Ski & Snowboard Club: check out http://www.teamavsc.org to learn more. Early pricing ends on Aug. 31, so reach out soon if you have an athlete who might be interested!
Registration for Aspen Supports Kids, our recreational program, will open later in the fall.
Read Less
Aspen Supports Kids Registration Update
Hi AVSC Aspen Supports Kids Families,
We had originally planned to open registration for 2020-2021 Aspen Supports Kids programs on September 1st. As you know, there is a lot going on right now in our valley between shifting local guidelines, school calendars, and plans for mountain operations.
Given the moving pieces for both families and our partner organizations, we are moving back the opening of Aspen Supports Kids winter registration. We are incredibly excited to offer safe, fun, quality programming but do not have all the details that we need in order to share complete program offerings with
Quick read more or view full article
families at this time.

We will be in touch in advance of registration opening with information regarding scholarships, program offerings, lift tickets, and more! Please note that this year's scholarship process will accommodate for challenges caused by COVID-19. As always, AVSC will do everything we can to make sure any child that wants to participate can participate.

In the meantime, feel free to reach out to Meredith, AVSC's Aspen Supports Kids Director (melwell@teamavsc.org) with any questions or concerns. We are looking forward to another amazing winter with all of you!

All the best,
Mark


Mark Godomsky
Executive Director
Aspen Valley Ski & Snowboard Club



----------------------------------------------------------



Hola AVSC Aspen apoya a familias de niños,

Originalmente habíamos planeado abrir el registro para los programas Aspen Supports Kids 2020-2021 el 1 de septiembre. Como saben, están sucediendo muchas cosas en este momento en nuestro valle entre el cambio de las pautas locales, los calendarios escolares y los planes para las operaciones en las montañas.

Dadas las piezas en movimiento tanto para las familias como para nuestras organizaciones asociadas, estamos retrasando la apertura del registro de invierno de Aspen Supports Kids. Estamos increíblemente emocionados de ofrecer una programación segura, divertida y de calidad, pero no tenemos todos los detalles que necesitamos para compartir las ofertas completas del programa con las familias en este momento.

¡Nos pondremos en contacto antes de la apertura de inscripciones con información sobre becas, ofertas de programas, billetes de ascensor y más! Tenga en cuenta que el proceso de becas de este año se adaptará a los desafios causados por COVID-19. Como siempre, AVSC hará todo lo posible para asegurarnos de que cualquier niño que quiera participar pueda participar.

Mientras tanto, no dude en comunicarse con Meredith, directora de Aspen Supports Kids de AVSC (melwell@teamavsc.org) con cualquier pregunta o inquietud. ¡Esperamos otro invierno increíble con todos ustedes!

Todo lo mejor,
Mark


Mark Godomsky
Executive Director

Aspen Valley Ski & Snowboard Club Read Less
Call for Coaches! Open Positions at AVSC
Coaching at AVSC
We have a variety of openings for coaches for winter 2020-2021. Compensation is commensurate with experience for all positions. Coaching positions that require more than 18 days of work include a ski pass. If you are interested in learning more, please reach out to the Program Director listed!

ALPINE:
U10 and U12 programs:

Weekend only (December to mid-March)
Weekend plus Weds (December to mid-March)
Full Time (October through March or April).
Interested? Contact Alpine Program Director Johno McBride: jmcbride@teamavsc.org


FREESTYLE:
Big Mountain

Weekend only (December to mid-March)

U10 and 10-12 programs

Weekend only (December to mid-March)
Weekend plus Weds (December to mid-March)
Interested? Contact Quick read more or view full article Freestyle Program Director Eric Knight: eknight@teamavsc.org
Read Less