AVSC Duo at World Juniors in Switzerland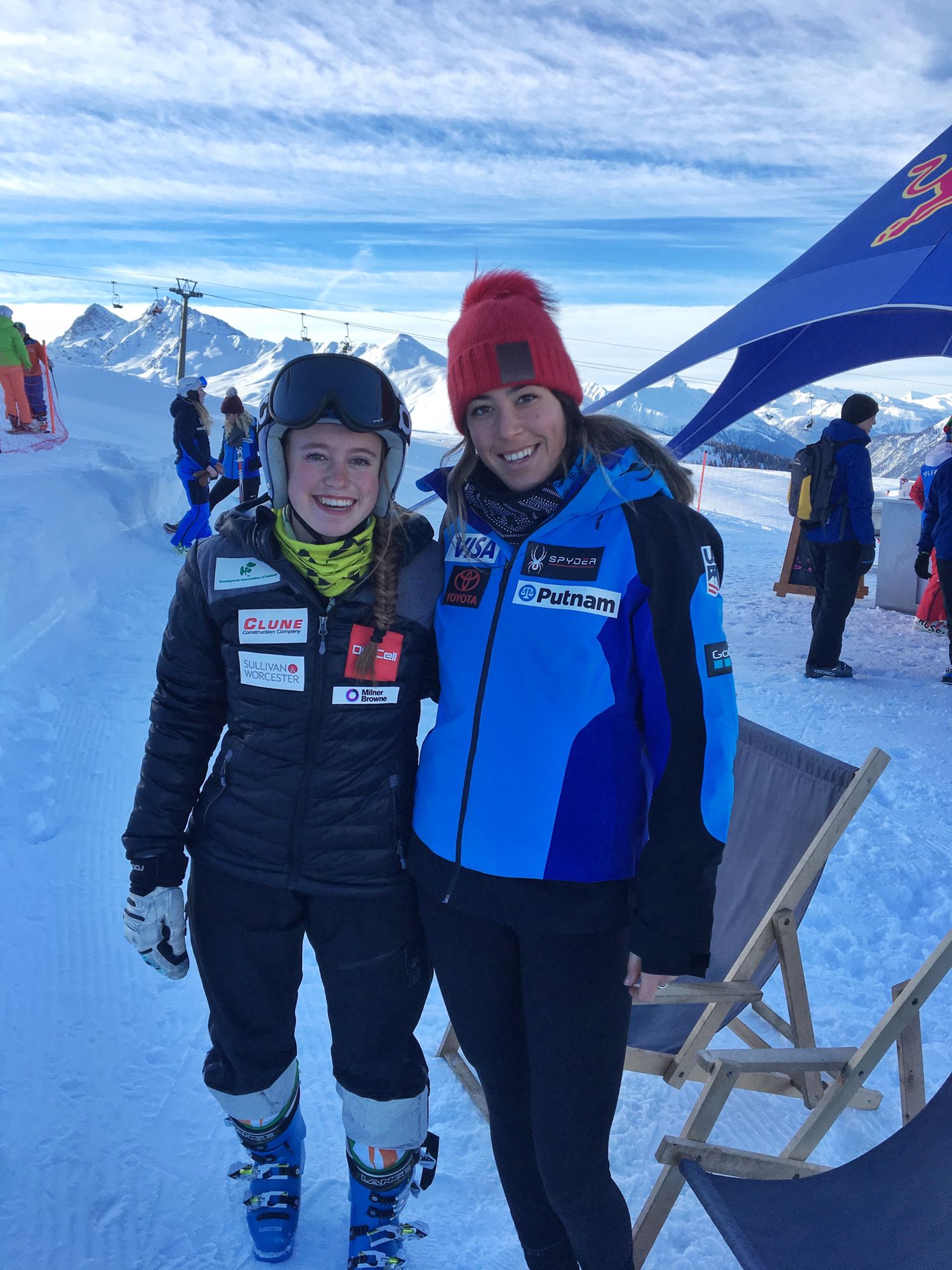 This story was originally published by Austin Colbert in the Aspen Times.

At 16, Elle Murphy is one of the youngest competitors at the FIS Alpine Junior World Ski Championships in Davos, Switzerland. The Glenwood Springs native wasn't expected to compete for any podiums at this elite event, but simply being there is a big step for the Aspen Valley Ski and Snowboard Club athlete.
"For her, it's one of those eye-widening experiences," said Austin Nevins, the lead women's FIS coach for AVSC. "It's a great opportunity to look and see the top level of ski racing in the world. Some of the girls that are racing at World Juniors are people who have podiumed at World Cup ski races. They are no slouches over there. You are racing some of the best in the world."
Murphy is one of two current AVSC athletes, the other is Bella Wright, currently competing in Davos. Competition started Jan. 30 and runs through Thursday. With Murphy on the low-end of the age range, the 20-year-old Wright is competing in her first and last Junior Worlds.
The two join an impressive list of former Aspen athletes who at one time competed at Junior Worlds, including recent participants Galena Wardle, Katie Ryan, Wiley Maple and Alice McKennis. All four are either current or former members of the U.S. Ski Team. Maple and McKennis will compete in the Olympics this month.
A Salt Lake City native, Wright is in her second season as part of AVSC's post-graduate program. Her success this season on the Nor-Am Cup has her knocking on the door of the U.S. Ski Team.
"When I got the call, I remember feeling overwhelmed," Wright wrote in an email from Davos about getting invited to Junior Worlds. "The experience in Switzerland so far has been a huge eye-opener, and it's been such a fun and happy environment. I couldn't be happier to be in such a beautiful place, competing against the best juniors in the world."
As of Sunday evening, Wright had only competed in one race at Junior Worlds, where she failed to finish the women's super-G. An Alpine combined event was scheduled for Monday with the women's downhill scheduled for Thursday. Wright, a four-event skier, is expected to compete in both.
Still, Wright is having a strong season. Two years ago at the Nor-Am Finals in Aspen, before she had joined AVSC, Wright tore her ACL on a downhill training run. Last winter, her first with AVSC, was mostly about getting back up to speed from her injury.
This winter, back in top form, Wright has excelled. She's currently ninth overall in the Nor-Am standings and is fifth in both super-G and Alpine combined. Prior to Junior Worlds, Nevins spent time with Wright in Europe where she was invited to compete in only her second Europa Cup race — she was 48th in a super-G in Zauchensee, Austria — and was able to train with the U.S. Ski Team.
"It's been a super rad experience," Nevins said. "She's a hard worker. She's a great teammate. She's always trying to be supportive. She pushes all the other girls and pushes herself and works hard and has earned her spot over there. It's cool. It's not that often that non U.S. Ski Team members make World Juniors. To do that is impressive. It's a big feat, for sure."
While Wright is eyeing the World Cup circuit via the U.S. Ski Team, Murphy wants to take a different route. Through her father, Murphy has U.S. and Irish citizenship and represents Ireland on the international stage.
Murphy grew up skiing at Sunlight Mountain Resort near Glenwood, and has long been a fan of McKennis, the New Castle ski racer and AVSC product who is headed to her second Olympics. Murphy has similar dreams of competing on the biggest stages, although she'll proudly be representing her Irish heritage when she does.
"It may be easier than in the U.S., but I still need to work for the points," Murphy said of skiing for Ireland. "It's a pretty large step. I have final goals like every athlete, and the Olympics would be one of them if I could reach that and go to other events like Junior Worlds, maybe the Junior Olympics next year. Just focus on the big goal itself under the Irish flag."
Murphy's best finish so far at Junior Worlds has been 27th in the super-G. She was 34th in the women's slalom and 61st in the giant slalom. Prior to going to Davos, Murphy finished 12th in a Jan. 20 FIS super-G at Aspen Highlands.
The remainder of Murphy's competition season likely will be full of more FIS races. Wright is set to return to the Nor-Am Cup, which next hosts technical races Feb. 13-16 at New York's Whiteface Mountain. She remains in a good position to compete in the U.S. national championships later this winter.
"It has been a long trip, but a very productive and fun trip," Wright wrote about her past month in Europe. "I can't thank the U.S. Ski Team enough for inviting me, and for giving me the opportunity to pursue my dreams."