Mason USSA Development Coach of the Year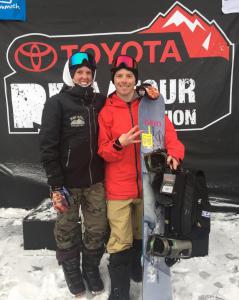 Check out the story on Nichole in The Aspen Times.
Nichole Mason, Aspen Valley Ski & Snowboard Club's elite level snowboard coach, will receive two awards at the USSA Congress 2017 in Park City, Utah on May 11
th
. Mason has been named the 2017 USSA Snowboarding Domestic Coach of the Year as well as the 2017 USSA Development Coach of the Year. At AVSC, Mason coaches top-tier snowboard athletes who compete at regional, national, and World Cup levels. This year, she was selected to coach multiple international projects including FIS World Juniors in Laax, Switzerland.
USSA's Snowboarding Sport Committee praised Mason's dedication to the sport, explaining, "Nichole is one of the few female coaches working at a high level within snowboarding. She has an exceptional talent of cultivating athletes and helping them meet their goals. Nichole was one of the first coaches to complete the Snowboard Level 300 certification. She coached the FIS Junior Worlds [Halfpipe] team to three medals this season. She has also put multiple athletes on the US Team, including Chris Corning."
Nichole was considered alongside six other domestic sport award recipients for the Development Coach of the Year Award, one of USSA's prestigious Gold Awards. In a letter to Mason, USSA's CEO Tiger Shaw explained, "The USSA's Gold Awards represent the single highest honors in the organization. Among the USSA Gold Awards, the USSA honors a deserving representative from each sector of its structure: an athlete, a volunteer, an international and a domestic coach and a club. These recipients represent the vision, mission and values of the USSA to be best in the world."
Aspen Valley Ski & Snowboard Club Executive Director Mark Godomsky congratulated Mason, saying, "Nichole is a huge asset to our Snowboard Program. She is an incredible ambassador for AVSC and for US Snowboarding. Her passion for snowboarding and her ability to help young snowboarders build their talents and work towards reaching the highest level of the sport is impressive, and a direct result of her dedication to her sport, job, and athletes."
Mason's being named Development Coach of the Year grants her nominee status for the USOC's Development Coach of the Year Award.