Stapleton, Davenport bound for HOF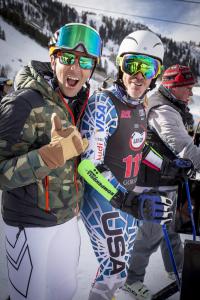 This article was originally published in the Aspen Daily News.

Two prominent Aspenites, and one former excellence director of Aspen Valley Ski & Snowboard Club, are part of the Colorado Snowsports Hall of Fame's class of 2017 inductees who were announced Friday. The formal ceremony will be held in mid-October in Vail.

"Heading the list of new Hall of Fame members is Aspen backcountry and ski mountaineering legend Chris Davenport," according to a press release from the Vail-based Colorado Snowsport Hall of Fame.

Davenport will be joined by Dave Stapleton, longtime Aspen ski racing official and administrator, who is this year's "Pioneer" selection; former U.S. Ski & Snowboard Association National Competition Director Walt Evans (recently retired from Aspen Valley Ski & Snowboard Club); SKEA Ltd. owner, president and designer Diane Boyer of Vail and former Steamboat Ski Resort president and author Chris Diamond.

"We are extremely excited about our incoming Hall of Fame Class," stated Susie Tjossem, Executive Director of the Colorado Ski & Snowboard Museum and Hall of Fame. "We have all aspects of snowsports represented, with athletes, sport builders and a true pioneer."

According to the release, the Colorado Ski & Snowboard Hall of Fame Class of 2017 will be officially enshrined in mid-October during the organization's annual Induction Gala. It went on to state: "Hall of Fame candidates are nominated under the established criteria of Athlete, Sport Builder, Inspirational or Pioneer categories, with the Hall of Fame Nomination Committee evaluating and confirming the nominees to move on to the final ballot."

A total of 140 members comprise the Hall of Fame voting panel and are drawn from "key ski industry representatives" and the HOF's board of directors.

— Chris Davenport in 2007 became the first person to ski all 54 of Colorado's 14,000-foot peaks in a single year, adding another 46 13,000-foot peaks to the record in 2015.

"As a result, Chris was named National Geographic's 'Adventurer of the Year' for his vision and success on the Colorado-based project. He is also the author of two coffee table books that celebrate Colorado's mountains, "Ski the 14ers" and "Fifty Classic Ski Descents of North America."

Most recently, he was named one of ESPN's 10 Greatest American Freeskiers of all time; Davenport was inducted into the 2015 class of the U.S. Ski and Snowboard Hall of Fame. "His accomplishments have brought tremendous visibility to the sport that makes Colorado the desired destination for skiers from all over the world," according to the release, which also noted his contribution to the "rise and popularity of the current AT backcountry movement."

— Dave Stapleton, a fifth generation Coloradan who grew up in Aspen, "had a passion for ski sport that evolved from his time as an athlete, coach and official, punctuating these efforts by focusing on producing premier international competitions at Colorado ski resorts," according to the hall of fame. One of his many legacies dealt with skier safety and the standardization of alpine race courses.

"Along with three other leaders, Dave developed and launched a landmark initiative with the U.S. Ski & Snowboard Association to the International Ski Federation that mandated specific standards for alpine course design. Dave's work in the area of racer safety helped to form many of the practices that are in place today in the ski industry regarding risk management," the release continued. "Both on and off the hill, Dave could drive his high standards with coaches, officials and athletes because of the level of respect he commanded."

— Walt Evans, who retired from AVSC last June, was involved in Colorado and U.S. ski racing for 46 years. From 1978-1983, Evans worked as the first executive director for the Steamboat Springs Winter Sports Club. He held that position until going to work with the U.S. Ski Association as its alpine program director for the Rocky Mountain Division. In 1997, Evans was promoted to USSA National Competition Director, where he oversaw the rebuilding of the organization's domestic competition programs.

Evans' other accomplishments included engineering the National Development System, a program that worked with top clubs to provide elite training for rising alpine races. In 2013, Evans was honored with the John J. Clair Jr. Award, recognizing his long service to the USSA.

— Diane Boyer, who is based in Vail, was cited for her promotion of skiing for women and families through the company SKEA Ltd., as well as her work with SnowSports Industries America and the Colorado Snowsports Museum. She served on the SIA board of directors from 1998-2009, including a tenure as its first female chair.

"From 2005 to 2009, as board member and chair of the organization, Diane's efforts to convince the SIA board of directors and Denver and Colorado constituencies to move the annual January trade show from Las Vegas to Denver were fundamentally important to the decision to make this significant move in 2009," according to the release. SKEA was founded by the Boyer family in 1972, with Boyer as its president since 1992 and the company's designer and owner for more than 25 years.

— Chris Diamond. Since retiring, in 2015, from his role as President and COO of the Steamboat Ski Resort, "Chris Diamond transitioned from running a major Colorado ski area to writing about it," according to the release. His new book is called "Ski Inc."

Diamond started his ski industry career in 1972 at Killington, Vt., as assistant to the president. He rose through the ranks and moved to Steamboat in 1999 to become president and COO, "parlaying one of the strongest brands in the destination industry into a new generation of year-round resorts," the release continued. A past chairman of the National Ski Areas Association who served a similar role with Colorado Ski Country USA, Diamond was awarded NSAA's Lifetime Achievement Award in 2013.

The class of 2017's five Hall of Fame inductees were elected from a field of 15 nominees who also included: Johnny Buxman (Vail), Bruce Cranmer (Winter Park), Bob Dart (Winter Park), Jeff Gorsuch (Aspen), Jake Hoeschler (Winter Park), Bob Kunkel (Durango), John Lovett (Vail), Johno McBride (Aspen), Moe Mosley (Golden) and Lonny Vanatta (Steamboat Springs), according to the release.