Team 'Kick Some Wax' Wins Audi Ajax Cup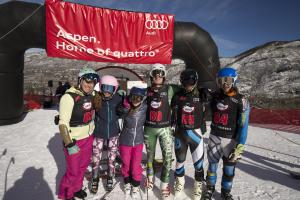 This article was originally published by Austin Colbert in the Aspen Times.
The seventh annual Audi Ajax Cup, held Friday at the base of Aspen Mountain, was nothing like a World Cup ski race. In some ways, it's way better.
"It's thrilling, and I think I enjoy this race almost as much as any other World Cup race I've ever done," said former U.S. Ski Team member Katie Ryan. "I've told many people today, the Ajax Cup is the highlight of my winter break. I absolutely love it. I plan on doing it year after year, as many years as they'll have me."
The Ajax Cup is the largest fundraiser of the year for the Aspen Valley Ski and Snowboard Club. The modified dual giant slalom featured 16 teams, each led by a professional, in a daylong affair to try and conquer the course built down the Little Nell trail.
Ryan, an Aspen native who turns 24 in a few days, was one of the professionals. She was the 2013 and 2014 NorAm downhill champion, a knee injury leading to an early and unwanted retirement from the upper echelon of ski racing.
With that part of her life behind her, Ryan is working toward a finance degree from Westminster College in Utah. She fills in her free time — something she never had as a World Cup skier —working as a mountain bike and hiking guide, and of course continuing to give back to the sport she grew to love after moving to Aspen from Dallas when she was 5.
"I'm 100 percent a product of this AVSC environment," said Ryan, whose parents still live and work in the valley. "It's so cool to come back and see and be a part of this community."
Ryan said the highlight of Friday's action came when she beat Olympian and retired ski racer Daron Rahlves in their head-to-head matchup. Unfortunately, neither could stop team Hildebrand — or team "Kick Some Wax," as it liked to be called — from taking this year's Audi Ajax Cup title.
"Winning never gets old," team Hildebrand pro Kristina Koznick said with a laugh. "It's so fun. It helps when your team is excited, too. It's not just you."
Koznick, who lives in Wolcott, is a three-time Olympian and longtime World Cup skier who last competed full time on the World Cup circuit in 2006. A veteran of the Ajax Cup, Koznick had to defeat fellow Olympian Sarah Schleper of team Coldwell Banker in a winner-take-all final dual to bring home her first Ajax Cup title.
Her "Kick Some Wax" teammates included Cooper Cornelius, Macy Hopkinson, Edie Sherlock, Ben Throm and Oliver Hopkinson.
"Skiing itself is such a great sport. Not just us, but the other pros, I think we want to spread that joy," Koznick said, referring to a chat she had while on the chairlift with Schleper. "If we can share that joy and that fun and that excitement that we still feel at 40, as a retired athlete, and we can share that with a bunch of little kids and raise money for them to just taste it, just experience it, then I think it is worth it for all of us."