Godomsky: From Maine to Aspen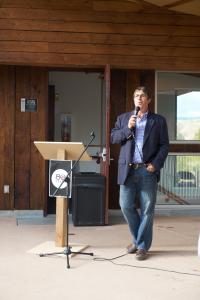 This article was originally published in the Aspen Times.

In Maine, there's a phrase to describe those who didn't grow up in the Pine Tree state: "from away." It's more than just a description of someone migrating north (likely from Massachusetts) — it's a flag to indicate one's lack of knowledge, and therefore need to learn, about the traditions, values, and culture of Mainers. After growing up in Maine, attending Bates College, and then pursuing a career in the nonprofit sector of the ski industry at Sugarloaf and Sunday River, Maine's largest mountains, I've never experienced the feeling of being "from away."
Until June.
In June, I joined the Aspen Valley Ski & Snowboard Club as the new executive director. It was a no-brainer to leave Maine and move across the country to pursue this opportunity — there are few clubs as unique as AVSC and I am fortunate that the hiring committee entrusted me with the opportunity to lead this great organization. It is a wonderful fit and exciting transition for not only me, but also for my wife Heidi and our sons Max, Ben and Nick.
In a lot of ways, Maine and Aspen are similar. I realize that more than one or two of you likely choked on your coffee after that statement; hear me out on this one. Both have extremely tight-knit communities of people who often have deep roots stretching back for generations. Both thrive on outdoor activities (although one's weather is a lot more conducive to this than the other's…). Both value tradition and history, and skiing is a critically interwoven piece of that history.
That said, there are some stark contrasts. AVSC offers the most unique set up I've ever seen for a junior winter sport athlete — the ability to attend public schools and, for some athletes, walking across the parking lot straight onto a ski lift is one great example of the resources at our athletes' fingertips. Aspen has a long, decorated history across the board in competitive winter programs — AVSC's alumni are an incredible mix of Olympians, X Games champions, World Cup winners, and more. And that legacy is present in everyday life: it's common to brush shoulders with these people on a daily basis. Aspen's community is second to none in terms of the passion and dedication around winter sports — whether it's those working to impact climate change, volunteering on race crew, working seven days a week due to picking up a weekend coaching gig, or donating resources — financially or otherwise — to get more kids on snow each season.
One thing is for certain — my being "from away" has made me keenly aware of how special a community this is and how unique a club AVSC is. Over time, I'll surely grow accustomed to the way of life here — I won't need directions, faces will grow more familiar, and I'll develop a deeper knowledge of the history and legacy of this valley. What I know I'll retain is my appreciation for what makes this place different, my eagerness to continue to meet and learn from all of you, and above all, my dedication to ensuring we're providing the best programs for our youth to learn and excel in skiing and snowboarding.
I look forward to sharing my thoughts with you in this column, but hope that our discourse isn't limited to the two times a month I'm featured here; I'd love to hear from you anytime. The best way to reach me is by email (mgodomsky@teamavsc.org), but you can also catch me in the office at our clubhouse at the base of Aspen Highlands, and as the temps continue to drop, on the hill.