300 Take Part in Equipment Night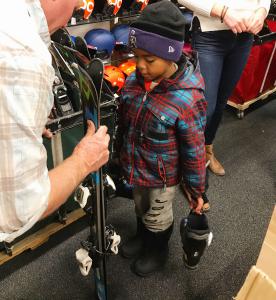 This article was originally published by Austin Colbert in the Aspen Times.

Like it has for the better part of 15 years, Christmas came early Thursday for more than 300 kids fortunate enough to receive a Base Camp scholarship through the Aspen Valley Ski and Snowboard Club.
With a line stretching well outside the Gorsuch Ltd. ski shop at the base of Aspen Mountain, families came from all over the valley to receive a free pair of skis and ski boots to use this winter.
"It's just the right thing to do. It feels good," Jeffrey Gorsuch said. "It's the most special night when the community comes together for something completely for the kids. It's very special. It's maybe my favorite night of the whole year."
The tall and amiable Gorsuch was among those volunteering their time Thursday to make sure each kid received the right fit for their equipment. Gorsuch, whose parents — both Olympic skiers — started the company known for its high-end clothing, was among the first to step up to the plate in making the AVSC's equipment night what it is today.
Each kid receiving equipment is part of the AVSC's Base Camp program, which is the recreational side of the club. These kids don't compete and only meet about once a week, where through a partnership with Aspen Skiing Co. receive lessons from its pros. There are more than 1,400 kids in the Base Camp program this winter, some coming from as far away as Rifle and Paonia, with nearly 400 of them receiving program scholarships.
Of those, around 330 also receive a needs-based equipment scholarship, which is what Thursday was all about.
"Even if kids got a scholarship to take lessons, they still didn't have the right skis or snowboards," said Base Camp director Trish Shepard about the need for equipment night. "It's a big production."
While Gorsuch only deals with skis, D&E and Four Mountain Sports got involved a few years back to help put kids on snowboards. Most of the gear given to the Base Camp kids was donated or are gently used demos from the season before. They cost nothing to the scholarship recipients and aren't asked to be returned.
The idea behind equipment night and the Base Camp program is to get as many kids involved in the mountain lifestyle as possible, regardless of income.
"That makes a huge difference in letting families come in and have great access to the best programming in skiing in the world," Gorsuch said. "We get them out the door with a smile on their face and ready to emerge as tomorrow's champions."