Appreciation for Community Support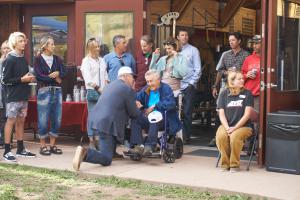 This was originally published as a Letter to the Editor in the Aspen Times.
Dear Aspen community,
Thank you to all who came out Thursday night to celebrate Aspen Valley Ski and Snowboard Club's 80th anniversary and the grand opening of our new Hildebrand Training Center! Nights like Thurdsay night remind me what an incredibly special community this is.
It won't be long now before the season gets rolling: Aspen Highlands opens in just 75 days, teams will duke it out on Little Nell in the Audi Ajax Cup in 95 days, and Aspen will welcome the world's most elite alpine racers for the World Cup Finals in just 170 days. Aspen Valley Ski and Snowboard Club athletes are busy with dryland activities, working hard to prepare for and make the most of their upcoming seasons.
While the club is abuzz with excitement for what's to come, we're also enjoying reflecting on our history. The past 80 years would not have been possible without the club's passionate, enthusiastic and committed supporters. As we prepare for another season, we are so grateful to all of those who continue to make it possible for us to get so many kids on snow each year.
Cheers to the next 80!
Mark Godomsky