AVSC 2021-2022 COVID GUIDELINES
2021-22 COVID-19 Protocol
Updated January 12, 2022

Recent spikes in COVID-19 throughout the Roaring Fork Valley due to the Omicron variant have forced AVSC to update COVID-19 protocols. These protocols reflect our efforts to continue to strive for a cautious approach while respecting the Centers for Disease Control Guidelines (including those published on December 27th), State and Local Public Health Mandates as well as incorporating best practices and guidelines from our national governing body, US. Ski & Snowboard. Please review these protocols regularly. They are subject to change at any time and updates will be made as the public health climate changes.
AVSC takes seriously the health and safety of all our athletes, coaches, staff and community. From the onset of the COVID-19 pandemic, AVSC has followed all local, state and federal guidelines to prevent further spread of the virus. As a club, we have continuously monitored protocol and guidelines in order to provide programming to our athletes in a safe and fun manner while adhering to guidelines.
General Protocols for Participation in AVSC programs
All training activities will be subject to the following general protocols:
All athletes will be required to self-monitor for symptoms of COVID-19 prior to attending any training or AVSC related activity

All coaches and staff will self-monitor for COVID-19 symptoms before coming to work

All coaches and athletes must have immediate access to a mask at all times

AVSC Clubhouse is closed to the public as of 12/22/21. AVSC will continue to monitor local public health and will reopen when we are comfortable with the current situation.
Parents/Caregivers are encouraged to wear masks when picking up athletes
Protocols for Outdoor Training
All athletes and coaches must make every effort to maintain physical distancing of at least 3 feet apart

All athletes and coaches must have a mask or face covering immediately available

All efforts shall be made to avoid physical contact
Group lunches should be taken with care to create as much space between people as possible. No sharing of water bottles or snacks. Eat outdoors whenever possible
Protocols for Indoor Training
Indoor gym access will only be available to teams that have scheduled sessions

Coaches must contact the athletic trainer to schedule a session

Athletes may not be in the gym without supervision of a coach
Masks must be worn at all times indoors

Coaches must be present at every training session and must be masked at all times

Athletes that wish to access the gym with their team must be vaccinated

Proof of vaccination must be on file with AVSC

Proof of vaccination can be sent to vaccines@teamavsc.org
Injured athletes may make appointments with the athletic trainer to work on rehab and recovery in the gym

Athletes and athletic trainer must be masked at all times
Protocols for Travel Camps and Competitions
Team travel is authorized through AVSC at this time if the following conditions are met:
Athletes are 12 years of age or older
All athletes traveling with the team must provide documentary evidence of COVID-19 vaccination prior to travel

All athletes and staff must wear masks in AVSC vehicles at all times

Any athlete who is eligible for the COVID-19 vaccine and does not receive it will be required to self-transport and arrange their own accommodation at camp or competitions. Athletes under the age of 18 must travel and lodge with a parent, guardian or adult designee. 

All athletes and coaches traveling for training and competition, including vaccinated athletes and coaches must meet any travel requirements and restrictions implemented by airlines as well as entry requirements for the destination country and re-entry for the U.S. 

If an athlete starts showing symptoms while traveling with the Team, the athlete is required to isolate in a place of quarantine immediately and have a parent retrieve them from their quarantine location.
Please note: any additional costs incurred while quarantining from the rest of the team is the responsibility of the family.

Athletes under age 12 must continue to self-transport to camps and/or competitions and arrange their own accommodations.

All parties must strictly observe guidelines of the host resort and local municipality
AVSC COVID Coordinator
AVSC Athletic Trainer, Erin Young, will act as AVSC COVID-19 Coordinator.
The COVID-19 Coordinator will act as the central point of contact for all members and staff with respect to questions and concerns about COVID-19. Erin will also ensure that all AVSC protocols and procedures are regularly reviewed to ensure compliance with Federal, State, Local and NGB guidance.
Erin Young I eyoung@teamavsc.org I 970.205.5100 x749
Sari Anderson will be the COVID-19 Events Coordinator and be the point of contact for races, competitions and events of that nature.
Sari Anderson I sanderson@teamavsc.org I 970.205.5155
Additional Protocols and Notices
COVID-19 Exposure and Response:
All athletes, families and staff must maintain a heightened awareness of their health in relation to COVID-19 symptoms. If any of the following are present, they should NOT attend training:
Symptoms of COVID-19, such as a fever or chills, cough, sore throat, shortness of breath or difficulty breathing, congestion or runny nose, nausea or vomiting, diarrhea, or new loss of taste and/or smell

Fever of 100.4 degrees Fahrenheit or higher
Are under evaluation for COVID-19 (i.e., waiting for the results of a COVID-19 test)

Have been told to quarantine after direct exposure to COVID-19

Have been diagnosed with COVID-19 and are not yet cleared to discontinue isolation.
Current CDC Guidelines for Exposure and Positive Cases
Protocols for Employees and Athletes who ARE EXPOSED to COVID-19: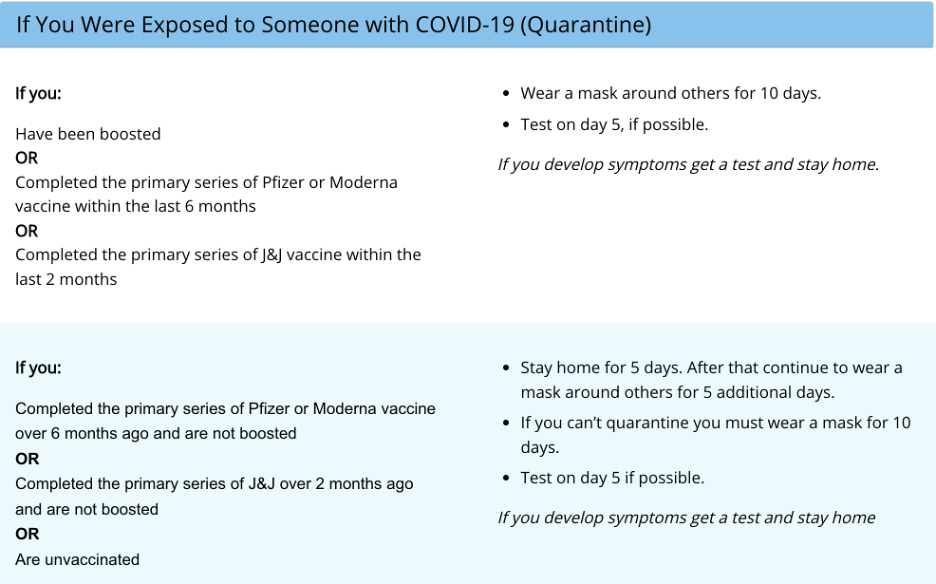 Protocols for Employees and Athletes who TEST POSITIVE for COVID-19:

If an athlete has moderate to severe symptoms, athletes must follow Return to Sport protocol through a doctor and have written clearance from the doctor to return to training
In the event of illness – if an athlete attends practice and presents with any symptoms of illness, the athlete will be safely isolated and parent/caregiver called. Parent/Caregiver must pick up athlete within 30 minutes of call or the athlete must be able to transport home safely. Where illness relates to COVID-19, the athlete will not be allowed to return to training until the above conditions are met and/or the athlete is cleared by a medical professional.
AVSC will continue to closely monitor any changes to local, state and federal guidelines and adjust our protocol and guidelines as necessary.
Contact Us!
We are here for you and your family as we all navigate the pandemic. Please reach out to AVSC with any questions - you can contact your head coach directly or call Stephanie, AVSC Office Manager, at 970.205.5101.