Equipment News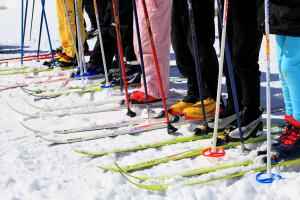 The following information applies to those registered in the Grade 1st & 2nd, Grades 3rd & 4th beginning/intermediate, and 3rd & 4th Intermediate/advanced programs
Each season there seems to be ample mystery and confusion regarding nordic equipment rental and availablity for these after school programs. Please take time to read and digest the following information on equipment.

AVSC has a limited amount of equipment available for rent for these programs. The rental option is available to those who indicate they would like to include the $60 rental option with the program sign-up. Please note that this option does not allow the particpants to take the equipment home or to use the equipment on days other then those on which they are registered.

AVSC Rentals- For those wanting to take advantage of the AVSC rental package, there will be an equipment night on Wednesday November 28th from 4:30pm-6:30pm at the AVSC clubhouse.

If you would like to rent equipment for the season which can be used anytime, then you should contact the Aspen Cross Country Center. This Thursday from 3:30pm-5:30pm the Aspen Cross Country Center will have staff available for those participants who would like to rent equipment for the season.

Beyond these two options or buying the equipment out right, it is safe to say, youth nordic equipment is difficult to come by.

Please note. Those kids in the 3rd & 4th grade intermediate/advanced program will need to have both skate and classic skis.